12 Best App Development Software and Tools 2022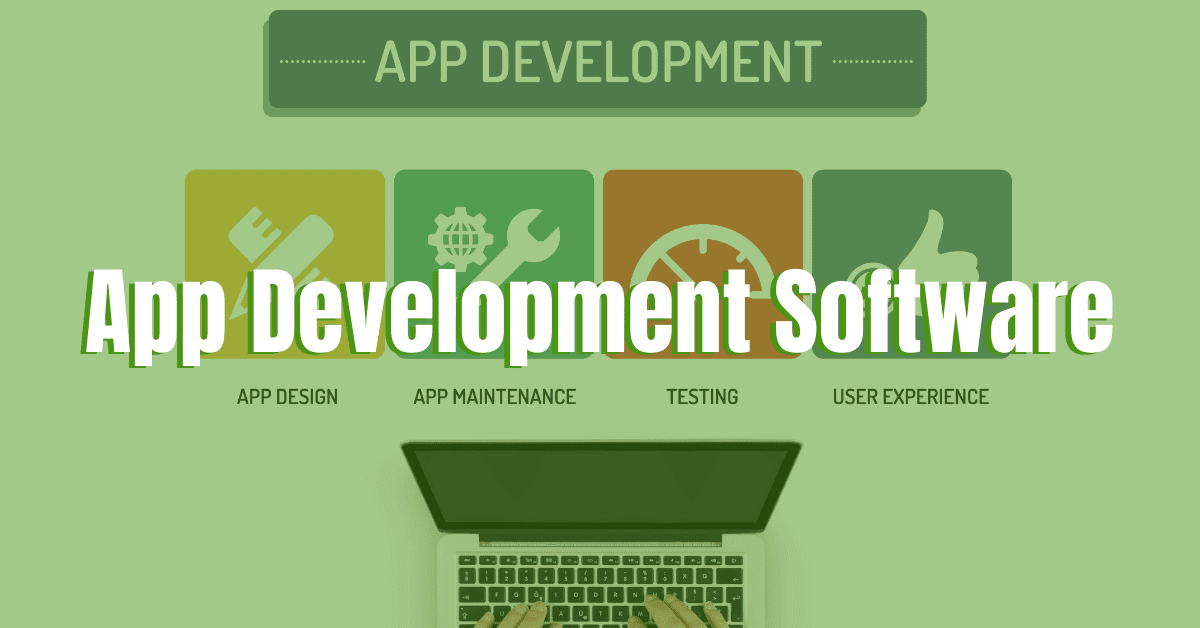 Mobile app development is a stringent technical process through which mobile apps are developed. These apps are multiple platforms-enabled. It means you can use these apps on various devices and gadgets.
Thank you for reading this post, don't forget to subscribe!
These apps have multiple features and are in vogue these days. As most people now prefer interacting with brands directly over apps instead of visiting their websites, mobile apps are the needs of the hour. You can create native apps, HTML5 apps, and hybrid apps using the mobile app development process.
The year 2020 generated over $ 612 billion of money through app development. All IT-enabled firms and ITES can make the best out of it by developing customized apps that suit their business.
What is App Development Software?
App development software is the same as developing traditional software. The only difference is the mode of these software apps. A few years back, people developed plenty of software for websites only. But now apps are developed for mobile users. Using mobile apps, users can also take advantage of Bluetooth, NFC, GPS, and cameras, which make plenty of tasks easy and convenient for them.
Mobile phone apps have been extremely quick in generating new leads or businesses for firms. These apps are reliable, project-oriented, and customer-friendly, and help in enhancing productivity. 
[Read more: 15 Best Photo Editing Apps for Android & iPhone 2022]
Why Use App Development Software?
As we saw the above-mentioned points, there is no doubt app development software is the need of the hour. They perform plenty of functions.
There can be several reasons behind the use of mobile app development software. Business firms can leverage the potential of the app to develop their business and enhance their ROI.
Consistency And Reliability
Customers find it more reliable to directly download a business app than to go to its website on a PC. These apps are reliable and consistent. The app stays active throughout the day and night. They operate 24 hours a day without any pause. Consumers can transact using these apps at any time during the day and night on their smartphones and Android or IOS-enabled devices from the comfort of their homes. 
Your business gets more productive by making the best use of mobile apps. All apps are easy to use and customers find them convenient to use and transact online. An estimated study reveals that more than a 40% increase in efficiency is recorded in organizational work after using mobile apps.
All mobile apps have a central focus on security. The apps come with a robust security-driven mechanism, which makes it impossible for hackers to hack into your system or steam any sensitive data from it. Mobile apps are 100% safe and secure. All users can use these apps and even business firms can make use of them to grow their ROI and profits.
You can keep a watch on how users are using your app. Every time a user launches your app on their device, you will get an instant notification of it. These apps are versatile and capable of performing a wide variety of functions. Here customers can also get access to a chat window through which they can directly communicate with the brand. 
Improves CX (Customer Experience)
Mobile apps improve customer experience. Through mobile apps, customers can directly interact with brands using the feedback option or chat window. Some websites are also taking advantage of automated chatbot facilities to improve the flow of information from customers to brands.
Mobile apps also send important notifications to customers along with other updates. Using the notification facility, brands can inform their customers about their future products or features. These frequent notifications help in strengthening the relationship between the brand and its customers. 
[Read more: How to Take Temperature with an iPhone?]
List of Top App Development Software
1. Quixy
It is a prominent mobile-app making company. It creates the app on time and gives you a perfect mobile business app within a few days. It has multiple pricing policies depending upon the nature of its clients: solution, enterprise, and platform.
Features at a Glance
Get up to 40+ form fields to make your app interactive
It works seamlessly with third-party apps using connectors or API integrations.
You can use the app created on Quixy on any device and gadget.
Website URL: https://quixy.com
Price: Starting from $10 per user to $500 per month.
2. Zoho Creator
It helps in the rapid development and delivery of responsive business applications in the least possible time using a minimal coding process. It comes with built-in features like JavaScript, AI, and Cloud with a third-party integration facility.
Features at Glance
You can create more apps with the least effort
Collaborate with your team members using the app in real-time
Get insightful reports and data for app development
100% secured and data confidentiality.
Website URL: https://www.zoho.com
Price: $25 to $400 depending upon the subscription package.
3. AppyPie
AppyPie comes with multiple features and purposes. You can use the platform to create a wide variety of apps, from payment apps to a responsive e-commerce platforms.
Features at a Glance:
The platform allows you to create responsive apps compatible with both Android and iPhone.
It provides full app analytics and data.
AppyPie also comes with built-in features like GPS, Push Messages, And IAP.
Website URL: https://www.appypie.com/
Price: Pro plan starts at $99+
4. Appian
Appian assists in creating apps at a lightning-fast speed. It supports the creation of low-code apps in as little as seven to eight weeks. It makes use of AI and automation to make a robust app for your business or e-commerce portal.
Features at a Glance
Highly effective in creating enterprise apps
The process is automated and fast
It provides the built-in feature of a visual editor
Offers real-time data with analytics.
Compatible with IOS devices and Android handsets
Website URL: https://appian.com/
Price: Free to premium plan based on your choice—application or unlimited
5. AppSheet
AppSheet helps you create and deliver an effective app, which is intuitive, feature-rich, and no-code. It supports the creation of apps that can run on multiple devices.
Features at a Glance
Data syncing facility in the offline mode
It helps you optimize your app's performance.
The platform helps you make a productive app with multiple features
It comes with built-in features like GPS, barcode scanning, signature capture, etc.
Website URL: https://www.appsheet.com/
Price: $5—$10 per user/ month
[Read more: What Is Y2mate? | How to Download Youtube Video?]
6. Appery.io
Appery is again a low-code development platform perfect for small and medium enterprises. It is useful for creating hybrid mobile apps, which can run on both iOS-enabled devices and Android-compatible handsets as well. Appery helps you integrate selective backend services in the app to make it more effective and impactful.
Features at a Glance
Team management option available
Offers 100% customization support using advanced features like CSS, JavaScript, and source code editing.
You can make up to 108k platform API every month
It provides offers storage of up to 14.97-GB
Website URL: Appery.io
Price: It starts from $100 with plenty of premium plan options
7. iBuildApp
The platform allows you to create an app for unlimited customers. Get over two dozen interactive features to integrate into your app. Developers can also edit or tweak the app whenever they want to.
Features at a Glance:
You can offer cash coupons and gift cards to your esteemed customers.
The platform offers a promotional toolkit to publicize your business app.
The option of enabling push notifications and instant alerts on the app.
Create customized features for the app with special relevance to education, hospital, mass communication, and management
Website: https://ibuildapp.com/
Price: $249 per month
8. Shoutem
It is a useful app-creating platform for mobile and smartphone apps. You can use its drag-and-drop feature to design various apps in the least possible time. It also offers a re-publishing app feature without any additional cost.
Features at a Glance:
Useful for mobile apps for mobile advertising, local business, and e-commerce
Get an automated publishing facility on Google Play
You can also activate its user behavior analytic system for optimizing the app.
It works with Facebook, Drupal, and WordPress without any problem.
Website URL: https://shoutem.com/
Pricing: $59 to $199 as per your plan
9. Rollbar
If you want to create a useful business app in your native language, Rollbar will be the best platform for you. Also, it can trace necessary data to make your app flawless and complete in all respects.
Features at a Glance
It allows you to scrutinize errors in real-time
A data encryption facility is available to offer you maximum security.
It works on Mac, Linux and Windows, too
It supports multiple frameworks
Website URL: https://rollbar.com/
Price: Free to $82 per month as per your chosen plan.
10. JIRA
JIRA is your best tool for app management and project coordination. You can even use it with other developer tools too as per your need. As per the requirement of the app, you can even create additional filters using the JIRA QUERY language option.
Features at a Glance
Use its Kanban boards for maximum flexibility
It comes with scrub boards with full customization options.
The platform helps you effectively communicate your plans with your team members using its roadmap option.
Get real-time insights with full data analytics.
Website URL: https://www.atlassian.com/software/jira
Pricing: Free to $14.5 as per your need
11. AppInstitute
App Institute is an effective app builder through which you can easily create apps for various businesses like sports, coffee shops, beauty salons, and restaurants. It also offers a smart promotion option to publicize your brand.  
Features at a Glance
Get full branding feature to promote your business
You can set a date or mark an important date using its intuitive calendar option.
Use its rich media interface and other key features
It comes with built-in features like push notification, online chat, and Geo listings for enhanced purposes.
Website URL: https://appinstitute.com/
Price: Free to Premium plan as per the company's policy.
12. Caspio
If you want to develop a database app with a low code app development mechanism, Caspio will be perfect. It has plenty of features, including a visual app building option and cloud database integration.
Features at a Glance
You can create an app using any language on it.
It is also compatible with MS Office and Google App.
It is multi platforms-enabled and can work seamlessly on Linux, Windows, and Mac.
Website URL: https://www.caspio.com/
Price: Rate varies. From $0 to $460 depends upon the plans you select.
In Conclusion
From the above discussion, it's clear that all app builders have their own advantages, features, and demerits. You can select any of the app-building platforms depending upon your needs and affordability. Whichever plan you select, make sure to check its free plan first. It will help you test its features and advantages.