AI aids to improve image quality: A Review of the Top 5 AI Sharpening Tools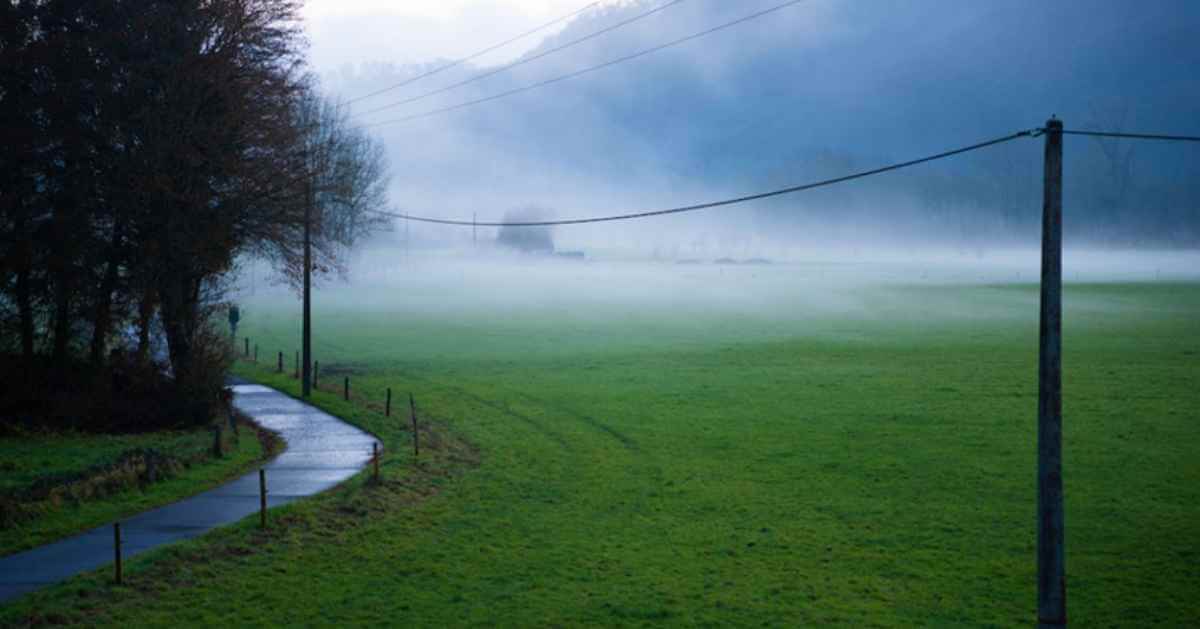 When documenting moments or creating visuals, image quality is of utmost importance. When attempting to leave an enduring impression, blurry or inadequately focused images can be extremely disappointing. However, technological advancements have provided us with tools propelled by AI that can transform indistinct images into clear, vibrant masterpieces. In this article, we will examine the role of artificial intelligence in enhancing image quality and examine the top five sharpening tools, including the game-changing VanceAI Image Sharpener.
Thank you for reading this post, don't forget to subscribe!
Is AI Helpful for Improving Image Quality?
In numerous industries, Artificial Intelligence has become a game-changer, and image processing is no exception. AI algorithms can analyze and comprehend visual content in previously inconceivable ways. When it comes to improving image quality, AI offers a unique set of capabilities that surpass conventional image editing techniques.
VanceAI Image Sharpener is indicative of AI's potential in image processing. This innovative tool can transform indistinct images into crisp, detailed images with a single click. VanceAI employs sophisticated AI algorithms to detect and rectify blurry areas, thereby enhancing image clarity. It's not just VanceAI; many other software solutions leverage AI to enhance image quality in ways that traditional editing tools cannot match.
Utilizing machine learning models that have been trained on extensive datasets of high-quality images, AI-driven image refinement utilizes these images. This training enables AI algorithms to comprehend the characteristics of clear and indistinct images, allowing them to intelligently adjust for optimal results. As a result, AI-powered sharpening can preserve essential image details, eliminate noise, and substantially enhance image quality overall.
AI's applications in image enhancement are not limited to photography; they also include medical imaging, satellite imagery, and security surveillance, among others. The ability of artificial intelligence to process enormous quantities of visual data and extract meaningful information has changed how we perceive and interacthim exercising images.
Now that we comprehend the potential of AI to improve image quality, let's examine the top five refining tools that leverage this technology to produce exceptional results.
Top Five Sharpening Instruments Review
This section will examine the main features, advantages, and disadvantages of the top five sharpening instruments on the market. These tools provide a variety of functionalities to meet the requirements of various users, from amateur photographers to professional designers.
VanceAI Image Sharpener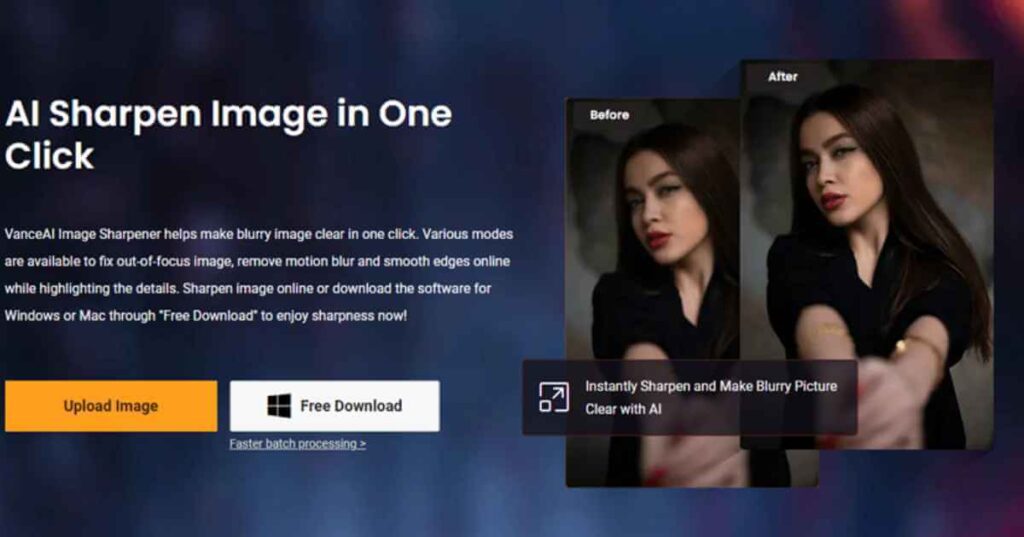 VanceAI Image Sharpener has received widespread acclaim for its one-click ability to convert indistinct images into crisp, captivating images. Let's examine its main features, pros, and cons, and discover how to maximize this potent tool.
Key Attributes
VanceAI Image Sharpener facilitates the image sharpening process by allowing you to accomplish professional results with just one click. It automates the complicated process of refining, thereby saving you time and effort.
Multiple sharpening modes: This AI-powered tool offers multiple sharpening modes that are suited to various degrees of blurriness. VanceAI has you covered whether you're coping with an out-of-focus image, motion blur, or gentle outlines.
VanceAI Image Sharpener offers the flexibility to refine images online without the need for any downloads or installations. You may also choose to obtain the software for Windows or Mac to enjoy a seamless offline experience.
In addition to refining, VanceAI's algorithms excel at augmenting image details, making your photographs appear more captivating and realistic.
You do not need to be an expert to use VanceAI Image Sharpener due to its user-friendly interface. Its user-friendly interface makes it accessible to both novices and professionals.
Pros
Users have lauded VanceAI Image Sharpener for its extraordinary image sharpening capabilities. The AI-powered method guarantees high-quality results.
In comparison to manual sharpening techniques, VanceAI Image Sharpener drastically reduces the amount of time necessary to enhance images. The one-click solution is a productivity game-changer.
Versatile: Whether you're working with photographs, illustrations, or digital art, VanceAI Image Sharpener can manage a variety of image types and consistently deliver high-quality results.
Cons
While the online version provides convenience, a stable Internet connection is required. Users without access to the Internet may favor the offline software.
Limited editing capabilities: VanceAI Image Sharpener specializes in image sharpening and detail enhancement, but additional software may be required for more complex editing duties.
How to employ the VanceAI Image Sharpener?
VanceAI Image Sharpener is simple to use. Follow these simple methods to easily enhance your images:
Visit the website of VanceAI and locate the Image Sharpener tool.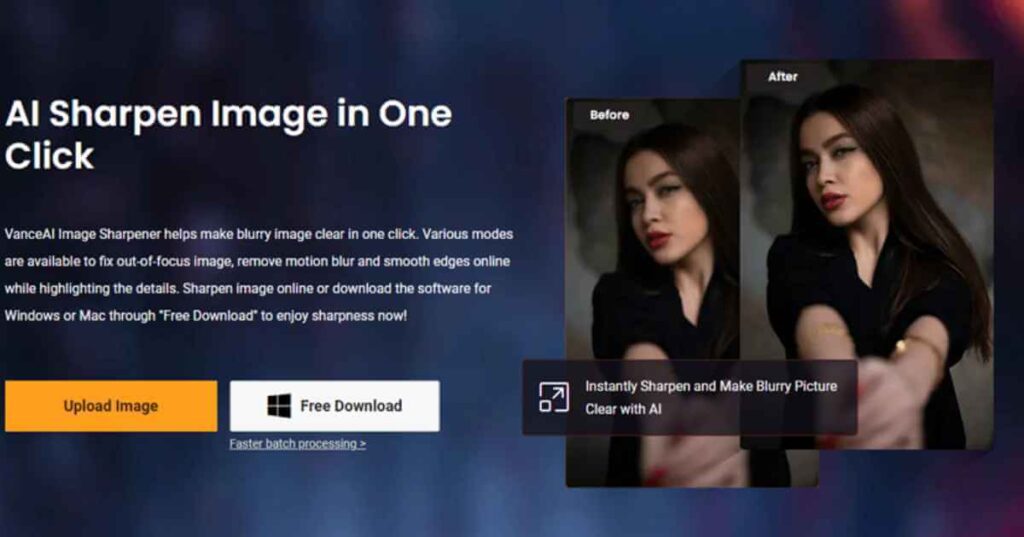 Click the "Upload Image" icon and select the image you want to enhance.
Once the image has been uploaded, select the refining mode that best matches the blurriness of the image.
Click "Start" or "Sharpen Image" depending on the version (online or offline) you are using. VanceAI Image Upscaler can utilize more enlargement labor.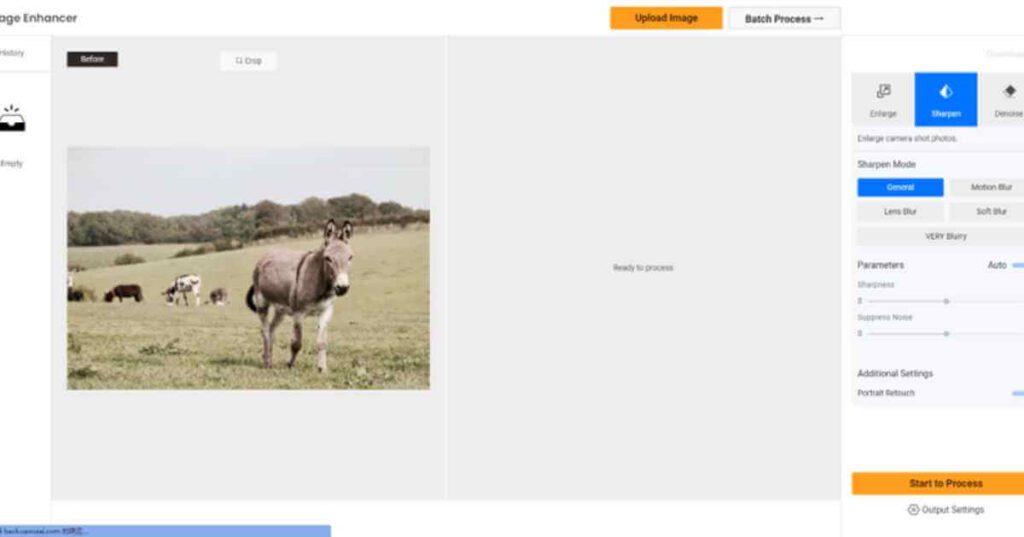 Within seconds, VanceAI's AI algorithms will refine and process the image.
If you are satisfied with the enhanced image, you can then download it.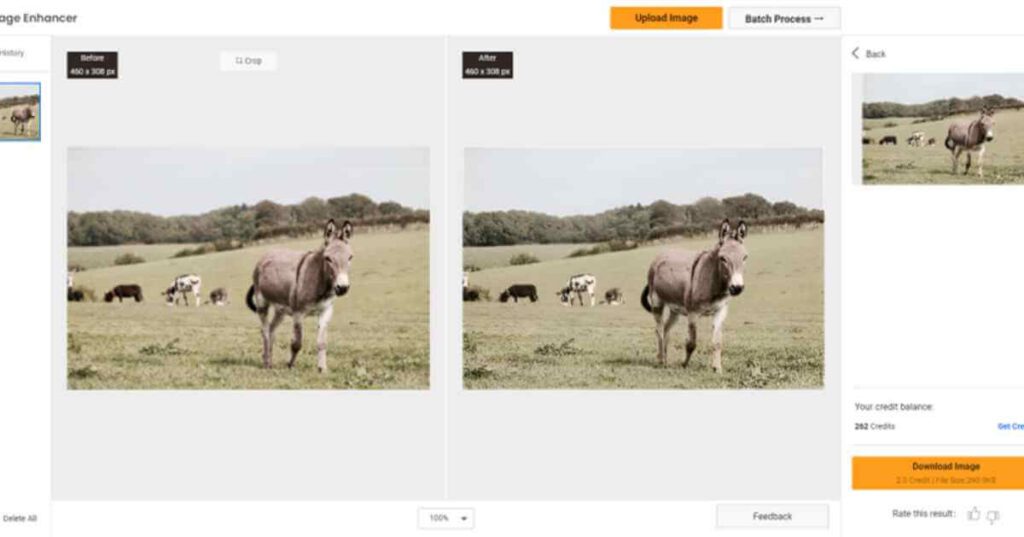 With VanceAI Image Sharpener, indistinct images are no longer a concern. Leverage the power of AI to effortlessly enhance the clarity of your visuals. This adorable shape can also be carved out using BGremover.
Regarding VanceAI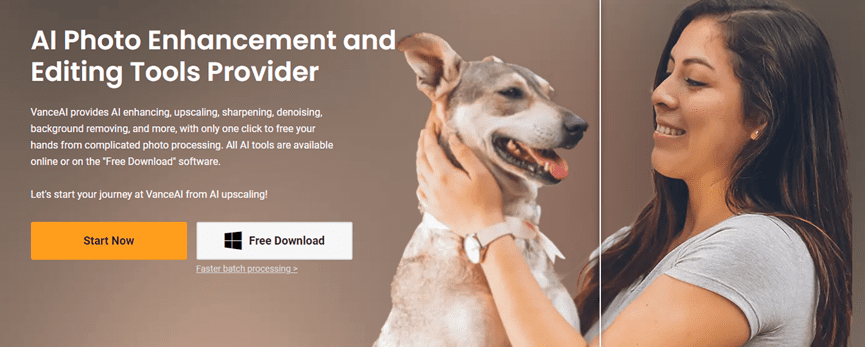 Before concluding this review, let's take a moment to learn more about VanceAI, the company responsible for the innovative Image Sharpener.
VanceAI is a prominent AI technology company specializing in the development of cutting-edge image and video processing solutions. Their AI algorithms are designed to enhance visual content, making it more engaging and persuasive, as well as restore damaged ancient photographs using VanceAI Photo Restorer. VanceAI seeks to democratize AI-powered image manipulation and empower users of all talent levels by emphasizing user-friendly tools. In addition to the aforementioned function, VanceAI provides some AI Portrait Generator usage guidelines with the aim of enhancing your creativity.
Adobe Photoshop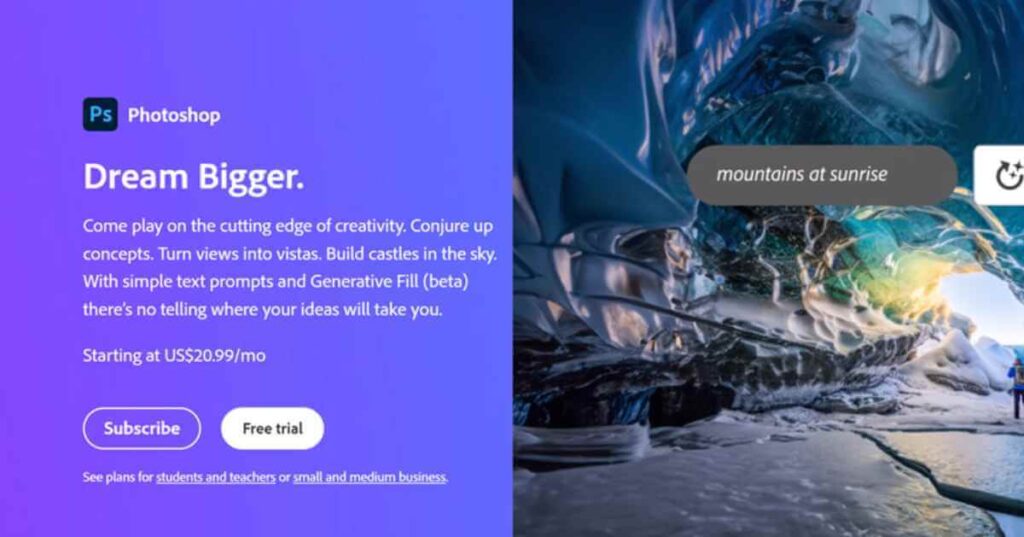 Adobe Photoshop is a ubiquitous name in the world of image manipulation and requires no introduction. In addition to its extensive capabilities, Photoshop also provides potent refining tools. In addition, if you've ever wished to become a Vtuber, you can test out Vtuber Maker and begin this trial using the VanceAI guide.
Key Attributes
Advanced sharpening filters: Adobe Photoshop includes several sharpening filters, such as Unsharp Mask and Smart Sharpen, allowing users to fine-tune the affect of sharpening.
Customizable parameters: Photoshop's sharpening tools provide precise control over parameters such as quantity, radius, and threshold.
Pros
Adobe Photoshop is extensively used in the creative industry due to its extensive editing capabilities, making it the software of choice for photographers and designers.
The refining tools in Photoshop can be combined with other altering features, allowing users to accomplish their intended results.
Cons
The enormous array of Photoshop's tools can be daunting for novices, requiring time and practice to master.
Adobe Photoshop is included in the Adobe Creative Cloud subscription, which may be costly for some users.
Imagen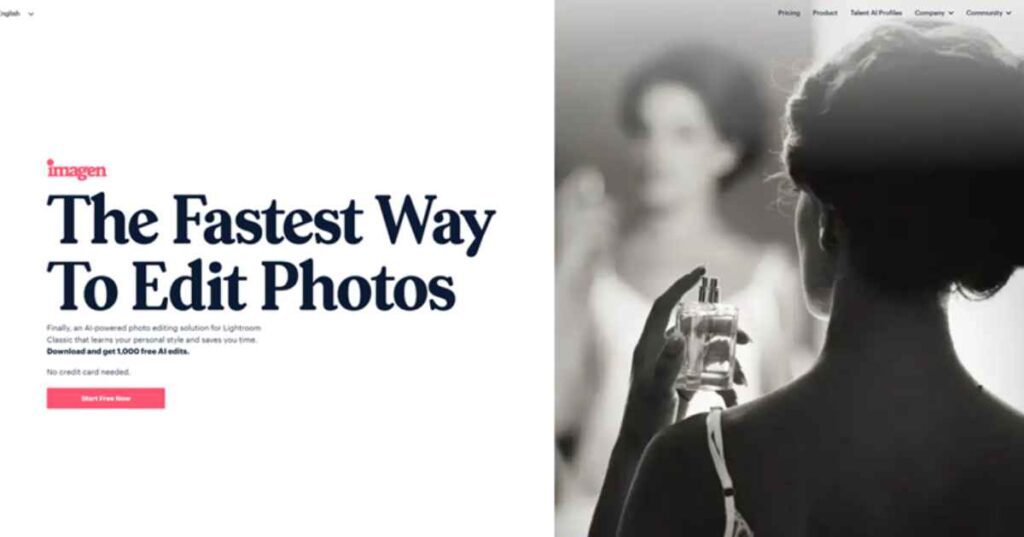 Imagen is a cloud-based digital asset management platform that provides an assortment of editing tools, including features for refining.
Key Attributes
Imagen's refining tools are accessible from any location with an internet connection, allowing for seamless collaboration and convenience.
algorithms for sharpening: Imagen provides predefined sharpening algorithms to facilitate the sharpening procedure for various image formats.
Pros
The cloud-based platform of Imagen enables multiple users to collaborate on image modification projects, making it excellent for teams and organizations.
Organization and storage: In addition to image modification, Imagen is a robust digital asset management platform that enables efficient image organization and storage.
Cons
While the cloud-based nature of Imagen is advantageous, users without internet access may encounter restrictions.
Imagen's editing features, such as refining, may not be as extensive as those of specialized editing software.
Topaz Sharpen AI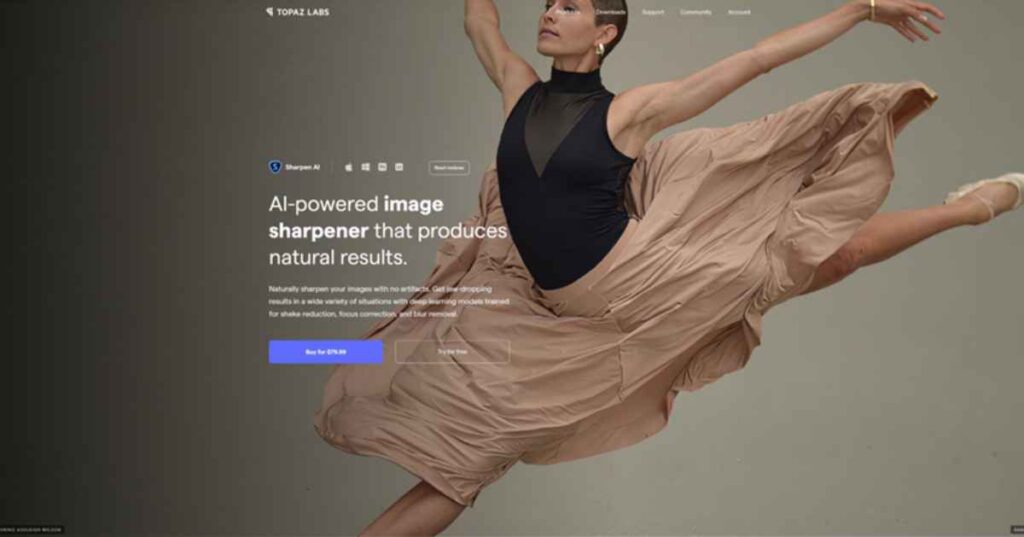 Topaz Polish AI is designed specifically for image refining and delivers remarkable results using AI technology. You can read VanceAI's recently published AI Face Generator guide to learn more about how to use AI Art Generator.
Key Attributes
Topaz refine employs artificial intelligence to refine images. The AI model can intelligently refine images, preserving fine details and preventing oversharpening artifacts.
The software incorporates a tremor reduction function to rectify motion distortion in handheld photographs.
Pros
Topaz Sharpen focuses on refining AI's expertise in refining distinguishes it as a specialized instrument for attaining optimal image clarity.
The software's user-friendly interface makes it accessible to users of all skill levels.
Cons
While Topaz Sharpen AI excels at sharpening, it may be necessary to use alternative software for other editing duties.
Topaz Sharpen AI is a standalone application that does not integrate directly with other image manipulation programs.
Prisma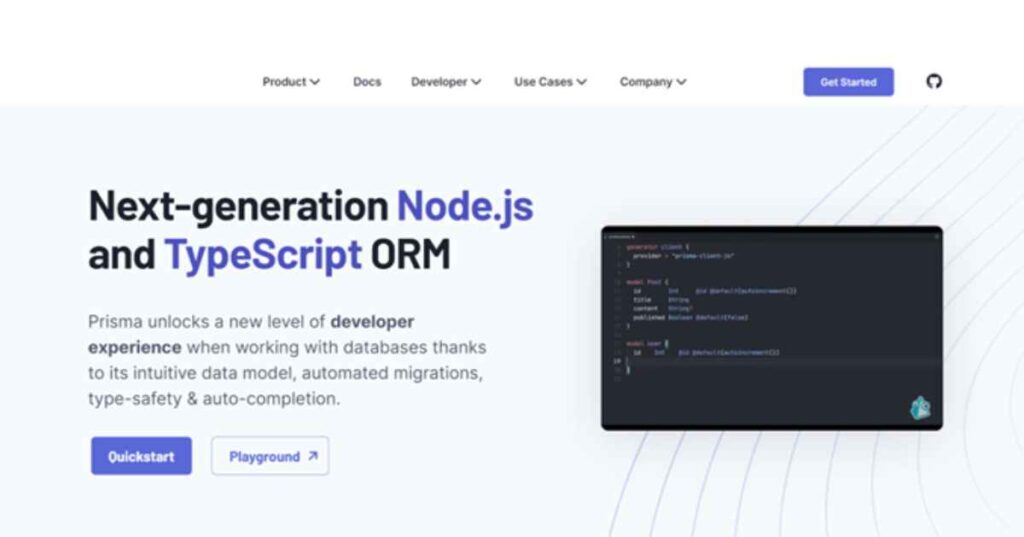 Prisma is a popular mobile app that employs artificial intelligence algorithms to transform photographs into works of art. Even though it is not predominantly a refining instrument, it provides artistic filters.
Key Attributes
Prisma's AI-powered filters can transform commonplace photographs into works of art in a variety of styles.
Pros
Prisma enables users to exhibit their creativity by transforming photographs into artistic interpretations.
The Prisma mobile application enables users to modify and transform images on the go.
Cons
Prisma prioritizes artistic filters over precise sharpening, making it more suitable for creative effects than technical enhancements.
While Prisma offers some fundamental sharpening controls, it may not be as robust as dedicated sharpening applications.
Conclusion
Image enhancement has been revolutionized by AI technology, and VanceAI Image Sharpener exemplifies its capabilities. Image refining is now accessible to everyone, from professional photographers to casual users, thanks to the one-click solution. In addition, the top five sharpening tools, including Adobe Photoshop, Imagen, Topaz Sharpen AI, and Prisma, offer specialized editing features.
Now that you have acquired this knowledge, you can easily improve the quality of your images. How did it go? This time, we've outlined the top five sharpening tools, including VanceAI Image Sharpener, to assist you in making an informed decision. Please take advantage of this opportunity to experiment with these tools and witness the transformative power of image refining for yourself. Best wishes for editing!