7 Things to Consider When Choosing an Advanced Engineering Degree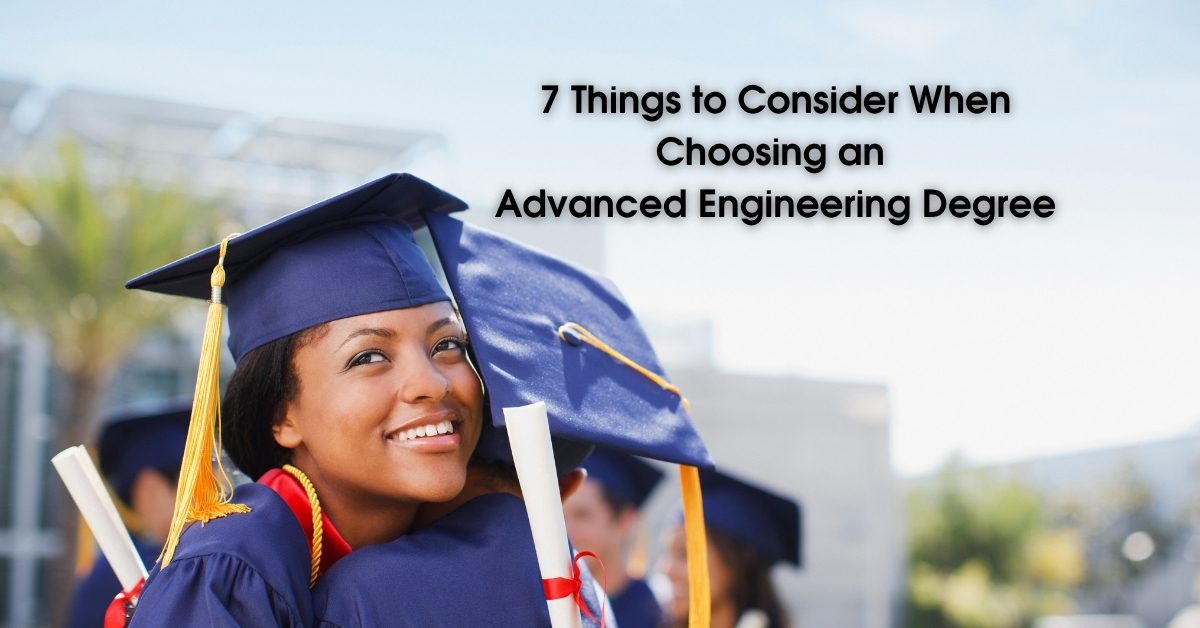 Perhaps you have felt like you have reached a glass ceiling in your engineering career, or maybe you simply want a change. Whether you're looking to move up the ranks in your current career, move into the business side of things and enjoy a career in engineering management, or are considering making the move into another engineering discipline, an advanced degree is often one of the best ways to help you get there. Today, an advanced degree qualification is becoming increasingly more important for engineers at all levels and those looking to move into more senior positions in the workplace will often be unable to meet their goals without this level of education.
Thank you for reading this post, don't forget to subscribe!
Wherever you want your engineering career to take you, it's important to make sure that you choose the right type of degree program for your needs. Should you go for an advanced engineering degree? A business degree? A degree that specializes in the discipline or area of work that you are looking to get into? There are certainly plenty of questions to be asked, and your answers to them will help you narrow down your options and ensure that the degree option you choose is worth your while and instrumental in helping you meet your ultimate career goals.
So, what should you consider before deciding on the best advanced degree for you?
Consider Your Career Goals
The first step to take is to think about where you want your advanced degree to take your career. If you feel stuck in a rut and know that you want something different but aren't sure what, it's definitely worth taking some time to consider your options and come up with a firm plan for your future career before making any study-related decisions. The cost of getting an online degree is no joke, and getting one without any clear career direction could end up being one of the most expensive decisions of your life. It might be worth speaking with people who are already in more senior engineering careers to learn more about what their roles entail and figure out what would be a good fit for you as you move up the ranks.
Think About Your Interests
If you're going to study for an advanced degree, it's always better to go for something that you are genuinely interested in. A genuine passion and drive for the subject that you study will keep you motivated and help you go far when it comes to getting the best results, contrary to studying something that doesn't really interest you that much but you want the career prospects. Of course, it's also important to think about whether or not the degree will be worth it for your career, but it's essential to find that delicate balance between studying something for enjoyment and studying with your career in mind. If you can find something that provides you with both, you are onto a winner.
Future Career Prospects
With that in mind, it's worth giving some thought to where a certain advanced degree could end up taking your career. For example, if you are looking to get into engineering management, there are various different advanced degrees available with a similar end-goal. if you know that you want to remain in engineering and work up the ranks as an engineering manager, you might opt for getting a master's of science in engineering management. On the other hand, if you're unsure of whether or not you will want to remain in engineering for the rest of your career and want to keep your options open for other industries, you may prefer to go for a more business-focused MBA.
A master's in business administration can be an excellent choice for aspiring engineering managers since it allows you to take your technical and transferable skills and build on them in a way that ensures that they can be effectively applied in a business management setting. It allows you to gain a better understanding of how the organization works as a whole, setting you up to make much better business decisions overall and allowing you to develop strong people skills that will stand you in good stead when leading a team. Click here to learn more about the difference between the two degree programs and figure out which one is the best fit for you.
How You'd Like to Study
Another factor that you should take into consideration before you choose an advanced engineering degree is how you'd like to study. In the past, studying on-campus was pretty much the only option for anybody who wanted to return to school to advance their careers, and this often made things difficult for people who had to continue working full-time during their studies or had family and financial commitments to uphold.
However, the good news is that today you have so many more options. You can choose to study on-campus with evening and weekend classes often available for those who need to continue working full-time, opt for studying completely online with much more control over when you learn, or blend the two together with a combination of both online and on-campus study. Needless to say, studying online is often a top choice for engineering professionals looking to further their career since it allows them to continue working as normal and provides a degree of flexibility that allows them to fit studying around their current life while causing as little disruption as possible.
Do You Have a School in Mind?
Some people have a firm preference when it comes to the school that they attend for their advanced degree while others are more concerned with simply getting the qualification rather than where they get it. Choosing the right school for you is likely to take a lot of research and careful consideration and is not a decision that should be rushed into. Compare different schools that offer the program you have chosen and look up what past and present students have to say about attending there. Look into the facilities offered and ensure that they provide everything that you need to be successful whether that's online learning, a local college library, or flexible learning options.
How Will You Fund Your Degree?
The question of funding is one that is always going to come up when taking an advanced degree and it's no different for engineers. There's no denying that funding an advanced degree can get insanely expensive, and the fact that tuition is often lower and there are less additional costs such as travel and relocation is just another reason why more engineers are opting to study online. There are several options available to you when it comes to choosing a funding method. You can apply for both federal or private student loans or refinance any current student loans that you are repaying in order to make managing your finances easier.
In some cases, you may be able to apply for certain grants and scholarships that are offered on a number of conditions such as your background, gender, or race. For example, there are scholarships designed to help more women get into STEM subjects that might be available to you as a female engineer. It's definitely worth looking into what's available from your chosen school or in your local area. Another option to consider is asking your employer. If you want to get an advanced degree so that you can move up the ranks in your current workplace and provide more value to the organization that you currently work for, your employer may be happy to invest in paying some or even all of the tuition.
Check Also: Better Ways to Study
Can You Take on the Workload?
It's important to be realistic about things when you decide to take on an advanced degree, and the truth is that they can be a lot of hard work. Carefully consider where you are at both personally and professionally to ensure that this workload is something that you are going to be able to commit to for the next few years. Studying for an online degree is likely to mean giving up quite a bit of your free time and will require a lot of discipline and motivation to keep on going, especially if you already have your hands full with working full-time and any other commitments that you may have.
While studying, you will certainly need all the help and support that you can get, so it's definitely beneficial to have a chat with your family and friends so that you can let them know your plans and see what kind of support you can be offered. Whether you're going to need practical support such as extra help with babysitting or just want friends to be there to listen when you're feeling overwhelmed and need somebody to talk to, start asking for the support that you need from the people that you need it from as soon as possible – don't wait until things get too much.
As an engineer, there's certainly no shortage of options on offer when it comes to picking the right advanced degree to further your career. Consider all of the above to ensure that you make the right selection.