10 Best Vitamin Vapes You Should Try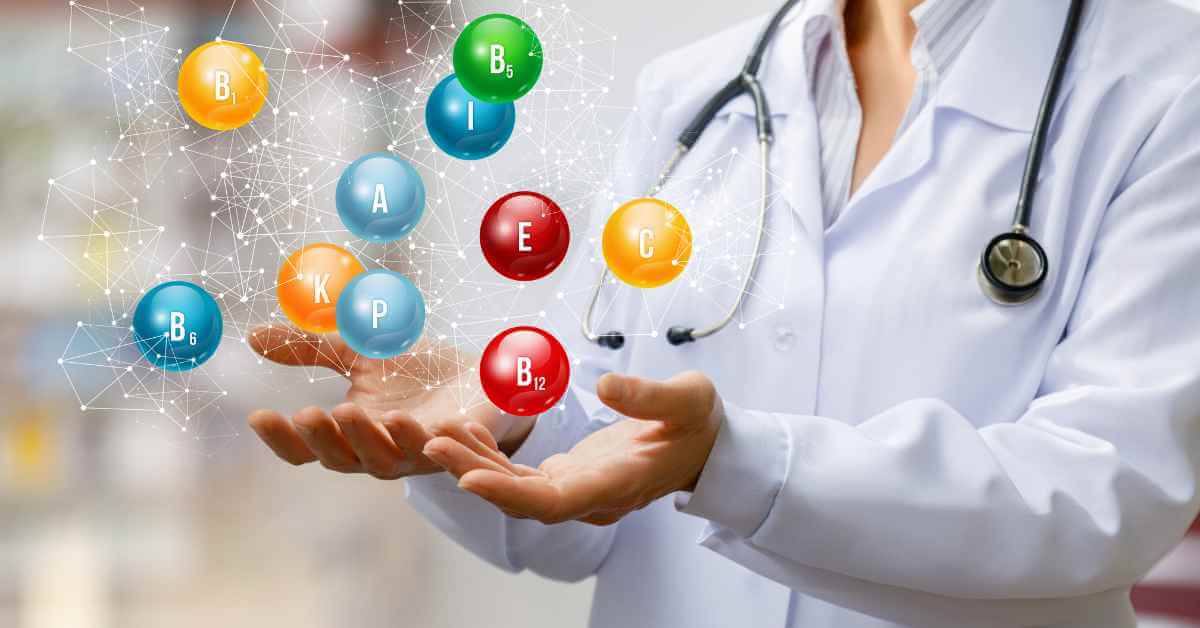 Vaping has become increasingly popular in recent years, and not just for recreational purposes. Some brands are adding vitamins to vape juices, allowing users to vape Vitamins instead of popping traditional pills or vaping nicotine.
Thank you for reading this post, don't forget to subscribe!
So, if you're looking for an alternative method of ingesting vitamins, vitamin vapes are an obvious option. From vitamin B12 to vitamin C, these vapes provide a unique blend of vitamins and flavors to help you get the most out of each vaping experience.
There are plenty of options available, though. So, this guide shares a handpicked list of 10 of the most popular vitamin vapes you need to check out.
1. BreatheB12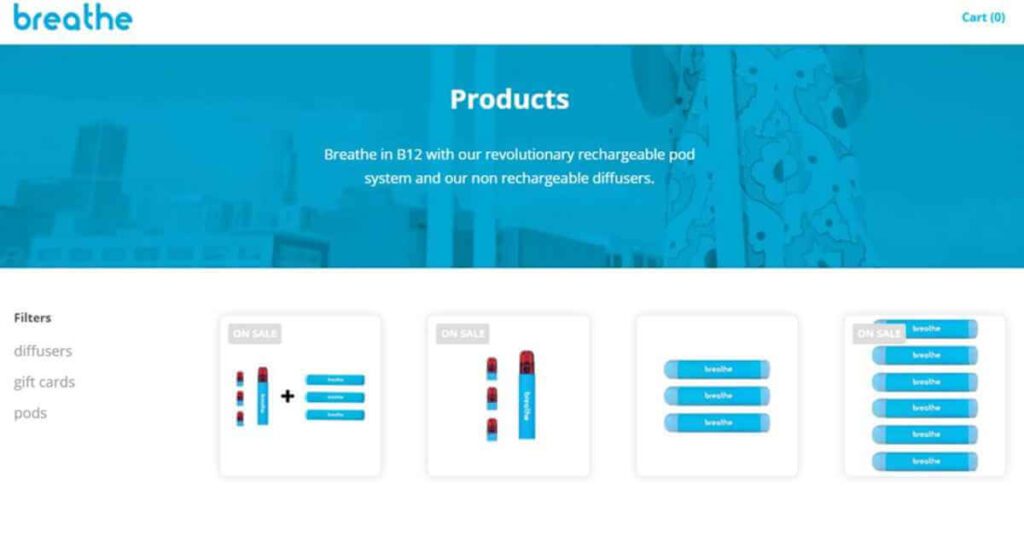 BreatheB12 gives you more B12 vitamin per dollar than other vendors. Their vapes are also designed to offer a convenient and effective way to get your daily dose of vitamin B12. Each serving covers over 5000% daily amount of B12. The vapes come with a subtle, organic mango and orange flavor.
You can either use the pod system with replacement pods or disposable diffusers. Their pod system includes a USB-C rechargeable battery. Each pod lasts up to 75 days, whereas the disposables can go for up to 30 days.
BreatheB12 vapes are free from sugar, gluten, and additives, so they are a healthy, delicious way to get your daily dose of B12.
2. VitaminVape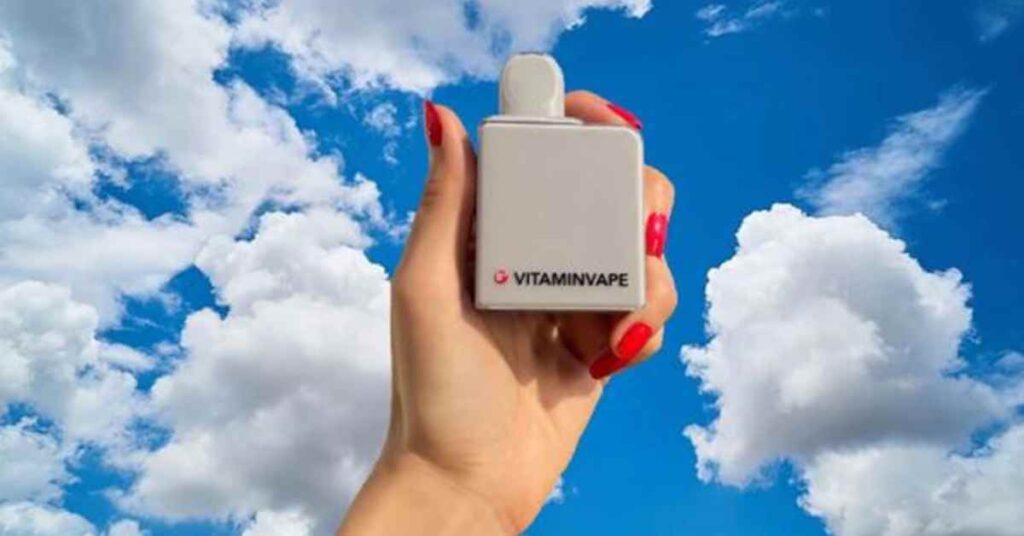 Vitaminvape devices provide a smooth and flavorful experience. They are designed to help you get the most out of your daily vitamin intake. The juices are made with natural and organic ingredients, ensuring every hit is clean and safe for your body.
But that's not the most impressive bit. Vitaminvape has high quality control standards to ensure customers inhale the highest quality vitamins. All their ingredients are made in the US, in ISO-7 certified facilities.
Vitaminvape also has a wide range of sizes to choose from. You can either buy the Big Cloud system with replaceable pods or disposable vaporizers. A pod can last for months, while a disposable vape should last up to 30 days. It is a market that is fast exploring
Each serving, which is 5-10 breaths, supplies 133 mcg, or 4,000 mcg, of vitamin B12.
VitaminVape offers Vitamin B12 vapes in a light organic mango and citrus flavor. You can also subscribe and save money through automatic monthly shipments when placing your order.
3. Inhale Health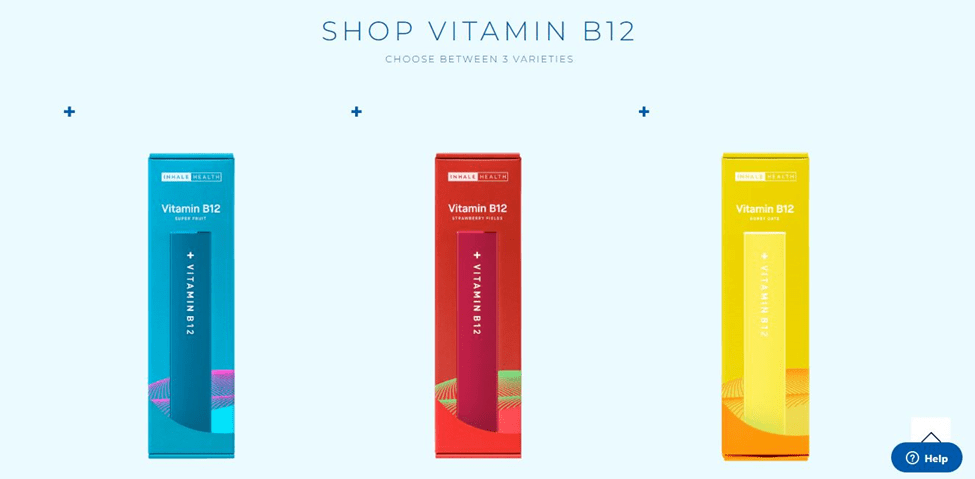 Inhale Health offers vegetable base ingredients mixed with vitamin B12 in three flavors: super fruit, strawberry, and oats. They come in Inhale Health's disposable devices, offering up to 300 breaths.
This product is vegan-friendly and contains zero nicotine, propylene glycol, or calories. All you get is a USP-Grade Vitamin B12 and a vegetable base. And there's no daily maximum, so you can enjoy it whenever you want.
4. SPARQ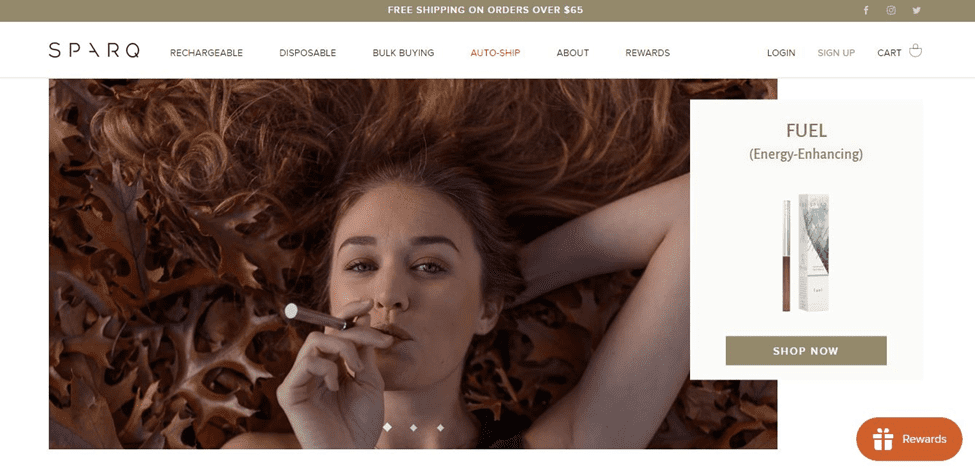 Sparq vitamin vapes are designed to provide an easy, convenient, and enjoyable way to get your daily vitamins. They offer Fuel, Pure, and Melt non-nicotine vape products, each containing different mixtures of vitamin supplements. Each product is available in two flavors, strawberry and vanilla.
A disposable vape will provide 300 puffs or more, depending on usage. You can also buy the Plus Device with replaceable pods.
Sparq Pods hold approximately 300 puffs per pod as well. The starter kit comes with a rechargeable battery and a Micro USB cable.
Sparq's products are made with natural ingredients and are free of artificial sweeteners, preservatives, and other additives.
5. Monq Aromatherapy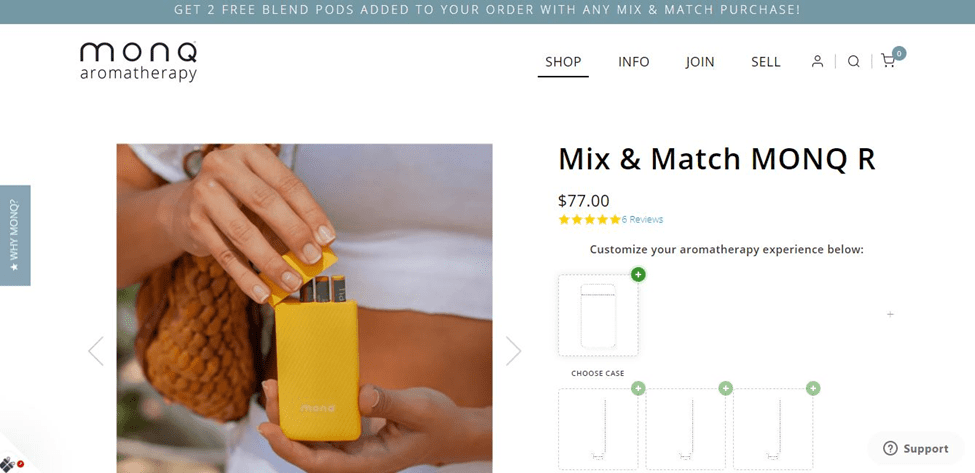 Monq Aromatherapy gives you the benefits of essential oils by blending ancient aromatherapy practices with modern technology. The company uses different organic blends for its ten diffusers.
For aromatherapy on the go, you can choose from dispensable Original Diffusers (for which you need to buy AirTips separately) or Retro Aroma Inhalers. Alternatively, you can get their MONQ R package, which includes a flip case, rechargeable battery, charging cable, and three blend pods of your choice.
Each pod gives you 200 uses (one flip case takes three pods). Monq recommends using 2-3 brisk squeezes for each use, 2-3 uses in sequence, between 2-3 times per day. A disposable diffuser should last for about two months following this dosage guideline.
6. Inhale Vitamins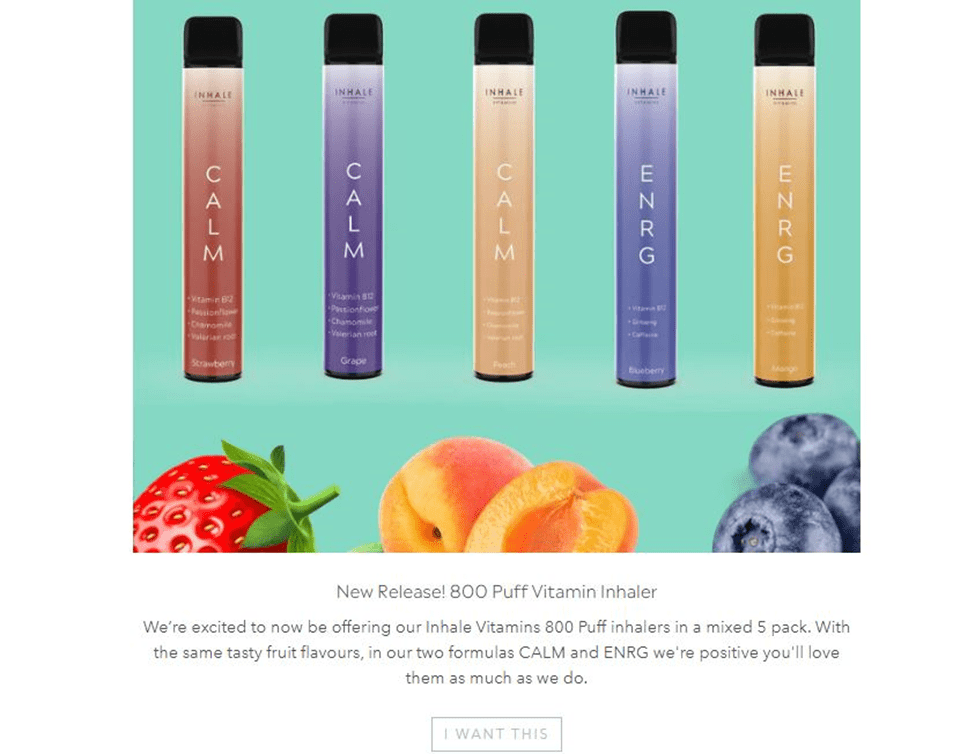 Inhale Vitamins offers a variety of inhalers and formulas in different blends and flavors. The formulas contain vitamin B12 with a mixture of natural ingredients to provide the ultimate health boost.
Inhale Vitamins' inhalers deliver more than 200 breaths in total when used at the recommended 5-10 breaths a day.
This product is ready to be used straight out of the box, which makes it a great product to include in your vape kit for beginners. It's charged and pre-filled with the e-liquid. And the battery only runs out when the e-liquid cartridge is empty. Their inhalers are one use only.
7. VitaStik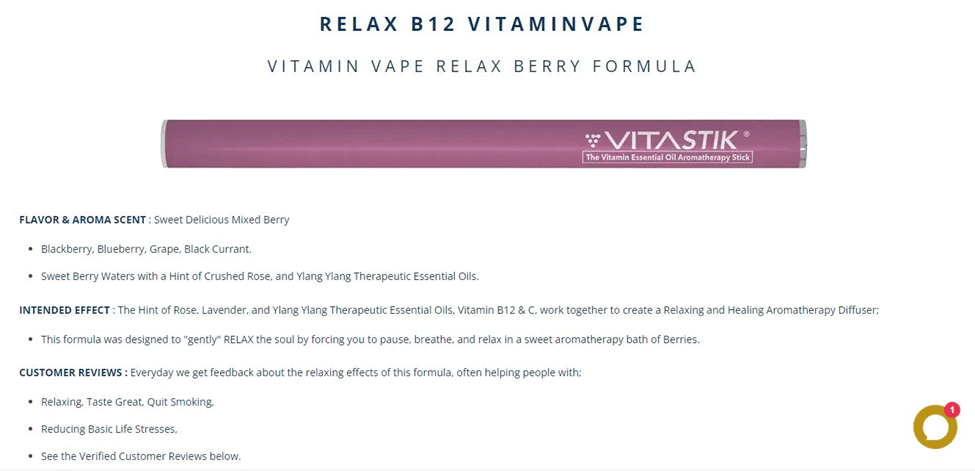 VitaStik offers unique formulas and vaping sticks for a healthier way to vape.
Their Vitamin Sticks are easy to use, convenient, and a great way to get your daily dose of vitamins.
The brand's products are made from natural ingredients and come in 12 flavors. They offer a wide range of vitamin-infused e-juices, including some that contain vitamins B12, B6, B2, and C.
VitaStik's products also contain ingredients like guarana and green tea extract, which can provide an extra boost in energy.
Every vitamin stick is tested and rated to over 500 (2-second) puffs.
8. VitaBar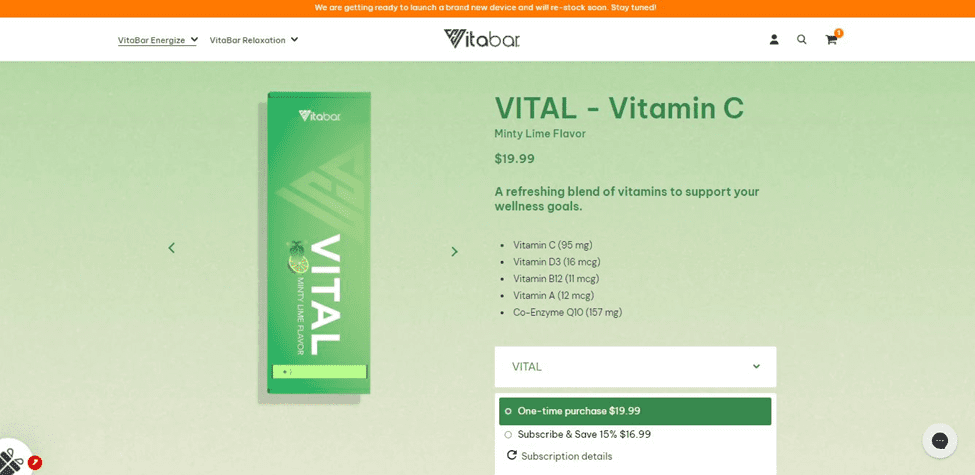 VitaBar offers vitamin-infused e-juices in apple, strawberry, orange, and mango flavors. Worth noting that they are all nicotine-free vapes, containing vitamins A, B, C, D, and E in each puff.
All the ingredients used are natural, kosher, and vegan-friendly with no artificial preservatives or fillers. The flavors are strong, and you'll find the vapor smooth and enjoyable.
Each disposable vape should last between 450-500 inhalations. You should take no more than 20 inhalations per hour. If used correctly, it can last for 1-3 weeks.
You can also subscribe to get an automatic shipment of your favorite vapes every month.
9. HealthVape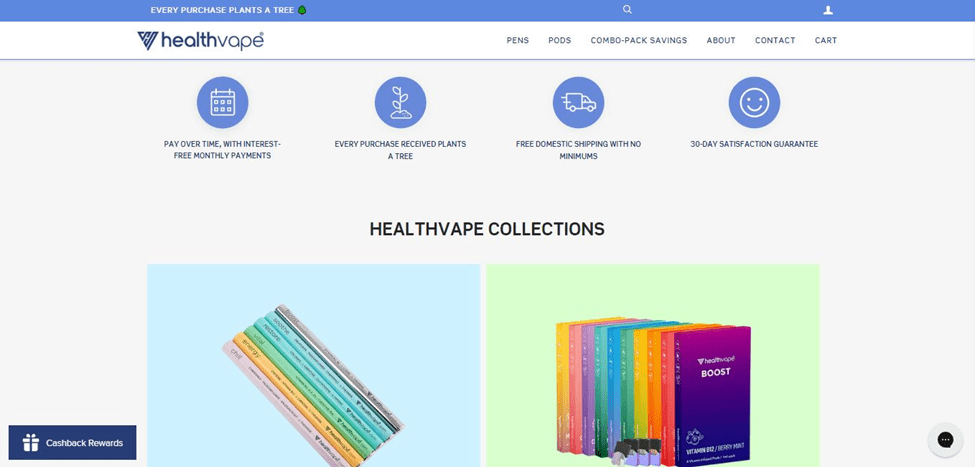 HealthVape helps you get all the essential vitamins and minerals your body needs without having to take traditional oral supplements. You can choose from disposable vape pens and pods with six convenient formulas and 12 flavor options. You'll need HealthVape's battery to use their pods.
The juices contain vitamins C, A, D, and B. HealthVape also provides a variety of other supplements, such as caffeine, and L-theanine, which can be added to your vitamin vape for an extra boost.
Each disposable pen should last between 450-500 inhalations. The pack containing 4 pods should produce approximately 800 inhalations in total.
10. Burst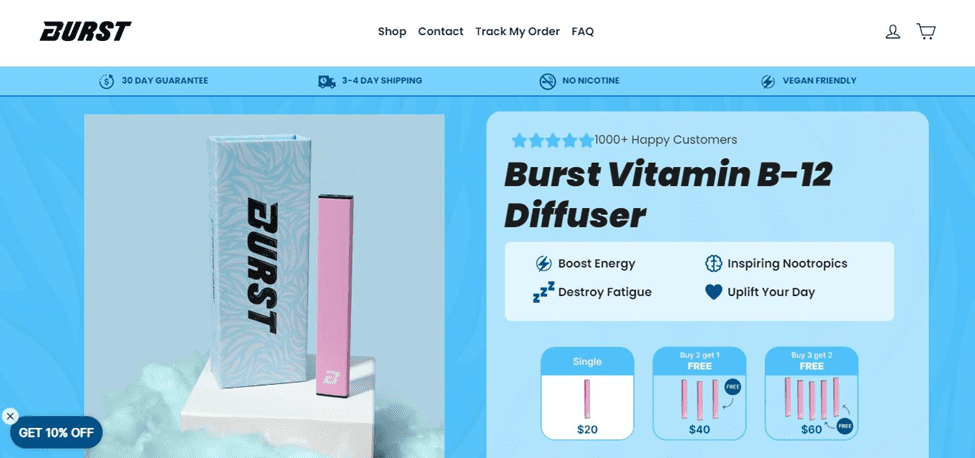 Burst's aromatherapy diffuser delivers a pure B12 aroma directly to your system. The company offers a blend of plant-based ingredients infused with vitamin B12 to increase your energy levels and focus.
Burst's personal diffusers are made with top-quality, natural ingredients and are completely free of harmful compounds like vitamin E acetate or nicotine. It's easy to use and conveniently sized, so you can stay energized and focused on the go.
With 300-400 uses per diffuser, each Burst Bar should last for about one month. The brand recommends using Burst diffusers at 3-10 intakes per day.
Summing Up
Vitamin vapes, or wellness vapes, are a great way to get your daily vitamins without popping pills. Inhaling the organic blends will immediately affect your mood, soul, and vitality. And with so many different delicious flavors to choose from, you're sure to find one that you love.
We recommend VitaminVape products as they're pure and super effective. But don't just take our word for it. BreatheB12 vape reviews are pretty impressive.
Ultimately, we believe you'll have a great vaping experience with any of the vitamin vapes we've covered.