Why is the default gateway not available?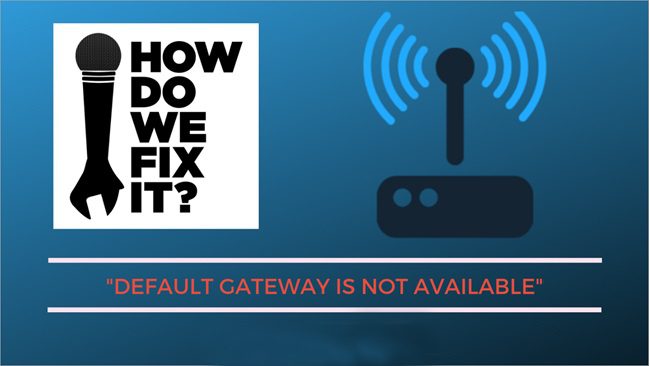 All the internet users will be having the experience of default gateway not available error at least once, this will really irritate a lot by delaying our works and making many get disconnected in sudden while working any important work, so to deal with this we all need to know what is exactly about default gateway not available error that is coming up while we are browsing something important on our system, so today we need to get deep into the error and its reasons that are making our work interrupted by default gateway not available error.
Thank you for reading this post, don't forget to subscribe!
So here we need to get more knowledge about what is this default gateway not available about and why we are getting this error to our system, so to know this before we need to know about one thing that was a little basic knowledge on network and its functioning so that we can find where the process got blocked with default gateway not available error.
What is Default Gateway Not Available Error About?
The network is all about sending data packets from one node to other nodes as designated with a particular IP address as listed in the network system to transfer to specific IP address network nodes, so coming up with this we all needed a router so-called default gateway mentioned in the error, so the transfer of data packets will be transferred to the specified IP address router as designated, so while transferring the data if the node is not able to find the suitable rules that were mentioned to connect while transferring data then comes with the default gateway not available error. This can be like not finding the exact rules or IP address to deliver the data packets and this is the process the got blocked to make us use our internet without fail, so now we are going to find the ways to fix or solve this default gateway not available error with below solution.
Specific Programs Termination:
We all know that the antivirus program is the most important to protect our system from virus and much harmful malware, so we need to be more specific as well as adaptable to our PC because this can be creating many errors by blocking even the networks by recognizing them as a threat while scanning.
This can be technically so simple to work on solving default gateway not available error, as here we need to find the program like McAfee security program needs to be uninstalled from the PC, so we need to do some changes in the control panel navigate to the option with programs & features, now we can make the suitable changes like to install or uninstall programs of the system, so now we just need to make sure by uninstalling this McAfee security program permanently from your system, then we can see the default gateway not available error automatically got fixed, and for protecting your PC from the virus we just need to install any of the other antivirus programs for security purpose.