Villa Investments: Factors to Consider Before Purchasing in Dubai's Market
The question "Why invest in Dubai?" should be asked before making any real estate purchases in Dubai. Because its property prices per sq ft are lower than those of a lot of other cities across the globe, Dubai is an affordable area to purchase high-quality real estate.
Thank you for reading this post, don't forget to subscribe!
Dubai is one of the world's fastest-growing metropolises, with a diverse population that is rising at a good pace.  Whether for investment purposes or for personal use, investing in villas for sale in Dubai offers many exciting benefits, however, there are a few things to think about before moving forward to prevent any unexpected mishaps!
Villa Types in Dubai
Once you've decided that you're planning to invest in a villa, the next step is to determine the type of property, i.e. whether it's a freehold or a leasehold property. To help you decide, you should be aware of the fundamental differences between the two types of ownership.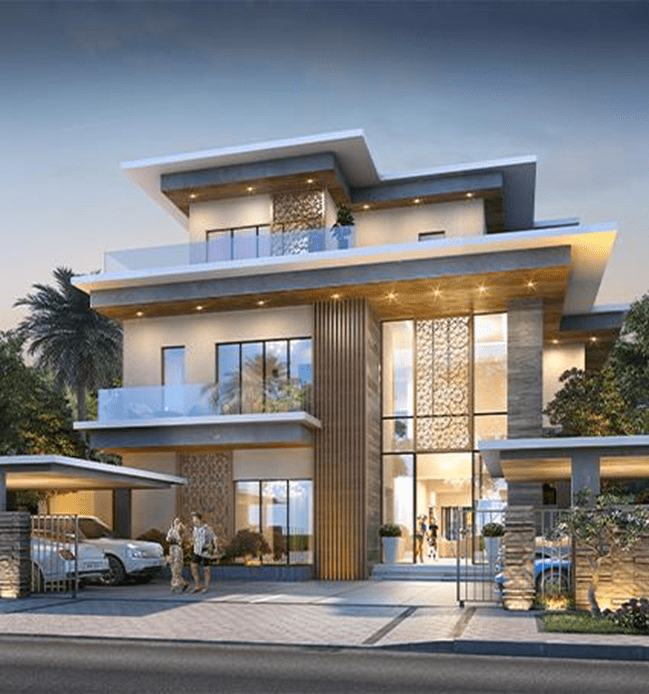 In leasehold, you only have partial ownership while freehold grants you full ownership of the property.
Leasehold is more cost-effective than freehold, making it a better option for those on a limited budget.
There are no extra costs involved for freehold properties, however, there are additional fees for leasehold properties.
Freehold properties do not need the renewal of any documents, while leasehold properties do.
Freehold properties have an indefinite lease term, whereas leases range from 30 to 60 to 99 years.
These distinctions can help you decide whether you choose a leasehold or freehold property. It is generally advised to choose freehold real estate, and surprisingly, there are several freehold neighborhoods in Dubai, like Business Bay, Down Dubai, and DAMAC Hills, so finding the perfect house will undoubtedly be easy.
Factors to Consider Before Buying a Villa in Dubai:
1. Credentials and Reputation of the Developer
The builder's reputation in the industry is another crucial consideration for anyone, so make sure the builder is trustworthy enough by looking into their past accomplishments, ongoing projects, client testimonials, and work history, among other things, before making your choice.
2. Services and Amenities
If a buyer wants to avoid any surprises down the road, it's in their best interest to double-check the services and amenities they'll have access to before making a final decision.
Common Amenities Include:
Swimming pools
Gym & Sports Club
Spa Services
Playgrounds
Jogging tracks
You should also look at the neighborhood's social infrastructure, which includes things like schools, hospitals, clinics, restaurants, and more, since these will have a significant impact on your quality of life and should not be overlooked.
3. Legal Formalities
No matter the sort of property you're looking to purchase, you'll need to fill out a number of forms, so pay attention to the following four procedures that are mandated by law:
Pre-Sale Agreement: This is the first stage or preliminary deal before finalizing the sales contract. Allows you to bargain prices, conditions of sale, etc.
Memorandum Of Understanding (MOU): After reaching an agreement on the details of the deal, the seller and the buyer must sign a Memorandum of Understanding (MOU) or a sales contract, often referred to as a Form F. A witness then sees both the buyer and the seller off at the Registration Trustee's office.
No Objection Certificate (NOC): In exchange for payment, the developer offers a "no objection certificate" if and only if they find that no service costs are due on the property.
Property Transfer: To guarantee safety and security, you must present original identity papers, the NOC, the signed contract, and other important documents to the DLD.
4. Capital Gains From Rising Prices
For a profitable investment, it's no longer enough to just purchase an aesthetically pleasing piece of real estate; rather, it's necessary to examine a number of factors, the two most crucial of which are appreciation in prices and capital gains. Interestingly, if you want a maximum return on investment of 10% from a Dubai property, you'll need both appreciation and capital gain. Of course, some areas are better than others in generating an ROI and attracting tenants.
Conclusion
These are thus the most important considerations to make in order to meet your ideal villa for a larger and better lifestyle and to meet the real estate investment in Dubai since a Dubai villa offers a waterfront, a stunning view, golfing, and much more.