Three Sleeper Teams That Could Make A World Series Run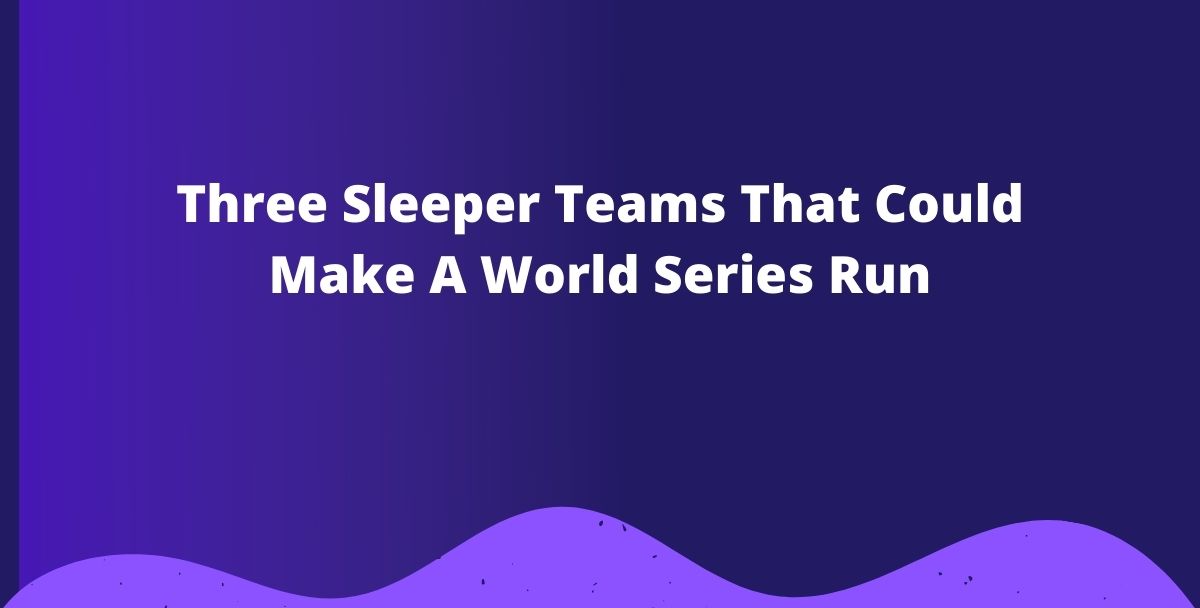 Everyone around the league will talk continuously about a few teams that look poised from the get-go to make a strong case for a World Series Run. Just look at some of the predictions already being tossed around by some of the top World Series odds experts around and you'll find the usual suspects. Of course, you'll see teams like the LA Dodgers, the NY Yankees and Mets, the Tampa Bay Rays, and San Diego Padres, but until the season's over, nothing is set in stone.
Thank you for reading this post, don't forget to subscribe!
Taking baseball legend Yogi Berra's famous words that "the game isn't over until it's over" let's take an early look at some teams that could end up surprising everyone with a late World Series run.
Los Angeles Angels
Baseball this year has been as exciting as any fan can expect and one player that we all have to thank for that is the Angels dual-threat pitcher and hitter Shohei Ohtani. For a sport that has been criticized constantly for being boring and monotonous, Ohtani came, saw the criticism, and literally knocked it out of the park. When he's not throwing literal heat from the mound, he's hitting like a batting champion, his MVP capital is on a constant rise, and given the fact that he's playing with two of the game's top superstars in Mike Trout and Anthony Rendon, this team reads like an exciting unit.
The Angels problems don't reside in their hitting power but their pitching strengths. If the Angels can muster up some serious strength from their starting rotation moving forward in the season and even look into making some mid-season pitcher signings, then watch out for LA's other team. Mike Trout, one of baseball's treasures deserves a noteworthy postseason run after everything he's done for the league and the team. In reality, if the Angels don't gear up and get serious then they might end up seeing Trout sadly leaving to go seek his postseason and World Series dreams somewhere else.
Chicago White Sox
It's time we start giving the White Sox some much-deserved hype. While everyone in the American League is all about watching over what teams like the Yankees, Astros, Rays, and Red Sox do, the White Sox have one of the best young rosters of players in the league. Making a move to get rid of manager Rick Renteria who could be credited with putting together what can easily be considered one of the best and most entertaining teams in baseball today is a head-scratcher. But the veteran manager and proven winner Tony La Russa knows what it takes to make it big and he's all about making the White Sox huge.
Their rotation can easily argue that they get better and better as time goes by and their hitting power? Man, are they good. They have a crowd favorite in shortstop Tim Anderson, a hitting monster in catcher Yermin Cespedes and some respectable hitting and scoring power in guys like Jose Abreu and Yoan Moncada. With La Russa's baseball knowledge and this team's spunk and poise, they can easily put the league on notice and make a run for the title this season.
San Francisco Giants
Remember when you could easily narrow down what year it was depending on if the Giants won a World Series or not? While last season saw the Giants go down and miss the playoffs in a heartbreaking fashion this season is totally different. The Giants have made it a point to play a style of baseball that resembles more of a bare-knuckle scrap at moments rather than actual thought-out baseball but you know what, we´re here for it and we love it. At the end of the day winning games is what's most important.
Kevin Gausman is pitching like a man on a mission and if the rest of the rotation can get behind him then we might be in for flashbacks to those days where the Giants rotation was something to truly fear. With Buster Posey, Evan Longoria, and Brandon Crawford all standing out as leaders in the offense, without massive numbers but again, in that scrappy bare-knuckle style, the Giants are looking very good. Yes, giving the Padres and Dodgers a run for their money in the division will be hard, but never count out the Giants.