Sewing Machine Buying Guide: What To Look For and Favorite Picks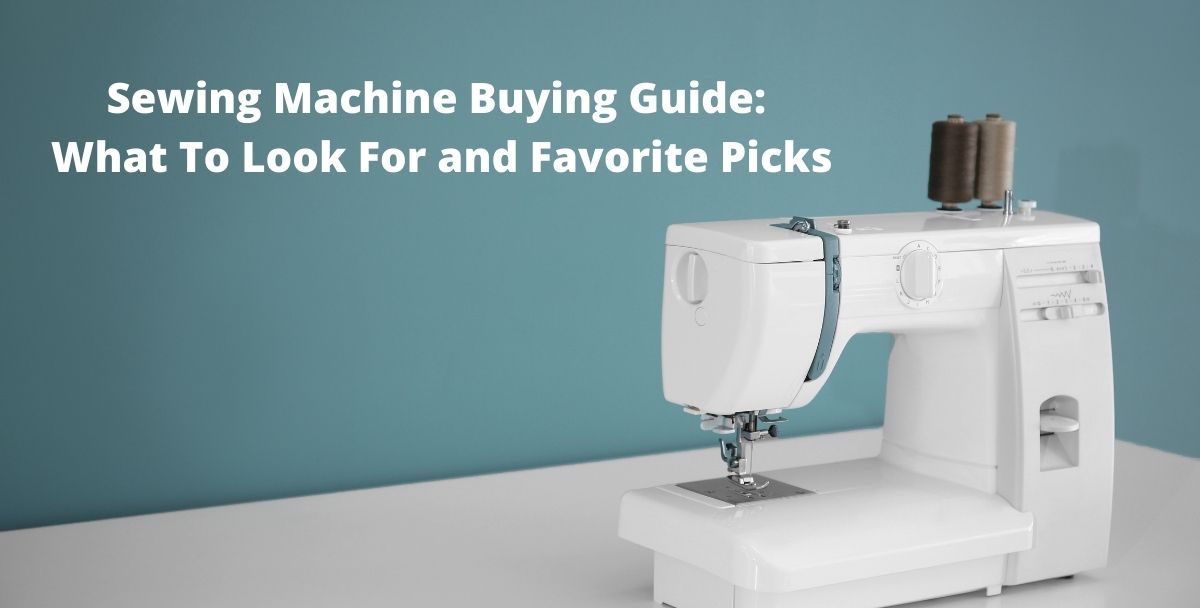 Open up any social media app, whether it's Instagram, Youtube, or TikTok, you'll notice that "thrift-flip" culture has taken over. More and more people are becoming conscious about the environmental repercussions of always buying new, and have thus turned to thrifting and then changing them to fit their tastes and preferences.
Thank you for reading this post, don't forget to subscribe!
So, you can already guess that sewing and the culture of making your own clothes are back in trend again. That means it's time to bring back a sewing machine into your home. But before you get one, make sure that you know how to buy them. That is, what features to look for, and which to avoid.
Given that there are a ton of different sewing machine models out now, you're bound to get confused and make a wrong purchase if you aren't careful. Take a look below to see what you should remember when you're going to buy a sewing machine, as well as a few of our favorite picks.
Things To Remember When Buying A Sewing Machine
Price
The first thing that you should watch out for is the price. Sewing machines come in a variety of prices, and it is important to buy one that suits your budget. Relying on well-known brands will fare well for you, as they tend to come with better warranties and have sturdier product design, although they are generally more expensive. However, that doesn't mean you'll spend way too much. Choose a budgetary sweet spot based on your requirements.
2. Portability and Weight
I'm sure you don't want a big, bulky machine that is impossible to move and hard to get used to. Portability is prime when it comes to buying sewing machines nowadays, as you want to be able to comfortably carry it with you whenever you want, without having to compromise sewing power and battery. It should be lightweight and easy to carry.
3. Built-in Stitches
Another feature to definitely look for is a variety of built-in stitches. While some models offer hundreds of different kinds of stitches, you may not need them all if you are well-versed. But a collection of a few basic ones is a must, such as a zig-zag stitch, a backstitch, button stitch, and more. For beginners, this can be incredibly helpful.
4. Warranty
A proper warranty is a must whenever you're buying a sewing machine because it saves you from the risk of paying out of your pocket in case something goes wrong with your machine during the warranty period. A good warranty also stands as an example of brand quality.
5. Speed Controls
The machine should also offer speed control, and allow you to adjust the speeds according to your needs and your stitching style, according to your level of expertise, and as per what you're stitching or planning to stitch.
6. Automatic Features
With a sewing machine in your hands, you shouldn't have to toil and do everything yourself. Automatic features like automatic buttonholing and needle-threading are a must, which is not only great for beginners but is also helpful for pros who want efficiency in their work.
Top 3 Sewing Machines To Try Out
Here are three top sewing machines that we highly suggest for you to take a look at. These all rate high in terms of price, portability, usability, features, and more.
Juki DNU-1541
Juki is one of the most well-known brands out there in the market, offering hi-tech, sewing machines with the latest features. Their DNU-1541 doesn't disappoint at all and is arguably one of the fastest sewing machines out there. It is great for professional stitching as it can deal with heavy fabrics with ease, and has a variety of adjustable settings. However, the major drawbacks are that it isn't as portable and is on the costlier side. For a more detailed review, check out https://justsewn.com/juki-dnu-1541-review/
2. Brother CS7000X
Our second pick is the Brother CS7000X, which is often considered an excellent beginner machine. At the same time, it is a great machine for those in the intermediate stage as well. It offers quiet, noise-free functioning with a variety of stitches and features, and comes at an affordable price that is suitable for most. However, it is largely computerized, which might be a little intimidating for those who have been dependent on mechanical systems.
3. Janome Sewist 780DC
Our third pick is another mid-range and highly efficient machine, which is the Sewist 780DC by Janome. With a simple design and efficient working system, it has 80 stitch varieties, work fast and produce little to no noise. It has an LCD system, which makes for easy and effective usage. Despite its computerized functionality, it is much easier to use than the usual complex sewing machines.