Account Aggregator: The Secure and Convenient Solution for Financial Data Sharing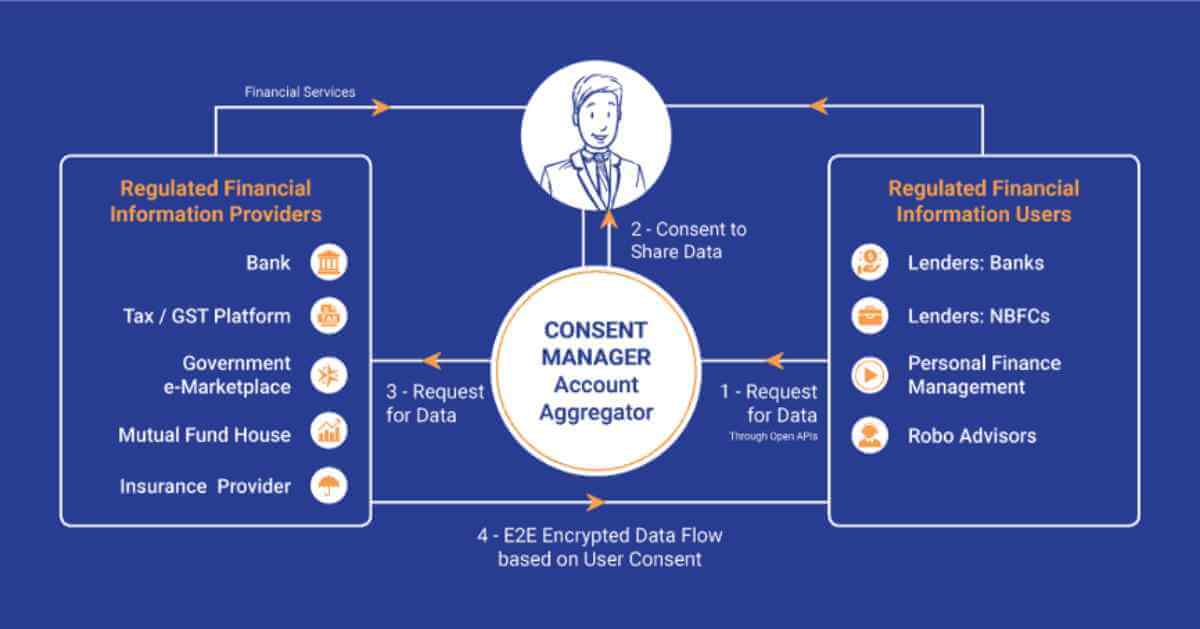 An Account Aggregator (AA) is a licensed entity that operates under the Reserve Bank of India (RBI) regulation as a NBFC-AA category. Its main aim is to provide a secure and digital way for individuals to access their financial information from one regulated financial institution to another within the AA network. The AA strictly adheres to guidelines and policies to protect the individual's data privacy, and multiple account aggregators in india options are available for individuals to choose from based on their requirements. The AA replaces the traditional lengthy and unclear terms of the agreement process with a more precise and controlled permission framework. This framework enables individuals to authorize each use of their data, providing greater control and transparency over the use of their financial information.
Thank you for reading this post, don't forget to subscribe!
What is the Working Principle of an Account Aggregator?
An account aggregator is a middleman between financial information providers and users. It collects users' financial data from various providers, such as banks, and consolidates it. The consolidated data is then shared with financial service providers such as lending agencies or wealth management companies. For instance, a lending bank may need access to various financial data about potential borrowers. The account aggregator facilitates this process, providing the lending bank with access to the required information with the borrower's explicit consent. Using an account aggregator eliminates the need for users to share hard copies of documents or login details. Furthermore, account aggregators in india
make it easier for financial service providers to find the necessary information from various sources without having to browse multiple websites.
What are the benefits?
Convenience
The account aggregator network is a convenient solution that eliminates the need for people to hand over physical copies of sensitive documents or login credentials. Additionally, it streamlines the process of searching multiple websites for the information that financial service providers need.
Greater control and transparency
The account aggregators in india network offer people more control and transparency when it comes to their financial data. Rather than agreeing to broad terms and conditions, individuals can now grant specific permissions for each use of their information. This authorisation level gives people greater control and visibility over their data use.
Single Dashboard
Account Aggregators (AAs) simplify the management of financial portfolios by providing a single dashboard to access multiple financial services from different institutions. With the customer's consent, AAs can fetch and consolidate data from various financial information providers (FIPs), acting as intermediaries between the customer and financial institutions. Customers have complete control over data sharing and selectively choose which financial information to share with which institution. This approach replaces the traditional long-term consent form with a more transparent option.
Security
The account aggregators in india framework places great emphasis on security and privacy. The RBI has established strict data sharing and privacy guidelines, which all AAs must follow. These guidelines ensure that the data shared through the AA system remains secure and inaccessible to unauthorized parties. In order to guarantee data security, the data shared through the AA system is digitally signed and fully encrypted while in transit from the originating bank to the financial institution. This encryption ensures that the data remains confidential and cannot be intercepted or accessed by unauthorized parties. The AA framework has a unique data-blind architecture, which means that it cannot see or store any of the data it processes. Instead, the financial information user (FIU) only processes the encrypted data.
Avoid The Hassle Of KYC
The Account Aggregator framework helps customers repeatedly avoid the KYC process hassle while applying for financial products like loans. Once a customer's financial institution is registered with the account aggregators in india network, the AA can access the customer's financial data, including their KYC details, with their consent. This approach makes the process less complicated, as customers no longer have to provide confidential hard copies or login details. The AA acts as an intermediary that collects and consolidates data from all financial information providers (FIP), like banks, and shares it with financial information users (FIU)s. Customers have full control over their data and can choose which financial information to share with which bank or lender. This consent-based data-sharing model eliminates the need for customers to go through the KYC process repeatedly.
How can the account aggregator framework help the MSMEs?
Access Credit with much ease
MSMEs usually face difficulty obtaining credit because of their restricted financial record and lack of security. However, the AA framework can be a solution to this problem. It allows MSMEs to access credit through a unified platform that offers different financial service scores from numerous institutions. MSMEs can decide to share their financial data with lenders who can evaluate their creditworthiness based on that information and grant them loans.
Simplified Documentation
The list of account aggregators in India framework simplifies documentation for MSMEs by eliminating the requirement of providing hard copies of confidential documents or login details. Instead, MSMEs can authorize the AA to fetch all necessary details, including KYC, and transfer them to the lender. This way, the loan application process becomes more efficient as paperwork and manual processes are eliminated.
Efficiency
The utilization of the AA framework can substantially impact the efficiency of loan application processes for MSMEs. Instead of spending valuable time and resources visiting multiple financial institutions and submitting documents, MSMEs can apply for loans through a single platform. Additionally, the AA framework reduces the processing time for loan applications by allowing financial institutions to access necessary data promptly.
Summary
Perfios' Anumati, a certified NBFC regulated by RBI, takes customer data protection and privacy seriously. The platform prioritizes data security and has put in place multiple measures and controls to protect customer data. The company's systems undergo testing and auditing by reputable external auditors, and the platform complies with all security standards to ensure customers are confident about their data's safety. It uses cutting-edge technology to encrypt customer data both during transit and while stored in its systems. Furthermore, being one of the topmost account aggregators in india, it follows the industry's best security and encryption protocols when exchanging data between FIP/FIU.