Portable Monitors for Laptops Productivity on the go
With the evolving and fast-paced future of work, it would be almost impossible to get meaningful work done on the go without laptops and monitors. Portable monitors, for example, are more easily adopted than traditional displays as a much slimmer, lighter, and mobile monitor alternative. They generally come in different panel sizes, but these laptop accessories are known for one thing among others – portability.
Thank you for reading this post, don't forget to subscribe!
Monitors like Mobile Pixel Glance portable screen for laptop are designed primarily to help professionals, travelers, and businesses enhance their productivity on the go. They are also a perfect option for artists, students, or people who cannot afford a dedicated office setup or simply which to conserve space. Because they're much more portable, some can even be attached directly to a laptop and be flipped open when they are needed. Let's take a look at how portable monitors are saving the day and what to look out for when buying yours.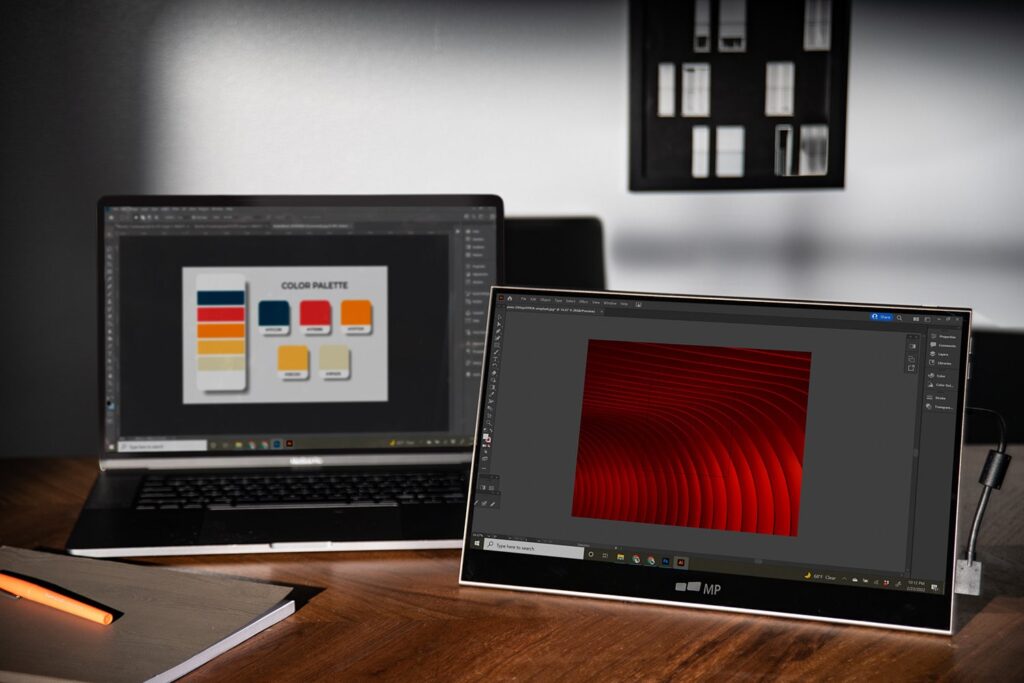 Why Portable Monitors?
Increased Screen Real Estate
Portable monitors for laptops are the best and relatively affordable options to go with if you are short on space but big on the demand for extra screens real estate. Having that extra screen space can always help anyone get organized.
Portability
This is a no-brainer and probably the biggest reason why you should get a portable monitor today. Most portable monitors have a screen size of between 13.3 to 17 inches, and weigh just a couple of pounds; while you may not be able to comfortably travel with a 27-inch monitor or work from a workspace or co-working table with one, portable screens help you get your work done efficiently and effectively without slowing down your productivity.
Increased Productivity
While portable monitors can also be used for gaming, the use of dual or multiple monitors set up has been discovered to increase work productivity by up to 42%. It saves you time and helps you multitask without having multiple windows open all at one screen. For complicated workflows, you can use the added screen space to your advantage keeping all your tabs visible simultaneously and not having to scroll down all the time.
Shopping Tips for the Best Portable Monitors
There are quite a number of portable screen displays out there. If you are interested in shopping for the right portable monitor for yourself, here are some general factors to guide you irrespective of the user category:
Specific Needs
More often than not, portable monitors or laptop screen extenders are primarily used to boost work productivity or for gaming purposes. While some monitors can be used for both, it is best to make your choice based on a predominant need. The standard refresh rate for most portable monitors is 60Hz; however, there are some that offer up to 144Hz and Adaptive-Sync technologies for a maximum gaming experience. The screen resolution is also a factor to consider, for example, if you are using your portable monitor for design purposes.
Connectivity
This is a standard rule for purchasing a monitor- always make sure it connects to your primary device or devices. Most monitors connect with either a standard HDMI port or a USB-C alternate mode, others have more than one port for connection allowing for versatility. Also, ensure that they are compatible with your macOS, Windows, DeX, or Nintendo Switch, as the case may be.
Kickstand
Pay attention to the monitor kickstand as it contributes greatly to your display experience. A built-in kickstand serves two purposes- it allows you to easily adjust the screen to your most convenient viewing position and posture while protecting the screen by keeping it in the right place. The magnetic origami-style covers for some monitors also double as a kickstand. With them, you can use your laptop as a standalone screen right next to your laptop.
Battery Life
A large number of portable screens draw power for the connected PC or laptop through a USB-C or HDMI connection. Others come with a charger that allows them to be powered by connecting them to a power source. The latest models come with a built-in Lithium battery allowing you to use them for games or work without being connected to a power source
Other details to look out for include the screen size, reviews, and also pricing. Ensure you do your adequate research and assessment before making a buying decision you would be satisfied with.
Wrap Up
No matter the style of portable monitor you use or the kind of workstation you operate, portable and lightweight monitors are handy and allow you to do more with less space. Now with monitors like Glance, you can take extra screen space and a power-efficient work companion anywhere you go. With the plug-and-play feature, you can transfer data seamlessly while powering the monitor at the same thing. You really have all to gain and nothing to lose.