Importance of Timely and Accurate Online ITR Filing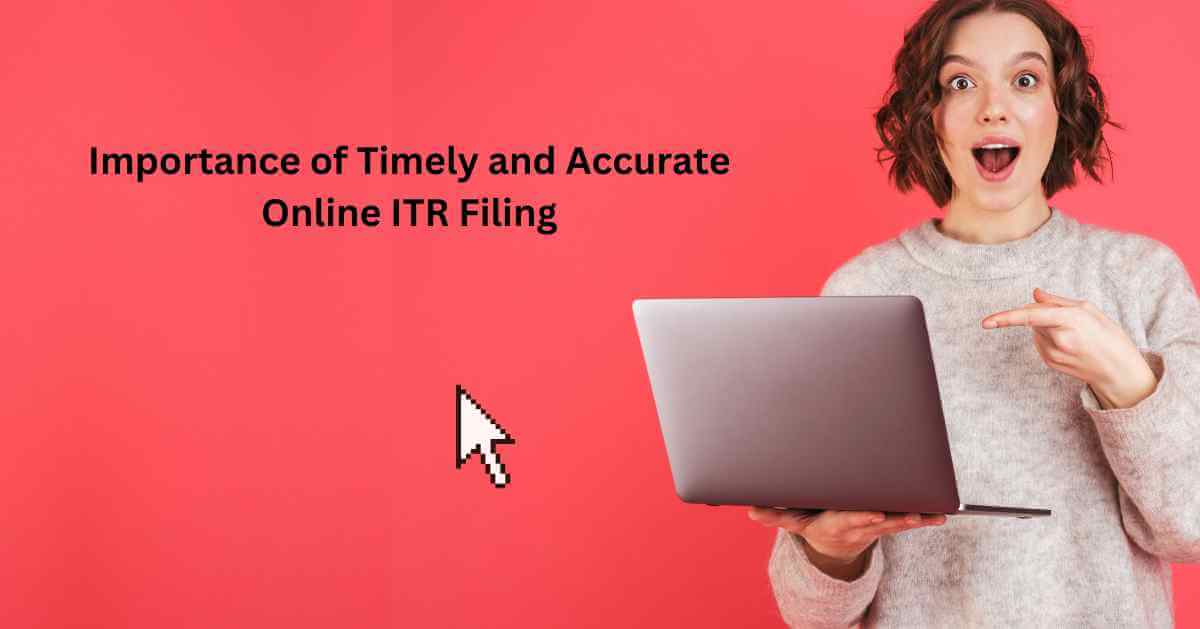 Introduction
Filing Income Tax Returns (ITR) is a legal obligation and a crucial financial responsibility for every individual. With the advent of technology, ITR filing has become more streamlined and convenient, particularly through online platforms. Timely and accurate online filing of ITR holds paramount importance due to several key reasons that affect individuals, businesses, and the overall economy.
Thank you for reading this post, don't forget to subscribe!
Although if an individual's overall income exceeds the minimum threshold, they are required to file their ITR, it is strongly recommended that people with zero income also file their returns on time. Let's understand why filing timely and accurate ITRs online is important.
Importance of Filing Timely and Accurate ITR
Let's look at the reasons why everyone who is going for ITR filing should ensure it is done on time:
1. For Loan Processes
At some point or other, an individual may need bank loans to buy a house or vehicle. All major banks and lenders in India ask for an ITR copy for loan approvals. If you have correctly filed your Income tax return on time, the bank considers it a good sign, and your chances of getting the loan also increase. Moreover, these days the ITR document is considered a mandate and one of the most important documents needed for any kind of loan approval.
2. For Visa Purposes
Like a loan application gets stronger with the presence of a timely filed ITR, a visa application also gets an added advantage. Including your ITR document in the visa application will lessen the chances of your application getting rejected. Your ITR will showcase that you are a responsible citizen.
Moreover, these days, many nations have a prerequisite of showing the applicant's ITR due to security concerns. Take the example of applying for a Schengen visa. Even if the person has zero income, they still need to show ITR for the last three years for their visa application. Hence, you must always check the ITR filing last date and submit your form before the same.
3. Avoiding Penalties
One of the main reasons to file your ITR on time is to avoid penalties. For everyone who is unaware, there are penalties for late filing of ITR. Nobody would want to come in the government's eye for the wrong reason, especially for something as easy as ITR filing.
Every individual who misses the deadline can be imposed with a tax penalty. Therefore, always remember the due date and file your returns before the same.
4. Claiming Refund
There can be instances when your total income may be less than the minimum threshold, but you still would have paid taxes each month. In such cases, you are eligible to file for a refund. But to claim your refund, you should have filed your ITR on time and, most importantly, correctly.
If you miss filing the ITR, you will lose the opportunity of claiming any tax refunds, if there is one for you.
5. For Buying High Cover Insurance
Post-pandemic people have realized and understood the importance of medical insurance. Looking at the uncertainty, people are looking to purchase insurance for higher coverage to protect themselves and their families in need.
However, an insurance provider will only approve high-cover insurance, especially over Rs. 50 lakhs if the individual can show their ITR. ITR, for such cases, acts as proof of yearly income. The amount you would be approved for your insurance coverage will be determined by your income in the ITR. Hence, if you seek better insurance coverage, you know how important timely filing of ITR is for you.
Bottom Line
Filing your ITR is important for you, the economy, and the country. The government uses this tax money to improve the country's infrastructure and services, such as defense and healthcare. Simply put, the government uses the tax people pay for their betterment. Therefore, filing taxes on time and supporting the government and economy are important.