Maximizing Value and Convenience with Motorized Curtain Automation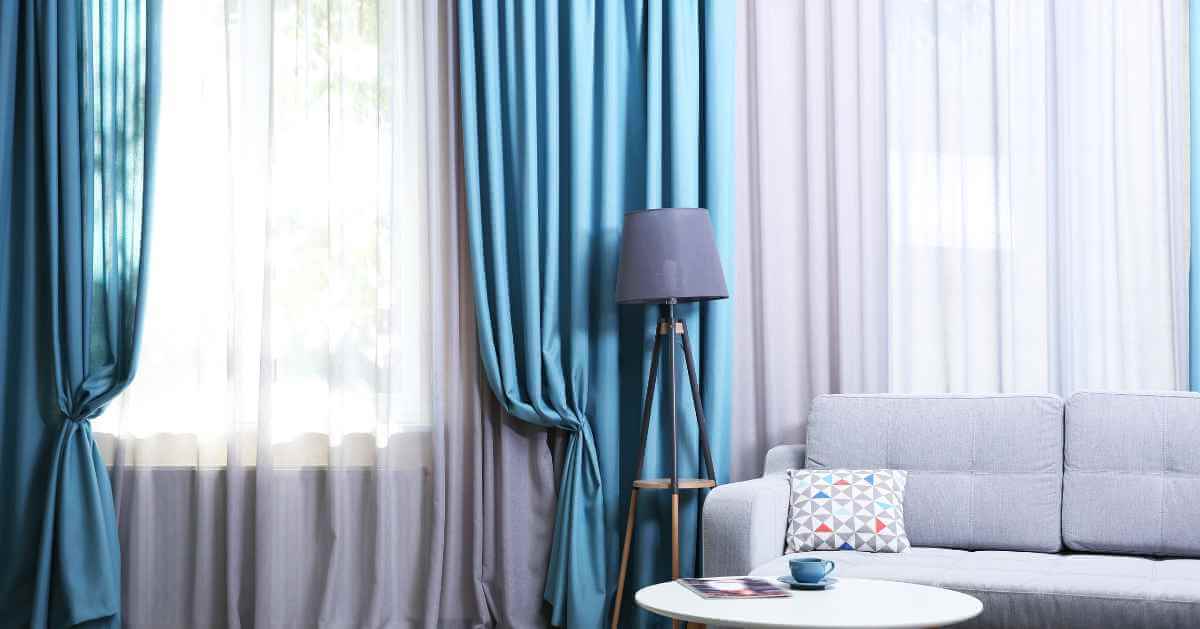 With the growing popularity of smart home technology, motorized curtains have emerged as a user-friendly option for controlling window treatments through WiFi and voice commands. But with many curtain automation systems on the market, deciding which solution is best suited to individual needs can feel daunting. This comprehensive review evaluates seven top smart curtain systems based on key factors to simplify selection.
Thank you for reading this post, don't forget to subscribe!
| | | | | | |
| --- | --- | --- | --- | --- | --- |
| Product | Compatibility | Control Methods | Installation | Battery Life | Weight Limit |
| Switchbot Curtain Robot | Standard curtain rods | App, voice, light sensor | 30 seconds, no tools | 6 months | 17 lbs |
| Astomi Smart Curtain System | Custom or fixed sizing | App, voice, remote, timer | Wall or ceiling track | N/A (power cord) | 100 lbs |
| OlideSmart Automatic Curtain | Adjustable track sizes | App, voice, remote | Wall or ceiling | Unknown | Unknown |
| Quoya Smart Curtains System | Large windows | App, voice, remote, motion | Track mounts to wall/ceiling | Unknown | 132 lbs |
| Graywind Motorized Curtain Set | Custom sizes/fabrics | App, voice, remote, timer | Motor attaches to track | Unknown | Unknown |
| Yeelight Smart Curtain Motor | Standard curtains | App, voice | Clamps onto fabric | 2-3 months | Unknown |
Switchbot Curtain Robot
As a leading manufacturer in smart window coverings, Switchbot sets the standard with its Curtain Robot. Featuring a compact design measuring just 4 inches wide, the robot belies its powerful motor able to comfortably maneuver up to 17 pounds of fabric. Setup proves effortless through the robot's ability to securely clamp onto standard curtain rods within 30 seconds requiring no tools. Battery life stands at an outstanding 6 months betweencharges for virtually endless use. The inclusion of Switchbot's acclaimed app and voice assistant integration allows easy one-touch control from anywhere. At an affordable price point, the Curtain Robot transforms existing drapes into smart curtains with minimal investment.
Quoya Smart Curtains System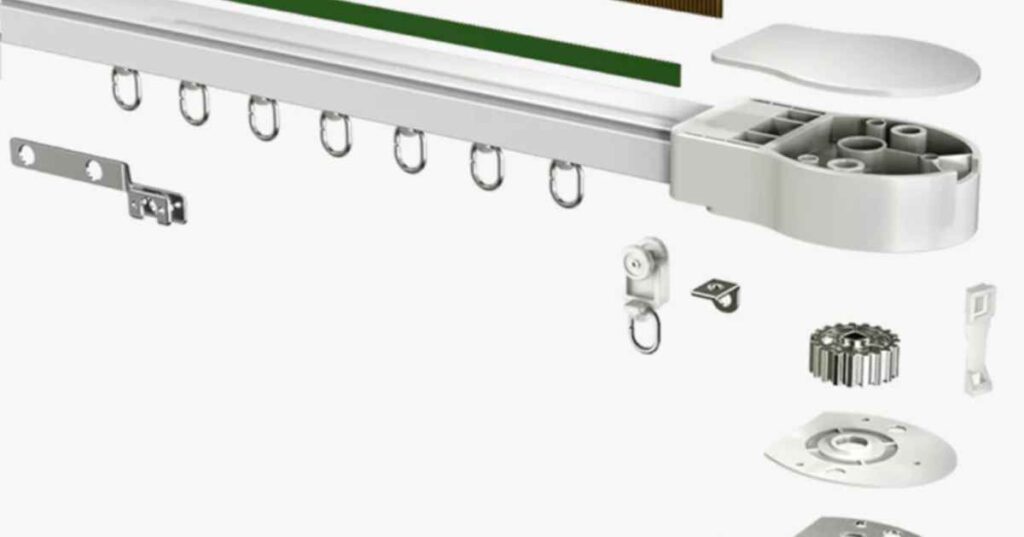 Providing whole window automation, Quoya presents feature-rich track systems ideal for expansive panes. Tracks customize precisely from 3 to over 7 meters to fully envelop openings. Corner brackets adapt rails seamlessly to angled bay windows. An included kit simplifies mounting to walls or ceilings. Capable of 132 pound weight capacities, heavy drapes pose no challenge. Automated movements run consistently along the entire length in near silence. The remote, app, and voice control options coupled with integrated scheduling make Quoya a premier track option.
OlideSmart Automatic Curtain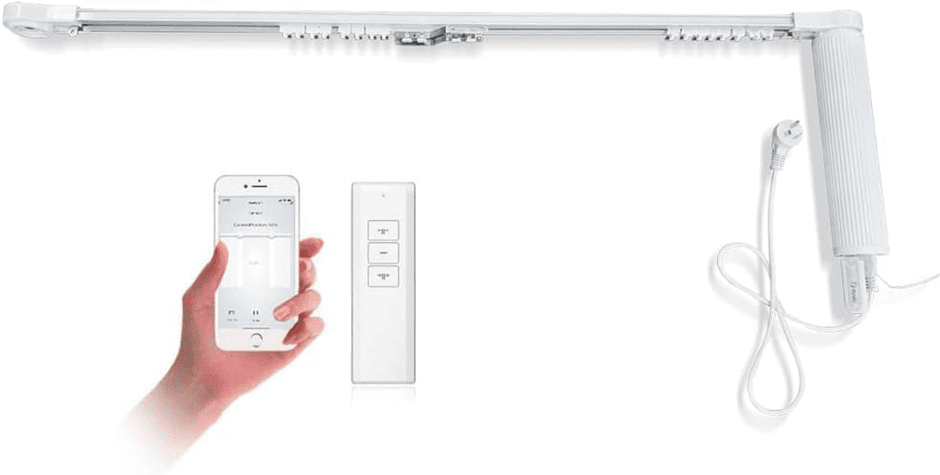 Bringing track capabilities affordably, OlideSmart presents adjustable rails measuring 2.2 to 8.2 meters. Precise sizing matches any window while wall or ceiling mounting integrates discretely. Interfacing through the Tuya app and voice commands empowers remote control with customizable timers per room. Budget pricing makes smart curtains accessible without sacrificing quality or features. A top pick for basic yet versatile window tracking.
Graywind Motorized Curtain Set
Portraying luxury, Graywind curtains absorb 95% of heat and light through unique insulating fabric in 12 customized colors. Construction endures weathering while blocking 99% of UV rays. Together with a powerful ultra-quiet motor and Graywind's renowned advanced app, owners enjoy unmatched control flexibility across remote, scheduling and voice integrations. Complete turnkey sets with deluxe components define the epitome of automated drapery.
Yoolax Smart Curtain Rod
As a total window solution, Yoolax presents adjustable motorized rods ranging widely from 86 to over 157 inches. Optional curtain pairings attach securely along the entire length for coordinated coverage. Included remote control or app commands provide simple operation, while an optional sensor triggers movements in response to lighting for autonomous shading. Affordable pricing makes Yoolax an all-inclusive option.
Yeelight Smart Curtain Motor
Uniquely designed for rodless applications, Yeelight clamps discreetly and cordlessly onto existing fabrics. Low-profile operation remains well-hidden behind curtains when silently gliding windows open or closed through app or voice control. As the sole automated solution for standard curtains lacking rods, Yeelight fills an important need.
Conclusion
In conclusion, needs around features, battery independence, material quality, and control preferences play largest roles in differentiating smart curtain automation products. Track options like Quoya and Olide accommodate entire windows, while Yeelight uniquely handles rodless installations. Switchbot Robot and bundled systems from Yoolax and Graywind balance features, value, and convenience across different budgets. Weighing individual requirements guides choosing the perfect system.