Maximizing Sales with Magento: The Art of Syncing for Omnichannel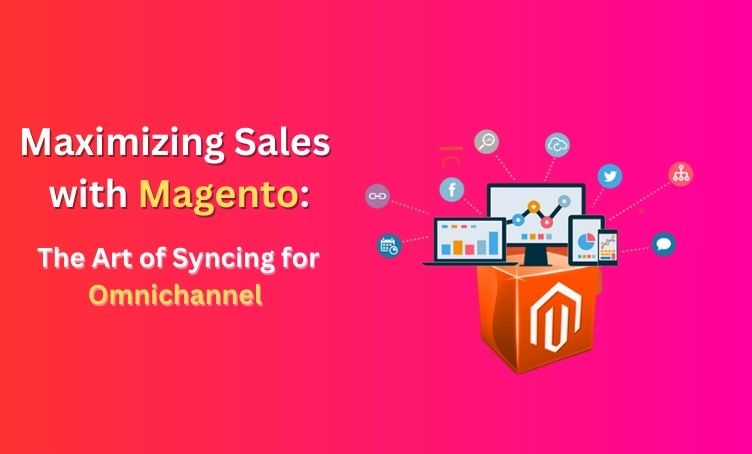 Are you investing a good amount of resources in offering a superior shopping experience to your customers yet failing to meet their evolving preferences in today's fiercely competitive eCommerce landscape? Ever wondered how some businesses are able to identify what their customers want, regardless where they shop, – whether it's on your website, through a mobile app, or your brick-and-mortar store? The solution lies in Omnichannel selling. It enables businesses to integrate online and offline sales channels seamlessly so that
Thank you for reading this post, don't forget to subscribe!
customers can consistently interact and transact across these channels, enhancing customer satisfaction and driving sales.
If your online store is powered by Magento, syncing your eCommerce store across various sales channels can help you create a unified shopping experience while ensuring a significant edge in the marketplace. One surefire way to achieve success in turning your Omnichannel aspirations into reality is to hire Magento developers. Utilizing the rich expertise of these seasoned Magento professionals, you can execute omnichannel synchronization flawlessly, ensuring a consistent experience across the board.
Wish to explore Magento's Omnichannel strategy in detail? This blog will help you uncover the key features of Magento's Omnichannel selling strategy and the toolkit to boost your Magento Store for omnichannel success.
Let's talk about Magento's Omnichannel Selling Approach
Magento's Omnichannel Selling Approach delivers a unified and consistent brand experience across all touchpoints, adding to its stature as a top eCommerce platform. It aims to provide a consistent, convenient, and personalized shopping journey for your customers, regardless of the channel they choose (whether they are online or offline), breaking down the barriers between different sales channels. This unified experience in turn enhances customer satisfaction, loyalty, and ultimately drives sales.
Magento's Omnichannel Selling Features
Unified Inventory Management
With the aim of managing inventory effectively, Unified Inventory management feature synchronizes inventory levels, product details, and prices across all sales channels. It means whether a product is sold online or in a physical storefront, inventory levels are updated in real-time. Consequently, preventing you from facing overselling or stockouts all while ensuring efficient order fulfillment and seamless shopping experience for customers.
Centralized Order Processing
Managing orders originating from different channels through a single interface helps simplify order processing. Whether you place an order online, through a mobile app, or physically at a store, centralized order processing provides customers with accurate order status updates and tracking information. Integrate order management streamlines order processing, payment, and order fulfillment.
Cross Channel Shopping Carts
With Magneto's Omni Channel Selling, you can start your shopping journey on one channel and continue on another without losing cart contents. For instance, you can add to your cart on the website and complete the purchase through a mobile app or in a brick-and-mortar store.
Flexible Fulfillment Options:
Magneto's Omni Channel Selling Approach offers customers with a range of convenient choices for receiving their purchased items. When you offer diverse fulfillment options to your customers, you boost their convenience and satisfaction by optimizing inventory management across multiple locations. Flexible fulfillment options encompass buy online, pick up in-store (BOPIS), ship from store, and return online purchases in-store.
Data-Driven Insights
Magento provides you with advanced analytics tools using which you can optimize your omnichannel strategy. These tools derive insights from customer behavior, transactions, mobile app interactions, social media engagements, sales trends, and more. By leveraging data driven insights strategically, businesses can make informed decisions, optimize marketing efforts, improve shopping experience and create more meaningful connections with customers, drive sales, and identify areas for continuous improvement.
Magento Toolkit for Omnichannel Success
Multi- Channel Integration
Magento offers a centralized platform for integrating all your selling channels, including physical stores, e-Commerce websites, mobile apps, or social media shops, etc. to ensure Omni channel success. By establishing a seamless connection to Magento's central system, businesses can control pricing, promotions, inventory, products, etc., across all sales channels.
Implement Inventory Management
Leverage Magento's inventory management capabilities to maintain accurate stock levels across all channels. Automated inventory updates are vital to prevent overselling and ensure a consistent shopping experience, irrespective of the customer's chosen buying channel.
Personalization and Recommendations
Magento's toolkit enables businesses to create personalized customer experiences by leveraging the data-driven personalization and recommendations algorithms, delighting customers and driving sales. The data is collected from various customer interaction touch points spanning across different channels. By analyzing data from browsing history, buying behavior, and individual preferences, businesses can personalize the shopping experience and make their omnichannel strategy customer-centric.
Unified Customer Profiles
By gathering customer data from different channels, Magento helps create unified customer profiles. It enables you to deliver personalized recommendations, targeted promotions, and consistent customer interactions with your brand.
Shipping & Fulfillment Integrations
Magento supports extensions that offer fulfillment options like "Buy Online, Pick Up In-Store" (BOPIS) and ship from store. When you offer such choices for receiving orders to your customers, you boost their convenience and attract foot traffic.
Mobile Optimization
As the use of mobile devices for browsing, shopping, and interacting with online content grows, Magento offers mobile-responsive designs and mobile app development options. This ensures a seamless and user-friendly shopping experience for customers, regardless of the device they choose to use.
Extensions & Integrations
Magento's marketplace offers a plethora of extensions and integrations for enhancing particular aspects of your omnichannel strategy. Seamless payment gateways to CRM and Social media integrations, these wide range of integrations and extensions expand the capabilities of your eCommerce platform. Payment gateway integration allows you to make secure payments regardless of where you choose to shop. Additionally, integrating a Magento store with social media integration will allow you to explore products, and make purchases directly from social media channels.
The Bottom Line
Adopting Magento's Omnichannel Selling Approach is all you need to do to align with the rapidly changing preferences of today's customers. Magneto's Omani channel selling approach enables you to synchronize diverse selling channels, maintain a unified inventory, and deliver consistent customer experiences. Ultimately, making you ready to thrive in the competitive retail landscape. Moreover, for achieving Omnichannel excellence, Magento offers a robust toolkit that carries the resources necessary to craft a seamless and captivating shopping journey for your customers. So, take the leap into omnichannel selling and find a leading software solutions company that can help you implement Omni channel strategy effectively, propelling your business growth.