Masako Katsura: The First Lady Of Billiards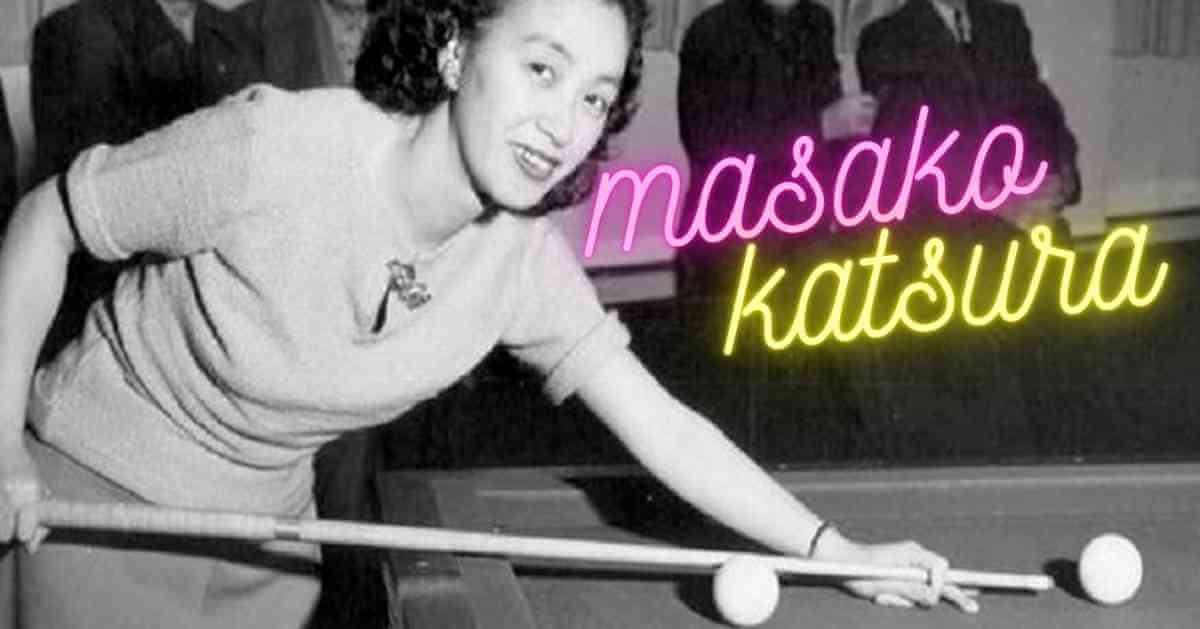 In 1952 an incredible event took place in the world of billiards when Willie Hoppe, a celebrated champion who had won a 51 world championship faced a never seen challenger; Masako Katsura, a skilled female player, from Japan. Even though she hadn't been around during Hoppes's triumphs Katsura had already made a name for herself in Tokyo billiards halls by displaying her abilities.
Thank you for reading this post, don't forget to subscribe!
As Katsura's reputation grew she became famous beyond her country. Captured the attention of the international stage. She became the woman to compete in global billiards tournaments. Her emergence was quite unexpected for players but once they saw her talent on the table any doubts were quickly dispelled. While the media often focused on Katsura's outfits and the novelty of having a player in this male-dominated sport her opponents were more concerned with her remarkable skills.
Throughout the 1950s Masako Katsura's story became synonymous with breaking gender barriers in billiards. This earned her the title of "First Lady of Billiards." Her journey and achievements made an enduring impact on the sport. Served as inspiration, for generations of female players worldwide.
Who Was Masako Katsura?
Masako Katsura started playing billiards when she was 14 years old, in Tokyo, a city where billiard halls were quite popular during the 1920s. Her mother encouraged her to take up the sport as a means to improve her health and strength after the passing of her father. It didn't take long for Katsura to realize her talent for the game. She even began working at a billiard hall while practicing diligently every day.
Right from the start Katsura showcased a knack, for trick shots. By the age of 15 she emerged victorious in the women's straight rail championship. This impressive feat caught the attention of Kinrey Matsuyama, who was Japan's reigning billiards champion at that time. Matsuyama became Katsura's coach. Introduced her to the world of three-cushion billiards.
In this variation of the sport, precision was key. Players had to strike the rail cushion three times with the cue ball while hitting two object balls. Skillful players could score double-digit points in a turn with a record held by the world champion at 25 points for their highest-scoring turn.
Traditionally billiards was often associated with power and forceful shots typically executed by players in order to accumulate points. However, Katsura brought something to the game – a skillful playing style that made her truly stand out.
[Also Read: A Brief Introduction to NFL Streams]
Rise of a Billiards Prodigy: Masako Katsura's Journey from Tokyo Teenager to World Champion
At the point when she was 14 years of age Masako began working at a pool corridor where she gained the intricacies of 3 pad billiards from her brother-in-law.. This adaptation of the game is played without pockets. Her energy for billiards developed quickly as she rehearsed strongly and noticed procedures utilized by players. She even fostered some stunt shots of her own.
Dissimilar to the male-overwhelmed billiards scene in the US during the century both male and female players were invited in billiards. Young ladies frequently filled in as orderlies in Tokyos pool lobbies. Anyway, proficient-level open doors were for the most part restricted to men.
During her years Masako Katsura kept on succeeding in billiards while likewise zeroing in on working on her solidarity. At 15 years of age, she exhibited her ability by bringing home the ladies' rail title in Japan. Headed to upgrade her abilities she devoted herself to dominating rail and 3-pad billiards. She leveled up her skills, in point shots and actual moves while adjusting to difficulties presented by her height.
In 1937 Masako caught the interest of Kinrey Matsuyama, a pool player and eminent champion, in Japan. He turned into her tutor directing her in the specialty of billiards and, for the accompanying decade she committed herself to improving her abilities in the city of Tokyo.
Masako Katsura: How Did She Become the 'First Lady of Billiards?
In the 1900s a remarkable Japanese woman named Masako Katsura made an enduring impact, on the realm of billiards. She cemented her status as a champion. Earned the prestigious moniker of "The First Lady of Billiards." Her exceptional talents and accomplishments are still revered today firmly establishing her as one of the players, in the sports rich history. Within this article, we delve into her life and extraordinary career.
How Did Masako Katsura Move To America?
World War II put a stop to Masako Katsuras' career in billiards. During that time she devoted herself to putting on solo shows for the troops showcasing her talent and entertainment skills. After the war Katsura shifted her focus. Began captivating troops with her mesmerizing billiard tricks.
Her performances, for the soldiers, proved to be a turning point in Katsura's journey propelling her toward gaining recognition. One American soldier was so impressed by her expertise that he wrote to his father, who happened to be the billiards champion Welker Cochran praising Katsura's abilities and even admitting she was better than him. Intrigued by this glowing endorsement Cochran reached out to Katsura. Encouraged her to visit the United States.
Before embarking on her journey to the U.S. Katsura continued making waves in the world of billiards by winning the national women's billiards tournament and even competing in the men's championship. Her remarkable skill broke barriers. Garnered attention.
In 1951 Katsura finally settled in California ready for a chapter in her life. However, she encountered a difference, between billiard culture and what she knew back home in Tokyo. While Japan had hundreds of billiard halls where women actively participated American billiard halls were primarily dominated by men.
Katsura shared her observations on the gender dynamics, within billiard parlors in America. She mentioned that she had only come across one billiard player since she arrived. She even pondered the concept of having billiard parlors for women acknowledging the importance of creating an inclusive and inviting atmosphere. Despite the difficulties she faced Katsuras skills and perseverance continued to make an impression, on the world of billiards.
How Did She Become An International Billiards Sensation?
During the 1950s Masako Katsura made an entrance into the world of billiards impressing everyone with her skills. Welker Cochran, a champion himself took on the role of her manager. Firmly believed that she was the player who could take on the best male players, in the game.
Katsura's incredible talent quickly grabbed headlines. Unfortunately, media attention often focused more on her gender than her abilities. Some newspapers stooped to making comments labeling her as a " Japanese cue tee" and portraying her as a delicate lady who surprised everyone with her billiard prowess.
However fellow billiards players held Katsura in regard. Admired her greatly. Renowned player Willie Hoppe was astounded by her skills. Even predicted that she would triumph against some of the world's players.
The anticipated match between Hoppe and Katsura in 1952 received coverage. Despite Hoppe being a 51-time world champion Katsura faced treatment from members of the press due to being a petite Japanese woman. The San Francisco Chronicle criticized Hoppes's behavior during the match. Emphasized that no gentleman should treat any individual disrespectfully not an elegantly dressed young lady, like Katsura.
Even though Katsura wasn't able to overthrow Hoppe as the world champion, her involvement, in the global billiards tournament established her as the woman to accomplish this achievement cementing her position, in sports history.
[Also Read: The Popularity of NFL in the World of Sports Wagering]
The First Lady Of Billiards
Masako Katsura, a trailblazer, in the world of billiards, achieved fame and success in the sport. In 1958 her popularity soared as she made appearances on television shows. Throughout her career, Katsura consistently ranked among the players in tournaments.
Unfortunately, a tough loss against the reigning world champion in 1961 led Katsura to make the decision to retire.
Her long-time coach, Cochran always. Admired Katsura for her talent. He recognized that she opened doors for women in billiards and made it an appealing sport for players. Cochran even noted that she possessed skills to those of players.
In an event at a San Francisco billiards parlor in 1976 known as the "First Lady of Billiards " Katsura amazed the crowd by scoring 100 points before gracefully ending her performance and leaving a lasting impression.
As time went on and billiards evolved during the 1970s a group of players formed the Women's Professional Billiard Association. In recognition of her contributions, to the sport, Katsura was honored with induction into their Hall of Fame.
Following a remarkable journey, in the realm of billiards Masako Katsura ultimately returned to her home country of Japan. In 1995 she peacefully departed this world leaving behind an enduring legacy and an inspiring narrative of surpassing boundaries and attaining achievements, within the realm of billiards.
Billiards Sensation Masako Katsura Entertains American Troops with Dazzling Exhibitions
After the conclusion of World War II Masako Katsura amazed soldiers stationed in Japan with her talent, for billiards. Despite her stature standing at 5 feet tall and weighing less than 100 pounds Masako astounded predominantly male audiences with her incredible trick shots in various pool corridors across Tokyo. Among those enamored by her abilities was U.S. Air Force Expert Sergeant Vernon Greenleaf, who later fostered a relationship with Masako and wedded her two years after the fact.
Insight about Masako's capacities immediately spread among returning officers starting tales about a Japanese lady who could beat any man in billiards. At last, this news arrived at Welker Cochran, a widely acclaimed champion in 3 cushion billiards. Fascinated by the stories encompassing Masako's ability Cochran mentioned his child, who was positioned close to Tokyo at an opportunity to go to one of her shows and affirm these than-life reports.
Cochran's child was so intrigued by what he saw that he sent a 12-page letter approving Masako's abilities on the billiards table. Persuaded of her capacities Cochran broadened a greeting, to Masako to contend in a 3 cushion title held in the US.
In 1950 Masako had previously gotten runner-up positions, in Japan's 3 cushion title. She was eager to challenge herself against contenders. Tolerating Cochran's greeting Masako and Greenleaf migrated to Northern California in December 1951. They were ready to enter a period of their lives and show Masako's remarkable billiards abilities on a stage.
Billiards Sensation Masako Katsura: A Media Darling and International Icon
In the domain of media inclusion, Masako Katsura, the excellent pool player, confronted a blend of positive and tricky stories. In spite of the generally speaking great tone in most news stories, writers couldn't avoid depending on misogynist and bigoted generalizations to depict this stand-out competitor.
One of the articles in 1952 from the Chicago Tribune, Rita Fitzpatrick compared Masako's appearance in the US to the effect of a nuclear bomb, a relationship saturated with sentimentality. The journalist further portrayed her as a fragile and modest lady who appeared to be unequipped for applying force. Adding to the interest, the piece accentuated Masako's inclination for glossy silk kimonos and high heels while playing, adding a "colorful ladylike touch" to her billiards persona.
One more article from an Indiana paper observed Masako's accomplishments however alluded to her as a "flexible Japanese conflict lady," unobtrusively featuring her ethnic foundation and conjugal status in a way that could be viewed as unseemly by the present principles.
Various articles zeroed in on Masako's actual traits, specifying her careful level and weight. However frequently expected as praises, these subtleties built up a feeling of interest around her modest edge and womanliness, as though she were a charming at this point odd curiosity in the male-ruled universe of billiards. Writers even scrutinized her capacity to perform beyond customary homegrown jobs, to which Masako answered with the mind, expressing that while she cooked, sewing was not her strength — her actual energy lay in billiards.
In interviews, Masako was oftentimes gotten some information about her life at home with her significant other, Vernon Greenleaf. Their common love for billiards frequently turned into a point of convergence of these conversations, with Greenleaf energetically conceding that his better half reliably outperformed him on the table.
Farewell to a Billiards Legend: The Retirement and Legacy of Masako Katsura
After a historic excursion, in the realm of billiards, Masako Katsura at last settled on the choice to resign. In spite of the fact that her retirement followed a loss against the dominant title holder, there was no denying her accomplishments and significant effect on the game. Along her way, she broke orientation boundaries. Acquired acknowledgment as "The Primary Woman of Billiards."
In 1976 Masako showed up at a billiards parlor in San Francisco. At this time she left the group dumbfounded by leaving on a dash of 100 focuses before smoothly putting down her signal. It filled in as recognition for both her expertise and perseverance through inheritance.
As the 1970s unfurled changes, in the billiards scene prompted the foundation of the Ladies Proficient Billiard Affiliation. This committed gathering of players recognized Masako's commitments by drafting her into their Corridor of Acclaim.
Following a profession Masako got back to Japan, her country, where she spent the rest of her life. She died in 1995. Abandoned an inheritance that keeps on rousing endless others with its relentless assurance, excellent ability and enduring devotion to the game of billiards.
[Also Read: The Intersection of Technology and the NFL]
Conclusion
Regardless of confronting difficulties in light of her orientation, race and size, Masako Katsura resisted all chances to turn into an expert pool player during the 1950s inside culture. She didn't allow these deterrents to deter her and not stood her ground against the male players overall yet additionally arose triumphant, against some of them on various occasions. Her uncommon ability and steady assurance enraptured both Japanese crowds demonstrating that apparent restrictions can be changed into qualities.
In while understanding and acknowledgment were frequently impeded by orientation predispositions, Masakos extraordinary. Devotion to the game broke generalizations. As a lady in a transcendently white male-overwhelmed field, she turned into a rousing figure who broke obstructions and addressed the two ladies and Japanese Americans in the realm of billiards. Her companions, including the best pool players. Regarded her for the amazing ability and steadiness she showed on the table.
During an interview with the Sacramento Bee in 1952 Masako fearlessly addressed the lack of representation in billiards. She expressed disappointment, at having encountered one female player since coming to the U.S. seeing it as unjust. Masako understood the possibilities that billiards held as a sport and voiced her desire for more women to have the chance to experience its enjoyment.
With a smile, she playfully proposed the concept of creating a billiard venue for women imagining a warm and inviting environment where women could wholeheartedly embrace the sport. Masakos brave pursuit of her passion and her advocacy, for inclusivity had an impact cementing her legacy as a trailblazer, in the realm of billiards.