How To Make Keto-friendly Coffee At Work?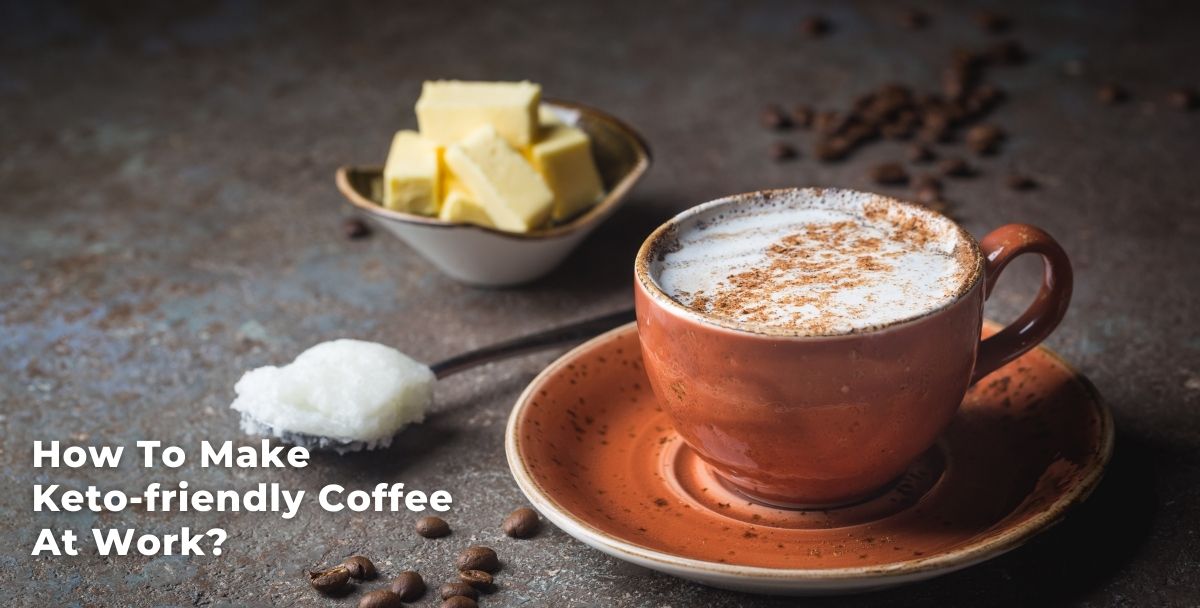 The keto diet and periodic (or intermittent) fasting are two of the top trends in the world of health and fitness. Health-conscious individuals the world over are adopting keto and fasting to achieve the body goals in a wholesome way
Furthermore, both these methods are also renowned for their ability to check certain health problems like blood pressure and cholesterol.
If you're someone who adheres to periodic fasting and the keto diet, then the average breakfast probably isn't going to help you last through the day. However, keto coffee (with keto butter) can give you the energy and satiation you need to keep up with your keto and intermittent fasting diet. And, you can easily make this keto-friendly coffee at work too.
Some people are willing to pay more for an American-made coffee maker. They believe that it is better quality, more durable, and has a longer lifespan. You need to find out Where are bunn coffee makers made?
What Are The Benefits Of Combining Keto And Intermittent Fasting?
Before getting to the scrumptious keto-friendly coffee recipe lined up for you, here's a list of the benefits you can look forward to by combining intermittent fasting and keto.
●      Accelerated Weight Loss
It's common knowledge that the keto diet helps with weight loss because through it, you can acclimatize your body to use fat as fuel instead of carbs.
However, did you know that intermittent fasting can help you boost your metabolism through the process of thermogenesis, and in turn, help accelerate weight loss?
Studies show that individuals who used intermittent fasting as a means of reducing weight as opposed to low-calorie diets lost more fat mass. Additionally, it also helped people conserve their energy levels and preserve muscle mass.
●      Problem-free Ketosis
The keto diet combined with intermittent fasting may also help you achieve ketosis without fewer hassles. That's mostly because when you're fasting, your body naturally shifts to using fat as a fuel source instead of carbs. Which is exactly what you're aiming for as a follower of the keto regimen.
Besides that, fasting also allows your body to drop its glycogen and insulin levels in order to burn fat. Combining intermittent fasting with keto may be a good idea for individuals who're struggling to achieve the state of ketosis.
How To Make Keto-Friendly Coffee?
This keto-friendly coffee recipe will work just as well for adherents of the keto diet and intermittent fasters. And, while the list of ingredients may sound simple, it packs a great punch in terms of nutrients and flavor. Here's what you'll need to make yourself a cup of piping hot, delicious butter coffee:
1 Tbsp of unsalted organic butter (although grass-fed butter is best)
1 Tbsp MCT oil (this is a staple for all keto followers)
1/2 Tsp Vanilla extract (for a delicious aroma, but this ingredient is optional)
1/2 Tbsp Heavy raw cream (you can forego this ingredient if you'd prefer 0% total carbs)
1 cup of coffee (whichever brand you like best)
Once you've gathered all your ingredients, here's how you'll proceed with the preparation.
Step 1: The first step of the process involves brewing a cup of your favorite coffee. If you're making coffee at home, then you have the option of using a regular blender or an immersion blender. It doesn't matter which one you use as long as it gets the job done.
A good protip for making this coffee in the office is to invest in an insulated non-drip water bottle and portable bottle blender. This way, you won't have to miss out on your keto-friendly coffee, even if you're at the office.
Step 2: If you're not a fan of coffee makers and prefer brewing your coffee yourself, it's a good idea to grind the coffee well to make your brew-quality isn't compromised in any way. You can try wetting the coffee with some water to allow it to get rid of all the CO2 so that the turbulence doesn't affect your coffee's flavors or texture.
After this, you can go about brewing the usual way. However, make sure to pour the water in a steady and winding motion so that the coffee doesn't overflow.
Step 3: This step is where the fun begins. Once your coffee is brewed and ready, pour it into the blender (or an adequately sized container if you're using an immersion blender). Next, add in the MCT oil.
Before you add the butter, be sure to cut into smaller pieces so that the blender has a little help getting all the ingredients to mesh well together. While many people prefer to forego this step thinking the coffee's temperature will melt the butter, it's best to follow this tip if you don't want chunks of butter swimming in your coffee.
Step 4: Your keto-friendly coffee is almost done. Proceed to add the heavy cream and vanilla extract. After that, give the blender a good whirl for the first 30 to 40 seconds. After that, blend in quick bursts of 10 seconds, two or three times to ensure a frothy and delectable cup of keto-friendly coffee.