Everything about iTop VPN and A Time-limited Giveaway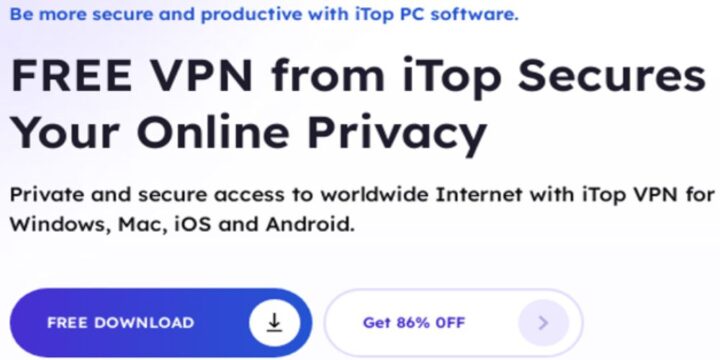 Welcome to the blog post about the new VPN review 2022. The development of technology has transformed the world. We want to be able to access our favorite websites and apps even when we're not allowed or restricted to any network. That is why you need a good VPN service provider to let you do all this and more!
What is a VPN?
A Virtual Private Network (VPN) is a secure connection between your computer/phone device and a server via an encrypted channel. A virtual private network (VPN) is the best option if you want to stay anonymous while browsing the internet. A VPN encrypts your data as it travels between your computer and the website you visit so that no one can see what you do on the internet.
Features
It is a VPN service that offers you complete anonymity and security online. The best part is that it provides unlimited bandwidth, no traffic logs, and no DNS leaks. This VPN can also unblock VIP servers like Skype, Vibe, and Telegram.
iTop VPN Review
iTop claims its 10 million users worldwide. Some people use a VPN for security or privacy reasons, but plenty of others use it for entertainment purposes. The best way to determine if a VPN is right for you is with an unbiased review from someone who knows all about them. Here's our take on the iTop VPN service below. Before we start, here is a gift from iTop which brings our readers a giveaway of iTop VPN for a full try.
You can download iTop VPN V3.5 by visiting its official link. Install it and register it with the given license information.
Email: webtechmantra@itopuser.com
Password: SjsaGh37
This key activates max 50 PCs for VIP use for 1 month. Now let's come to the point.
Top Ranked
With a favorable ranking of 5.4/10. iTop VPN is an excellent choice for anyone who wants to hide their IP address and surf the web anonymously. This service lets you connect to any server worldwide, and it's one of the fastest we've tested.
Encryption
Your data is encrypted end-to-end with AES-256 bit encryption. Rather than relying on Open VPN — which can be cracked by governments, iTop uses the Transport Layer Security (TLS) protocol to ensure your data stays private.
Kill Switch
If your internet connection drops unexpectedly, iTop will automatically disconnect you from the internet, so you won't be able to access any unauthorized websites or services while your connection is down. It ensures your IP can't see where you're going online or what you're doing when you're not connected to the internet.
No Logs
You can trust iTop because it doesn't create logs about your activity — no cookies or IP addresses are recorded.
World Wide Services
The company offers servers in all countries, including the US, UK, Canada, China, Hong Kong, Japan and Australia. But it also offers some unique features that set it apart from the competition.
Best Pricing
iTop VPN offers four plans: Free VPN plan for 16 severs with 700MB data/day, Basic (12 months), Premium (24 months) and Ultimate (36 months). All three are available for $19.99 per year (or $24.99 for two years), providing 1800+ servers with unlimited features. That's a great deal considering that most other VPNs cost at least twice as much.
100% Money Return Guarantee
The only best to this service is that it offers a free trial period. However, iTop VPN provides a money-back guarantee if you are unsatisfied with the service after using it for 15 days.
10X Faster Speed
This VPN allows you to access blocked websites and apps, unblock social media sites and make anonymous IP calls by static or dynamic IP address. The best thing about this VPN is that it has a split tunneling connection that helps you protect yourself from hackers.
Number of Devices per License
It only takes a few seconds to connect to the internet once you have downloaded the app. You can add up to five devices with this app to use it on all your devices simultaneously.
Support
The best part about this VPN is that it has an online feedback page and support staff available 24/7 for any help or queries you might have.
Compatibility
It's an all-in-one solution for privacy and security, with a mix of features that includes apps for Windows, Android, PC or Mac, a desktop client and an extension for Chrome. ITop VPN is compatible with all major operating systems, including Windows, Mac, Android, iOS and Linux. It also supports all devices, including laptops, desktop computers, tablets and smartphones, so you can use it on all your devices simultaneously without having any issue whatsoever.
To Conclude:
It's all about iTop VPN, and we've covered you. Whether you're looking for a trusted VPN service provider or want to find out which one is the best in the industry, then iTop VPN is a good choice. iTop VPN is an excellent VPN that offers unlimited data and fast speeds. The VPN service also has a money-back guarantee, so if you are unsatisfied with the service, you can get your money back.