How to protect your safety on the Internet in 2022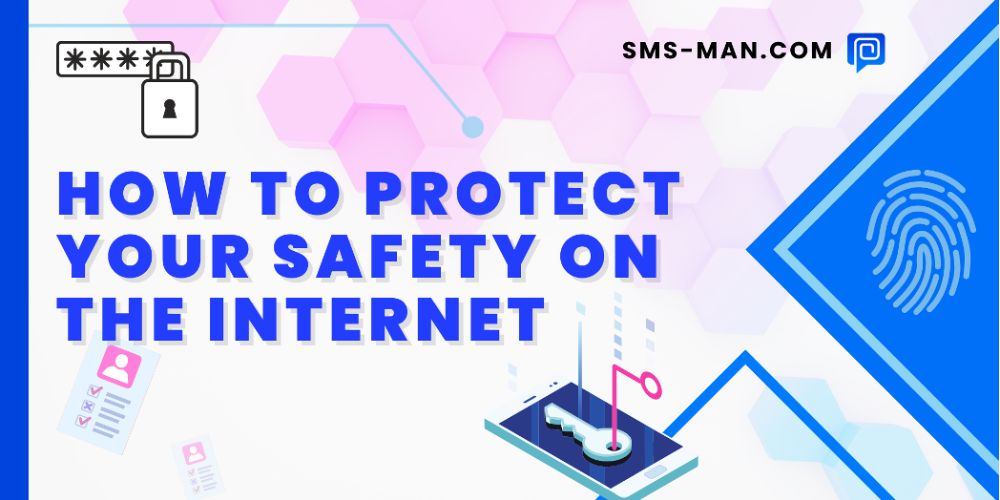 Many Internet users are aware that scammers can use personal information to send annoying spam, steal banking information or anything else. What you can do to be safe? How to protect personal data on the Internet? Let's talk about it in detail.
Thank you for reading this post, don't forget to subscribe!
Important! To protect your personal information on the Internet, we recommend the use of a virtual number instead of a personal phone number for social networks, messengers, e-mail and other services.
The service SMS-man offers you to buy a virtual number for a one-time SMS receiving or take a phone number for long-term rental to receive unlimited SMS messages.
Virtual numbers will not only allow you to protect your security on the Internet, but also to create an unlimited number of accounts in applications such as Amazon, Telegram, WhatsApp, Gmail, Twitter, Facebook, Signal, PayPal and many others. With sms-man.com and virtual numbers you can bypass SMS verification for any site or application.
How to protect personal data on the Internet
IT-specialists recommend protecting your personal data to protect yourself from information leakage into the network and all kinds of fraud. So let's talk about the simplest and most popular types of protection:
1. Antivirus
Network users should pay attention to proven and effective antivirus software and not forget that its productive work requires regular checks of the device, as well as updates.
2. Two-factor authentication
The essence of this method is a two-step verification of identity for accessing an account. This is nothing less than an additional level of security – a relevant tool for users and sites alike. A simple example is logging into a social network: a login and password are required. Often services additionally require a confirmation code.
How to protect personal data on the Internet, for example, e-mail? After all, it is often the email that is the target of fraudsters seeking to obtain personal information about a person or to send a viral link. In the "security settings" of mail services such as Gmail, Yahoo and many others you can set up to enable two-factor authentication to enhance the security of your account.
3. Data encryption
Data encryption helps protect personal data on the Internet and hides information that has become accessible to fraudsters. Data will become unreadable and therefore impossible to use. Encryption is a very useful security tool that prevents data leakage in case your computer is stolen.
To enable data encryption for your entire hard drive, go to System Settings, then About, and select Device Encryption. On a Mac, in System Preferences, select the Security and Privacy category and activate FileVault. Does your computer not support encryption? Use BitLocker or VeraCrypt.
Backing up your data and update your software regularly
How can I protect my online data this way? Backing up your files allows you to save your data in case your operating system gets damaged. Backup is a suitable method for those who are afraid of leakage during an Internet attack by fraudsters. An external hard drive or cloud storage is suitable as a "backup" medium.
Often updates include improvements specifically for cybersecurity and help protect personal data online.
Create unique and strong passwords
Specialists recommend that users create separate passwords for services and sites. And you should be serious about the strength of those passwords. You think your password is too easy? You can use a password generator services, such as Bitwarden.
Keep social networking privacy settings in mind
The information a user makes available on social networks is visible to thousands of other people, and this should not be forgotten. This is a real boon for scammers: they can use it for cybercrimes.
Refrain from the public Wi-Fi networks and use a reliable VPN
Sometimes such networks are created by swindlers to steal personal information. If you had to use a public network, do not share your personal data. Allows you to keep your anonymity on the Internet and close the question of how to protect your data on the Internet. One possible way is NordVPN or ExpressVPN.