How to Fix ChatGPT Not Available in Your Country with a Free VPN?
iTop VPN is a military-grade VPN service provider for Windows, Mac, and iOS devices. It's one of the strongest VPN services I have used in binging Netflix U.S. and playing PUBG online. They have so many dedicated servers in different countries of the world including but not limited to the United States, Canada, the United Kingdom, Australia, and France.
Thank you for reading this post, don't forget to subscribe!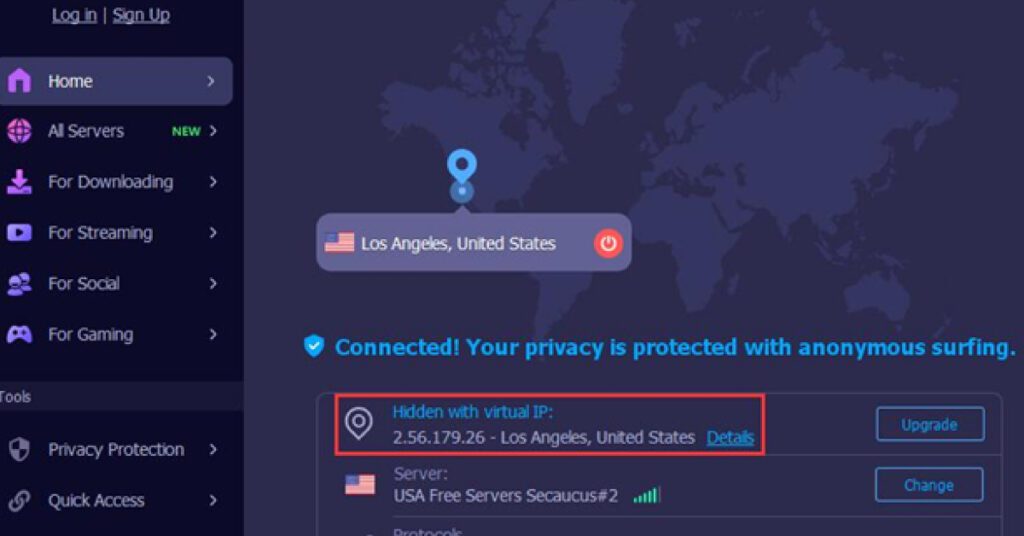 So in this article, I'm going to show you how to access ChatGPT from a country that has been restricted. But before we go into that let's learn more about iTop VPN. Also, remember to grab some juice along because it going to be a very long ride.
What is the Free VPN iTop VPN?
iTop VPN is a VPN service provider that helps create a secure and encrypted connection between your device and a remote VPN server, allowing you to access content that may have been restricted in certain countries, protect your online privacy and security, and bypass internet censorship and geo-restrictions.
According to online sources, the VPN service is used by more than 10 million users worldwide. It was because of this huge following that made me consider using this VPN service, and I must say the experience has been so amazing.
iTop VPN Provides Free Servers and Low Cost Subscription than Other VPNs?
While iTop VPN has some free servers you can start using immediately, the subscription plan gives you access to all its 1800 servers and features. The pricing nature of iTop VPN is quite different from all other VPN services out there.
For instance, their VIP services cost about 11.99/month when you subscribe to their monthly plans. Nevertheless, you can reduce it to $6.99 per month when you pay $41.99 upfront for six months. However, to get the most out of this VPN service, you should subscribe to their annual plan which cost $55.44/year.
Features the Free VPN Stands Out
Security and privacy is one of the critical factors why people use VPNs to protect themselves online. Fortunately, iTop VPN makes use of military-grade encryption to protect your data, identity, and Internet traffic. Also, there's a strict No-log policy adopted by iTop VPN.
This means there won't be any record of your activities while using the application. In addition, there is an automatic kill switch that disconnects you from the internet in case the VPN connection drops, preventing data leaks.
The performance and speed of iTop VPN is very impressive. I noticed the fast speed of the VPN when I use it to connect to my U.S NETFLIX account. It was a great experience! The speed and performance of any VPN are something you must consider very well because you won't be the only one connecting to that server at that time.
However, there were some minimal drops in speed when we connected to other servers on the app. But overall, the performance of iTop VPN was great.
How to Use the Free VPN to Access ChatGPT and Other Content?
Now that we have a good knowledge of iTop VPN, it's time I reveal to you the secret of how most people access ChatGPT, Disney+, U.S. Netflix, etc in countries where they are restricted. Follow the below steps to start using iTop VPN to access any restricted websites.
Step 1: Visit the official iTop VPN page to download the application. For this tutorial, I'll download the iTop VPN for Windows. The application can also be downloaded on Mac OS and iOS devices.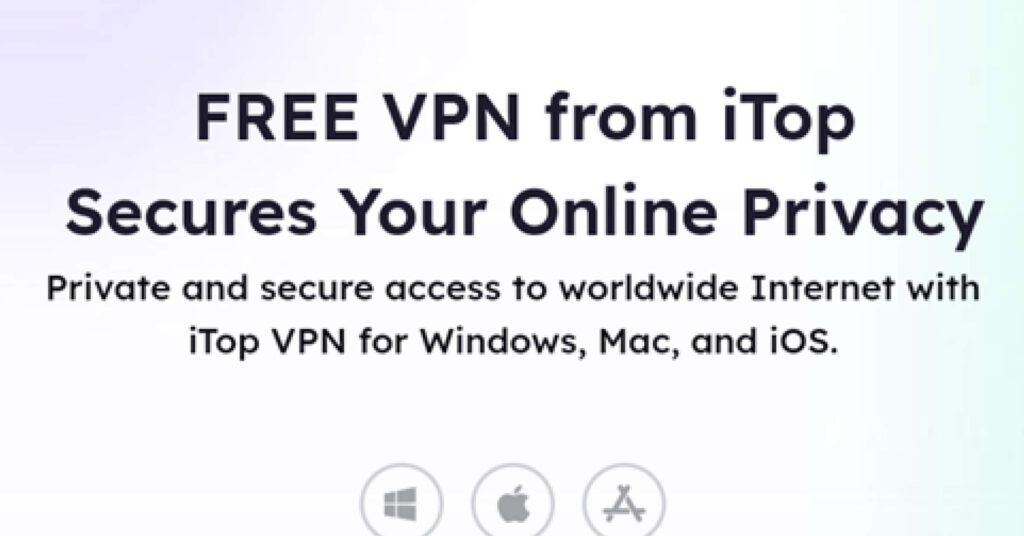 Step 2: Click on the downloaded .exe file and install the application on your machine. The software can be installed on Windows 7, 8, 10, and 11.
Step 3: Now that you have successfully installed the software, go ahead and launch the application. The first thing you will see is the Main Menu of the application. This is where you will select the server you want to use and tweak the settings to your taste.
Step 4: We are going to test our installed application by visiting the ChatGPT website. On the Main Menu, click on 'All Servers' and select 'USA Free Servers'. There are other Free servers you can select there too but to enjoy all the juicy features of this VPN you will need to subscribe to iTop VIP plan.
Step 5: When you're done selecting the server you want, click on Connect. If everything went well, you will see Connected on your screen.
Step 6: Launch your internet browser. It can be any of Mozilla, Chrome, or Firefox browsers, and visit ChatGPT.com. As you can see in the screenshot below, we just visited ChatGPT from a U.S. server. We have bypassed whatever restrictions that have been put in place to access this website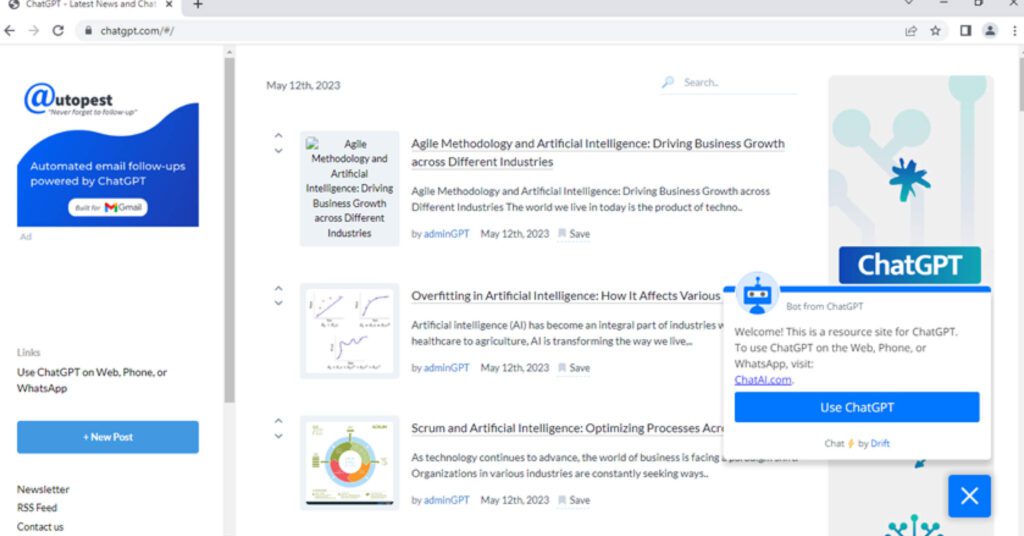 What are the Challenges or Limitations of iTop VPN?
Like every other software out there, there are some challenges or limitations of iTop VPN we need to know. Our review won't be complete or rational if we fail to point out these issues. Some of the cons of using this VPN service include but not limited to:
Limited server network: iTop free VPN version is limited to 700 MB/day and 21GB/month Also, there are limited server networks compared to those of its competitors.
Limited advanced features: Some of the advanced features of iTop VPN are limited such as multi-hop, an unclear list of VPN protocols, and dedicated IP addresses.
Kill switch fails at times. There are some cases where I had to click more than 5 times to stop the VPN. However, this isn't a big issue but it will go a long way if the developers can address this problem.
Final Thoughts
After using iTop VPN to access some restricted websites in my country such as ChatGPT, Paramount+, and Netflix USA, I can boldly say it's the best in terms of security, performance, and customer support. Their VIP pricing is very cheap and affordable compared to other VPN services you will find online. Finally, if you're on the lookout for a powerful VPN service that will protect and secure your data and identity, iTop VPN is worth considering.