Ultimate Guide to a Scenic Campervan Road Trip from Sydney to Perth
The road trip from Sydney to Perth is a must-do for those seeking picturesque views, untouched beaches, and rugged wilderness.
The duration of a Sydney campervan road trip to Perth can vary depending on your travel style, pace, and how many detours you take along the way. As a guide, the distance from Sydney to Perth via the coastal route is approximately 4,000 km (2,485 miles), and the journey could take anywhere from two weeks to a month or more, depending on how much time you have.
A two-week itinerary would allow you to cover the essential highlights of the motorhome journey. However, we recommend slowing down the pace and spending more time in each destination. You will get much more time to explore the area and enjoy local attractions. Ultimately, the length of the trip will depend on your interests, budget, and schedule, so plan accordingly and allow enough time to make the most of this incredible journey.
Here is the ultimate guide to a scenic campervan road trip from Sydney to Perth, complete with the best stops to take along the way.
Batemans Bay
Batemans Bay is a picturesque coastal town that serves as a gateway to the South Coast. The town has a range of activities and attractions, including kayaking, fishing, and dolphin watching tours. If you're a seafood lover, make sure to try the local oysters, which are a specialty in the region.
Jervis Bay
Jervis Bay is a stunning marine park with crystal-clear waters and pristine beaches. The park is home to over 80 species of fish and is a prime spot for snorkelling and scuba diving. Don't miss the famous Hyams Beach, known for having the whitest sand in the world.
Eden
Eden is a charming coastal town famous for its whale watching tours. From September to November, you can witness the majestic humpback whales migrating along the coast. You can also visit the Eden Killer Whale Museum, which showcases the town's whaling history.
Lakes Entrance
Lakes Entrance is a popular holiday spot known for its lakes, rivers, and ocean beaches. Take a boat cruise on the Gippsland Lakes or try your luck at fishing for bream or flathead. You can also hike the Lakes Entrance Foreshore Trail, which offers stunning views of the coastline.
The Great Ocean Road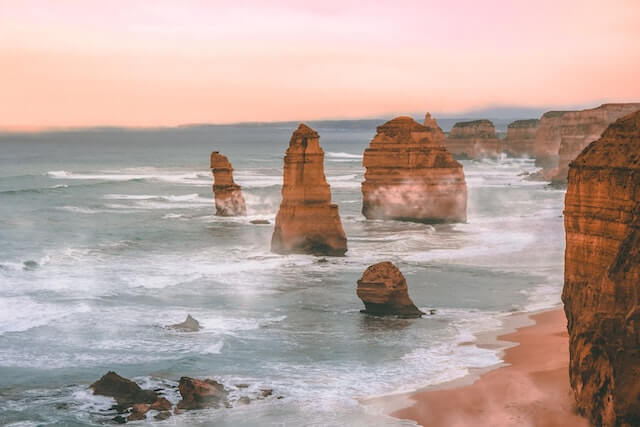 The Great Ocean Road is one of Australia's most iconic road trips, featuring spectacular coastal scenery, including the Twelve Apostles, Loch Ard Gorge, and the London Arch. Make sure to stop at the charming seaside towns of Lorne and Apollo Bay, which offer plenty of cafes, galleries, and boutiques.
Mount Gambier and the Emerald Coast 
Mount Gambier is a vibrant city located on the Emerald Coast, which is known for its stunning blue lakes and lush forests. Take a dip in the famous Blue Lake or explore the Tantanoola Caves. You can also visit the quaint town of Port Fairy, which has retained much of its historic charm. Mount Gambier is also home to the Umpherston Sinkhole. The sinkhole was created when the roof of a limestone cave collapsed, and it has since been transformed into a stunning sunken garden. Visitors can enjoy a picnic, stroll around the garden, and even spot some possums that come out to play at dusk.
The Coorong
The Coorong is a long, narrow lagoon that stretches along the coast of South Australia. Make sure to also stop and join a tour of the Coorong National Park, a long stretch of wetlands, dunes, and lagoons that is home to a diverse range of wildlife, including numerous bird species. It is famous for featuring in the film "Storm Boy".
Kangaroo Island
Kangaroo Island is a nature lover's paradise, with pristine beaches, stunning scenery, and abundant wildlife. Take a guided tour of Seal Bay, where you can see Australian sea lions up close, or visit Flinders Chase National Park, which is home to the famous Remarkable Rocks and Admirals Arch.
Adelaide
Adelaide is a vibrant city that offers plenty of attractions and activities, including museums, galleries, and gardens. Don't miss the chance to explore the famous Adelaide Central Market, which offers a wide range of fresh produce and artisanal goods. Take a drive to Victor Harbour and explore Granite Island, you can walk over via the access bridge.
The Nullarbor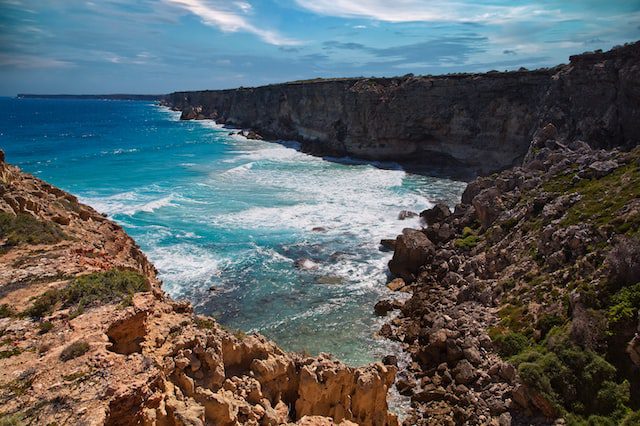 The Nullarbor Plain is a vast, treeless plain that covers an area of approximately 200,000 square kilometers (77,000 square miles) and stretches across the border of South Australia and Western Australia. It is known for its unique landscape, wildlife, and long, straight roads that seem to stretch out into infinity. Driving across the Nullarbor is a bucket-list item for many travelers, offering an experience unlike any other.
One of the main attractions of the Nullarbor Plain is the Great Australian Bight, which is a spectacular stretch of coastline that offers breathtaking views of the Southern Ocean. The Nullarbor also features a unique cave system, known as the Nullarbor Caves, which offer a fascinating glimpse into the region's geological history.
If you're interested in wildlife, the Nullarbor Plain is a great place to see Australian animals in their natural habitat. Keep an eye out for kangaroos, emus, echidnas, and wedge-tailed eagles, among other species.
Esperance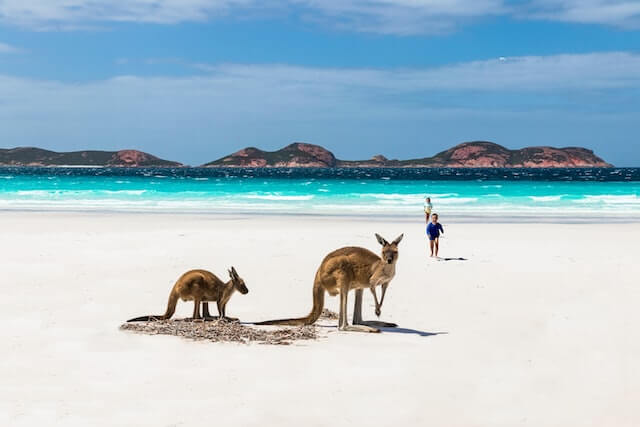 Esperance is a charming coastal town with some of the most stunning beaches in Australia. Don't miss Twilight Bay, Lucky Bay, and Blue Haven Beach, which are known for their crystal-clear waters and pure white sand. You can also visit the nearby Cape Le Grand National Park, which offers hiking trails and stunning views of the coast.
Margaret River
Margaret River is a renowned wine region that is also famous for its surfing beaches and stunning scenery. Take a wine tour and visit some of the best wineries in the area or visit the nearby Leeuwin-Naturaliste National Park, which offers hiking trails and stunning coastal views.
Perth
Perth is a vibrant and cosmopolitan city that offers plenty of attractions and activities for visitors. Don't miss the chance to explore the famous Kings Park and Botanic Garden, which offers stunning views of the city skyline. You can also visit by ferry ride the nearby Rottnest Island, renowned for the many quokkas who roam here. They are small friendly marsupials, native to Australia.