Top 10 Benefits of Choosing an Employee Performance Management Solution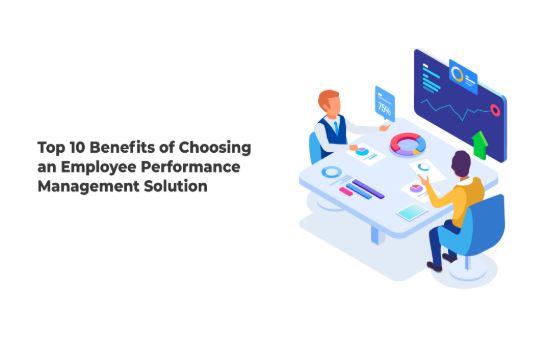 Individual employee performance is extremely important to ensure the successful management and progress of the entire company. Earlier, conventional methods, such as quarterly surveys and annual appraisals were used to measure employee performance. However, as technology becomes more advanced, the scenario changes drastically for the better with the help of employee performance management software solutions that are available in the market. 
Thank you for reading this post, don't forget to subscribe!
Let's learn more about what is an employee performance management (EPM) system and see the top 10 benefits of choosing an employee performance management solution for small and large businesses.
What is an Employee Performance Management System?
Employee Performance Management (EPM) software is designed for managers to draft accurate job profiles, create precise expectations, form relevant objectives, etc. so that they are synchronized with the overall goal of the company. The EPM is basically meant to create individual employee goals, measure their performance, and write appraisals. 
Choosing the best employee performance management software ensures to enhance employee engagement with the help of recognition, appraisal, and overall transparency when rating employee contribution towards the company's progress. The transparent nature of top employee performance management software shows team members how their performance has affected or boosted the company's overall performance, which, in turn, helps to realign their priorities and goals for optimal performance in the near future. 
More and more companies and businesses are recognizing the need and importance of having excellent employee performance management systems. Research suggests that the market for EPM tools is set to grow to over US$16 billion by 2024 globally, with an approximate 16% growth rate.
10 Benefits of an EPM Solution
Efficient measuring and management of employee performance in companies have become extremely important. There is a significant shift in workplace dynamics when it comes to the need for sustaining and improving employee engagement in the broad management process. 
Performance management software is the perfect solution for the problems faced by HR and managers in measuring individual employee contribution and attitude towards their work. These employee management systems provide managers an efficient, streamlined, and easier way to evaluate employee performance.
These are the top 10 benefits of choosing an employee performance management solution for your company:
1- Transparency 
Performance management systems are extremely useful not only for managers but also for the employees themselves. These help employees to check and evaluate their own performance and progress within the organization. These are extensively helpful when it comes to understanding the broader goals of the company and their own position or responsibilities within it. This, in turn, helps employees to make personalized goals that will help boost company success effectively and faster. 
2- Frequent Feedback
Reliable employee performance management systems help HRs and managers to provide prompt and frequent feedback to individual employees. The performance reports are easily accessible to managers and employees alike. Hence, appreciation or feedback for improvement in employee performance can be shared immediately and in real-time without having to wait for annual or quarterly appraisals. 
3- Career Development Opportunity
An employee values professional and personal growth as well as career development very highly. Progress in their jobs gives the employees a feeling of achievement and satisfaction and also shows their important value within the company. Although it can be difficult for large businesses to give regular appraisal using conventional methods, the use of cutting edge employee performance management solutions makes it extremely easy to provide employees with potential career pathways and understanding job competencies for career development in the organization. This is an excellent way to ensure that employees give the best of their talents and time for the company's progress. 
4- Forecast Future
Earlier, performance appraisals were meant to only focus on the past performance of employees. However, today's advanced performance management systems are also focused on the future. Excellent performance management solutions help managers to include not only the past performance but also formulate the potential rate of progress for individual employees within the company based on their current work and attitude. This works to enhance workforce morale and gives a clear goal for the future to each employee.
5- Encompassing Employee Review
One of the best benefits of using performance management systems is the way they provide managers a comprehensive view of every employee's progress and performance. The precision and accuracy with which the software systems measure every employee's performance are incomparable to conventional methods of employee appraisal. 
6- Effective Interaction
Due to the immense amount of paperwork, administrative requirements, and scheduling, conventional employee appraisal methods used to be stressful for employees and managers alike. However, the use of employee performance management systems has made the entire process streamlined, and hence, extremely convenient for both. This results in ensuring a more meaningful interaction between HRs or managers and employees at the time of appraisal feedback.
7- Unbiased Evaluation
Ideal performance management tools are designed to provide a more transparent method of employee performance appraisal. Real-time feedback and clear career development goals are based on the completely automatic and unbiased evaluation. This is extremely helpful for managers to look at the complete performance of the employee instead of focusing on personal opinions. 
8- Skill Enhancement
Apart from evaluating employee performance, the top employee performance management systems also provide career development tools so that employees can decide on their career path within the company. In addition, the software also helps managers to identify talent gaps in the organization and choose the best-suited and skilled candidate from the employees to fulfill the role.
9- Improving Engagement
Employee engagement is an extremely essential tool to ensure a higher employee retention rate in any company. Using performance management systems an employee is aware of their strengths and weaknesses and knows that the company has their back. This increased employee confidence and workforce morale immensely which eventually results in improved company performance. 
10- Streamline Company Goals
Last, but not least, employee performance management tools provide employers the ability to share the company's actual goals with individual employees. This helps to create the perfect initiatives that work towards synchronizing individual employee performance goals and the company's larger goals successfully.
Conclusion
Employee performance management solutions are extremely useful to enhance employee confidence, boost workforce morale, and eventually ensure the faster progress of a company towards its goals.