Best DIY Wedding Centerpiece Ideas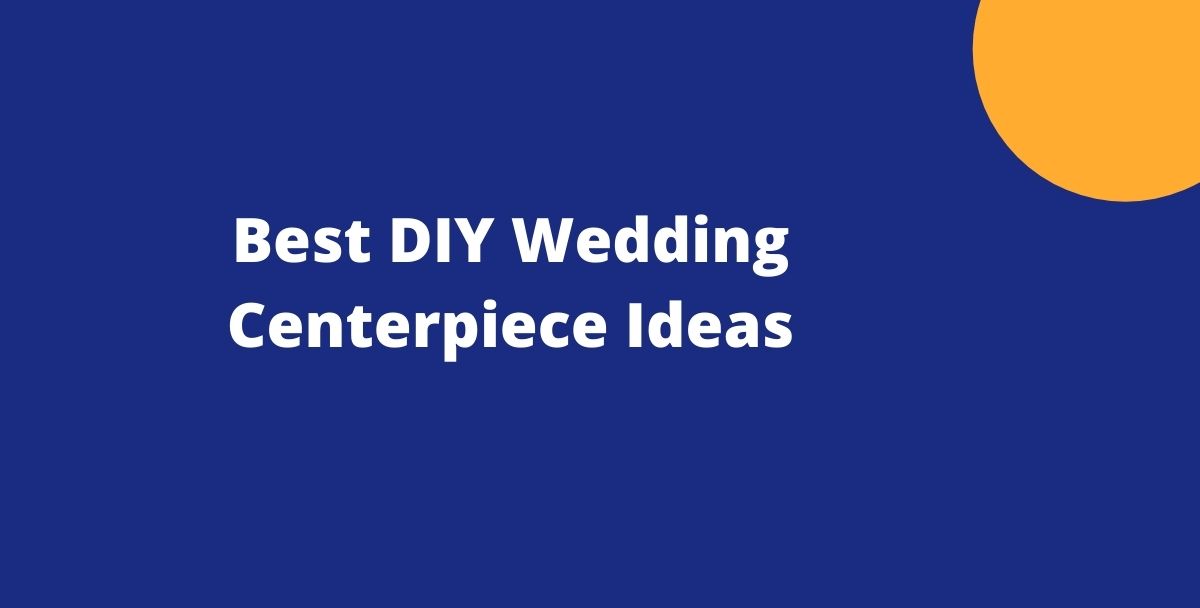 When you plan a wedding on a budget, it is easy to save much by doing it yourself, but you must also be careful with the projects you choose because they imply time and creativity from you and your helpers. If you are thinking about doing your wedding centerpieces, you have come to the right place because we have ideas for every level of creativity and amount of time.
Thank you for reading this post, don't forget to subscribe!
To choose the right centerpiece for your wedding, start by defining the overall theme or aesthetic you are looking to communicate for your big day. Sometimes it is a color, an idea like a romantic wedding, and others prefer more specific themes like casino night, great Gatsby, woodland forest, or fairy tale. Whichever theme you choose, your centerpieces must match it.
Once you have the ideal theme, it is time to gather inspiration, look through the internet, and find many ideas of colors and materials you could purpose for your centerpieces. If you have little time, choose those that do not need much from you. When you can count on your bridal party to help you, you can choose more elaborate designs. Here are some ideas that we are certain will fit any budget, theme, and creativity.
Paper flowers arrangements
It is a great idea when you want to have your centerpieces ready before the big day. If you have an early ceremony or a day filled with things to do and places to be, this is the right option for you. You can either make each flower following simple tutorials online or buy them and arrange them yourself.
They also look amazing when you place them in rustic or greenery walls as backdrops for photos, and if you want to create an extra special spot for your guests, add uplighting rentals to illuminate the backdrop easily.
Potted plants
It is not only an easy DIY project but also a sustainable one. You can let your guests take the pots at the end of your event or perhaps keep them for your new home as beautiful reminders of an unforgettable celebration. You can visit your local nursery to find perfect plants; you can mix flowers and foliage along with different pots that go along with your wedding color scheme.
Try to spread them across your tables, and you can add a table runner to make them stand. And the possibilities are endless. You can choose aromatic plants, seasonal flowers, cactus, succulents, or lush foliage. Orchids are especially great for minimalistic concepts.
Fruit centerpieces
Fruit-inspired concepts work great with any season of the year. If you are hosting a spring or summer wedding, prefer citrus and colorful fruits. Fall calls for pumpkins in all sizes and colors. And winter is ideal for deep colors, fruits like strawberries, berries, grapes, pomegranate, and cranberry.
Start by defining the season you are getting married on and choose a design that incorporates available fruits. You will find options like filling a crystal vase with halves of citric fruits such as yellow lemon, lime, orange, pink grapefruit, and tangerine. Whole apples look beautiful too. Once you choose the fruit, all you need to do is fill the vase with water.
Bowls of fruit serve as appetizers and centerpieces. Spring and summer are ideal for this concept because everyone craves fresh fruit. You can combine whole and halves pieces of fruit, keep it all within the same color scheme and add some contrasting tones. Fresh flowers or foliage complement fruit bowls perfectly.
Fresh flowers
Ask your local flower shop to assist you when it comes to picking your blooms. Perhaps there is a flower you love, but it is off-season for your wedding date. If so, it will be pricey to source them. The best you can do to save some money is stick to seasonal and local flowers. You can pick them up one or two days before your wedding and arrange them in different ways.
Single stems look flawless when you have a minimalistic concept. Clear crystal vases are ideal for this purpose, and you can combine them with block or tapper candles in a contrasting tone. Greenery can also serve a simple wedding décor. Foliage looks beautiful without much work. You can place it in vases or spread it as a garland.
Whenever you choose fresh flowers, be mindful of the time needed to take arrange them once they are in your possession (you need to cut the stems and place them in water). You should also have a cool place to keep them and consider the time that will take you to arrange each centerpiece.
Candles
For romantic, bohemian, classic, and rustic events, candles are the way to go. They are the ideal complement for table settings, and you can even use tall block candles and place them on the floor on your honor table. Depending on the theme and style you want to achieve, there is a wide variety of options such as votive, tapper, block, and led candles.
Add unique candle holders to make a statement piece, contrasting colors like black or metallics look perfect with light-colored candles. You can also add a hint of color to your candles, from dark tones to pastels. Be mindful of your wedding venue before going forward with your plans. Ask if you can light candles, and if you are hosting an outdoor event, consider adding glass candle holders to avoid wind blowing them out.
Whichever idea suits your wedding theme, you can also save with wedding drapery rentals. They are a simple way to embellish your wedding venue without the associated cost of hiring a drapery vendor. And the best part of all is you do not need any special skill or training, and you can follow a tutorial and achieve professional results. We hope you have found the perfect idea for your wedding centerpieces, and if you want to save in lighting, drapery, and other beautiful details for your wedding, do not hesitate and contact us.