Top 5 Cybersecurity Companies In 2021 | Latest Updates | Necessary Facts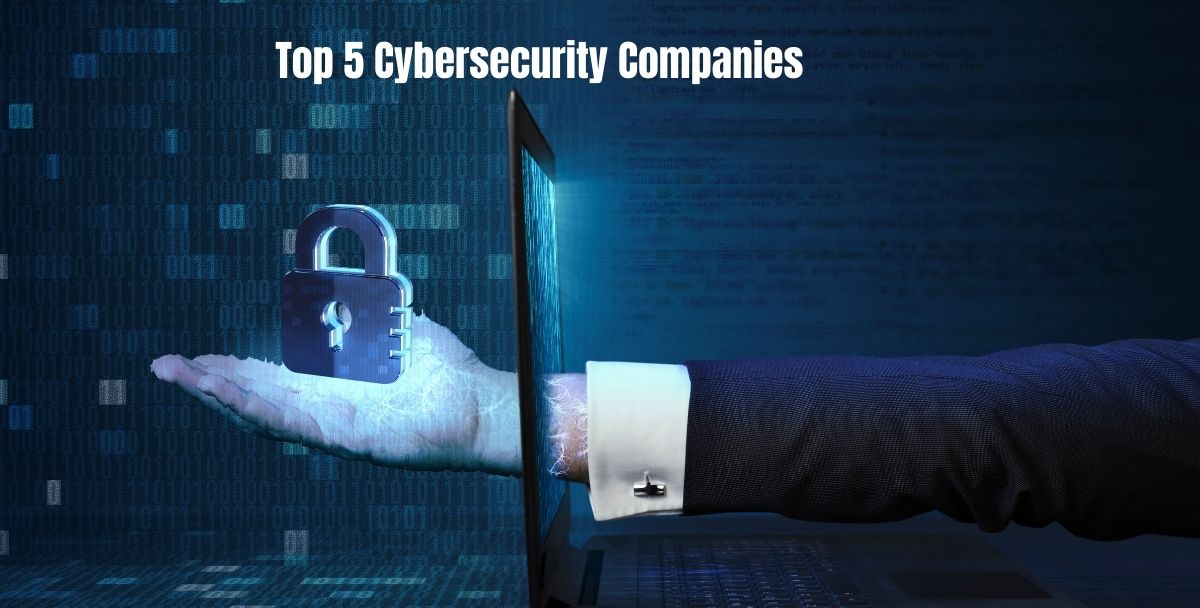 According to a recent report, more than 800-million cases of cybersecurity lapses have been reported worldwide. Starting from a startup to a big enterprise, now every firm wants foolproof cybersecurity protocols integrated into their systems.
Thank you for reading this post, don't forget to subscribe!
More than 90% of these cybercrimes happened due to fraudulent emails and website links containing malicious malware codes and bugs. It has enhanced the demand of cybersecurity companies worldwide.
Cybersecurity Companies: A Introduction
In short, cybersecurity companies provide essential security defence services to protect firms and business enterprises from various levels of online frauds and security lapses directed from remote sites using fake IP addresses.
This year, as most of the business firms, have gone online and virtual, hiring cybersecurity companies to safeguard your business data and secrecy is essential.
In the subsequent paragraphs, we will discuss some of the famous and biggest cybersecurity companies that you can hire to safeguard your business data and secrecy.
Also, check about Cyber Security Certification.
Malwarebytes
Malwarebytes is one of the best cybersecurity companies that offer EDR solutions along with other security kits. It comes with robust security features, including Brut Force Protection and malware removal tool that help in protecting the company's website and online store. Malwarebytes has been downloaded more than a million times online. You can find a lot of its positive reviews published by users online.
Fortinet
Fortinet has evolved out as one of the emerging security companies in the last few years. The company now ranks among the top eSecurity companies of 2021. Gartner also classified Fortinet as the top companies that come with a robust mechanism like UTM (Unified Threat Management) and Next-gen Firewalls (NGFW). Fortinet has also enhanced its scope further scaling up to 100,000 SD-WAN sites with more than 20,000 clients worldwide.
KnowBe4
KnowBe4 is a Florida-based company with more than 10 years of expertise in this field. The company has now gained a lot of reputation for offering all-around robust technical solutions to protect sites from various data breaches, including ransomware, bug injection, and phishing.
KnowBe4 is rated as the number one company specialized in offering security training. It also enjoys a high customer satisfaction rate among its users. The company prioritizes the use of sophisticated cybersecurity tools and software to ensure 100% safety and security to all its clients' websites.
CISCO
CISCO was founded in 1984 and headquartered in San Francisco, California. It is world-famous online security and technological networking company based out of California. CISCO has facilitated the integration of various security products like firewalls, intrusion prevention systems (IPS), malware protection, and cloud security. A couple of years back, CISCO integrated robust silicon architecture into its security apparatus.
Microsoft
Microsoft is a well-known company and IT giant with an enhanced security portfolio. Anyone who wants to opt for Active directory and site management online should contact Microsoft immediately.
You will get access to Windows Defender, Key Vault, Azure DDoS protection, and Application Gateway for creating robust security for web applications. Gartner positioned Microsoft as the top IT security company with access management and end-to-end protection.
Frequently Asked Questions (FAQs)
How can I opt for cybersecurity?
You can enable cybersecurity systems into your PC or mobile devices. All you have to do is to download and install the cybersecurity software into your system.
Which of the following cybersecurity companies should I opt for?
All the 5 cybersecurity companies mentioned above are best and secured with a proven track record. You can download and install any of them and start securing your system.
Do these companies offer free cybersecurity software services?
You can download and install any of the above cybersecurity services using their free and paid versions.
Do these securities really serve the purpose?
Yes. Once you install these security services, they'll start working. They check every action on the device and PC and prevent any unauthorized use for fraudulent purposes.
Not just device security, these cybersecurity services will protect your website as well from various types of security lapses like phishing, malware infection, hacking, bugs, and technical errors.
The Conclusion
No matter how much your business earns from a website, a robust security system is the need of the hour. The software will protect your PC and other gadgets as well. So whether you run an ecommerce portal or news website, you must contact security companies today and secure your website and device from unwarranted bugs, malware, and other sorts of technical vulnerabilities for which don't have any idea about.
As far as precautions are concerned, you shouldn't click on any unfamiliar links that you receive in your inbox. Also, don't get lured by irresistible sales offers. Before taking any action, you must analyze all aspects. Only if you are satisfied, then you can proceed with such deals. And finally, never share your credentials like website user id, password, device PIN, and any other confidential details. Keep all your antivirus software and security tools up to date.