Is CSM certification worth the time and money?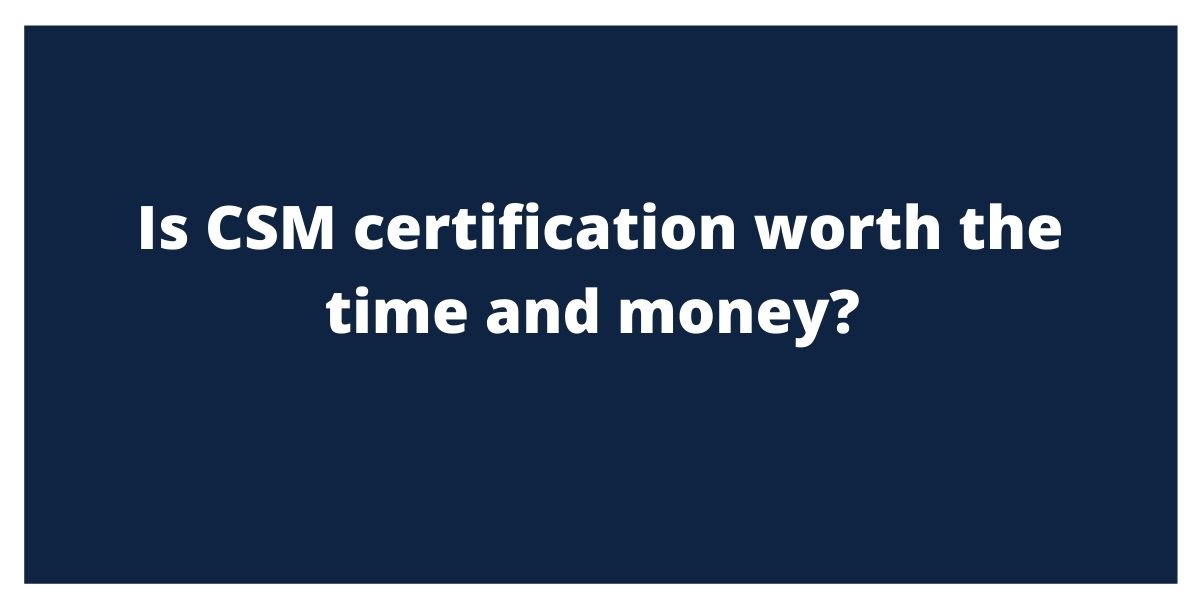 CSM or Certified Scrum Master certification and training are conducted by world-renowned Certified Scrum Trainers or CSTs. Scrum Master plays a very crucial role in organizations that wish to reap the benefits of Scrum. The Scrum Master plays a key role in bringing change to the team and delivery. The Scrum Master ensures timely product delivery and quality assurance by designing and applying the right techniques. He/She ensures collaborative work and uplifts team members towards the continuous growth of the organization. The three pillars in Scrum are transparency, adaptation, and Inspection.  
The Scrum Master has an Agile mindset and he/she ensures collaborative workflow in delivering Agile projects successfully. A good Scrum Master can even lead to the development of better and healthy work culture in the team. The Scrum Master is responsible for taking many critical decisions for the team. This is the reason why Scrum Master should be well trained and skilled in handling all kinds of situations. A CSM certification ensures this. Many organizations are looking for certified Scrum Masters. The certification program offers many benefits to the individual for his/her career. Here, we discuss the benefits of CSM certification.  
Helps you get ahead in your career:

 The certification is provided by a globally acclaimed organization, Scrum Alliance. The course aims to impart knowledge and skills that are updated and relevant to the market. A certification keeps you ahead of other candidates during the recruitment process. Pursuing CSM online certification courses can help you move up your career ladder in your current organization too. Through the certification program, you will achieve a high level of precision in implementing Scrum. Many companies are adopting Scrum and the adoption rate is as high as 58%. The companies hiring certified Scrum masters are Deloitte, Bosch, Ernst and Young, Capgemini, IBM, Honeywell, Google, etc. The leading companies offer good salaries to certified Scrum Masters. Also, a certified Scrum Master gets a higher salary compared to his non-certified colleagues. 

Become a communicator and team player:

 The training program also teaches soft skills to the candidates like listening, talking, problem-solving, etc. to enhance better collaboration among the team members. A Scrum Master should be able to convey his ideas in a way it is understandable for all the team members. There are times when backlogs or obstacles might occur, it is important to deal with them calmly and use the skills to assign the tasks on priority.  
Grow your professional network: 

The candidate gets access to become a member of the Scrum Alliance. It is a globally acclaimed platform where Scrum experts share their knowledge. The professional network benefits the candidates by increasing their market value. It also helps them to update themselves with the latest advancements in Scrum. People from various backgrounds collaborate to design new methodologies for improved results. You can be part of many seminars and conferences and meet people and share your knowledge. These experts are experienced and can help you in your career path.