How to Find the Best Deal on Cheap Internet Service?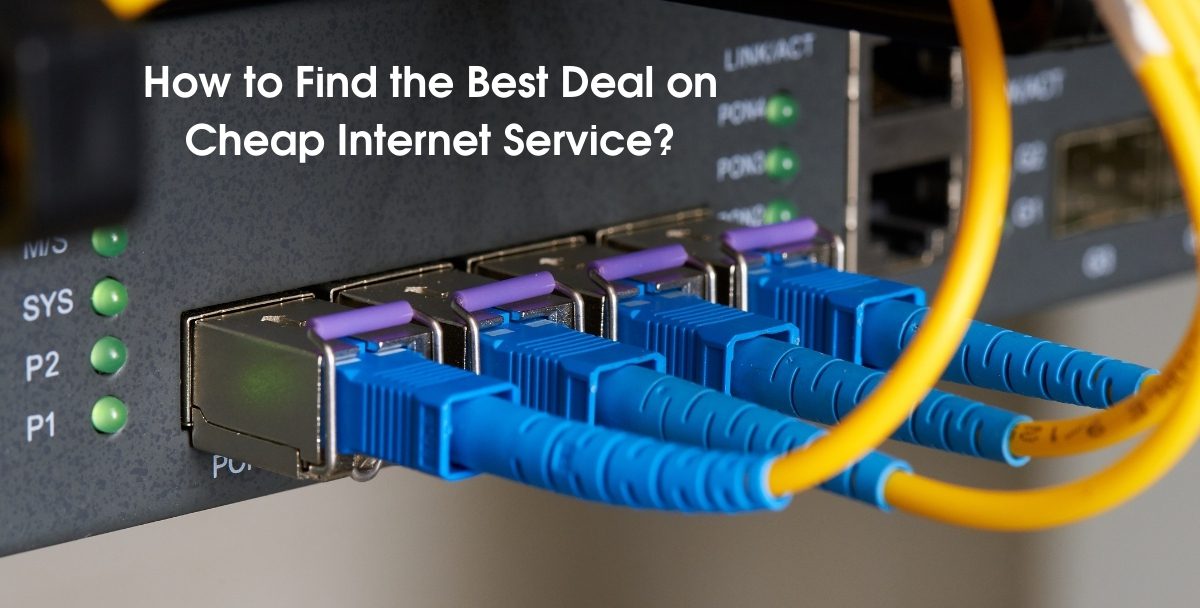 With the spread of Covid, students started taking online classes instead of going to school and workers started working from home. That caused a sudden increase in internet usage and if it was not a necessity before that, it became one. Even if everyone was not working from home, they still had to get it to pay their bills and keep themselves busy during the quarantine. However, increasing internet costs make it hard for many to do that.
Thank you for reading this post, don't forget to subscribe!
The average price for the internet in the United States is $50 or more which is high for basic internet services and not everyone can afford it. Moreover, with other expenses getting out of hand, paying $100 or more a month for cable, internet, and phone services can be a huge expense. The only way to do have these services and pay less is to find better deals with internet providers whose internet costs are lower than others. That way, your cost will be lower in general and if you can score a better deal – you will be paying less than average.
There are a few tips that can be utilized so that you can find the best deals on cheap internet services and save every month. Without further ado, let's dig into them.
Decide the type of connection
When you are looking to get a less costly internet, the first thing that you need to decide is the type of connection that you need. In addition to that, what speed is going to be sufficient for you? is a question that should also be asked as this would be the first step towards saving money in the future. In general, there are four types of internet connections that are most commonly used in the States; Cable, Fiber, DSL, and Satellite.
Among all these, the satellite and cable internet connections are usually the expensive ones. The reason for that is satellite offers services in remote and most rural areas while the cable connection offers faster speeds than DSL. The DSL connection usually costs lower than cable because the speeds are not very fast and there can be limits on data usage. However, Fiber is an option that offers the highest download and upload speeds and costs less than a cable internet connection on monthly basis. The problem with fiber optics is that it is not widely available.
So, you need to find out what type of connection is available in the area and what is your priority among those options. If there is fiber optics available, you should go for that as the speeds would be great and the cost would be less.
The second thing to do after deciding the type of connection for your internet services is to compare the plan for all available providers. You can use the localcabledeals website to see all those options and prices for their plans very easily. Otherwise, you can visit the websites of all those providers and compare the plans one by one. For instance, you decide to go for cable providers as they are widely available such as Spectrum & Xfinity. You will compare both of the providers, their prices, speeds, and additional benefits such as data cap, WiFi hotspots, etc.
Doing so will give you solid information on which provider is offering your required speed at the lowest price and then you can make your decision.
Use your Modem and Router
Once you have chosen a plan, the next thing you should do is to purchase a compatible modem and router for your services instead of leasing one on monthly basis from your selected provider. This will help you to save $10-15 every month. This is a huge saving on a monthly basis because if you are paying $50 for the services including the equipment, it will come down to $35. After all, you will be using your equipment and there should be some benefit from it.
Another option that can reduce your overall monthly costs is to bundle the services from the same provider instead of getting them from different providers. For instance, if you are looking to set up new internet services and you also have cable TV from a different provider, you can get a bundle for internet and TV from the same provider and save because bundles are usually cheaper than getting services separately.
For low-income customers, a great opportunity to save some bucks every month is to claim internet subsidies offered by the federal government to its low-income residents. Lifeline program is such an example that offers a $9.25 discount every month to low-income residents who are enrolled in other specific government assistance programs. On the other hand, some providers offer special plans for eligible low-income customers who can not afford to get the higher speed plans. To get these plans, you just have to meet the basic requirements and you will be good to go.
Final Thoughts
Getting a cheaper internet connection is something that should be available to everyone but unfortunately, this is not the reality. Some people can get fiber optics internet very easily while some are struggling to get the basic internet. During such circumstances, you should utilize the ways that are available for you to pay less for your services instead of paying huge amounts every month.