7 Mistakes you should avoid in Instagram marketing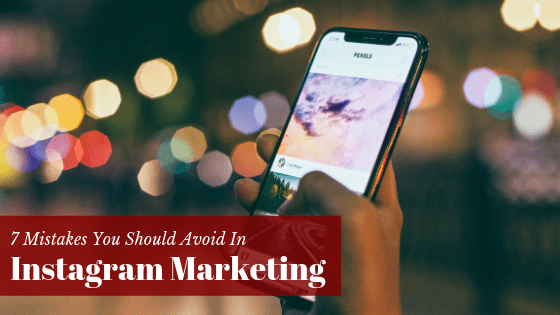 Instagram is one of the biggest social media platform and an essential tool for marketers. It has around 1 billion daily active users and is perfect for sharing photos of your brand to promote it and engage with users.
Thank you for reading this post, don't forget to subscribe!
But there are many marketers who are not using Instagram, and even if they use it, they are not strategizing their posts, which makes them lose followers.
To ensure that you get good followers and likes, make sure you avoid these marketing mistakes.
Here are 7 mistakes that you should avoid in your Instagram marketing strategy.
Making your account private
It seems obvious that brands will keep their Instagram account public; otherwise, it won't serve as a marketing tool. But it is not, many companies have a private Instagram account which restricts the public from viewing their advertisements or images and so on.
If a personal account is private it makes sense, but not for a brand. If you make your company's account private, it will limit the opportunities that come to you, when people browse Instagram for relevant images.
To ensure that you reach the maximum audience, set your account to the public.
Sharing ugly photos or videos
The whole point of Instagram is for the audience to see beautiful and startling photos of your brand, product, and team. If you share an ugly or low-quality photo, it won't work. So, before posting any photo double check its quality, and try to avoid uploading a picture taken from a cell-phone.
Here are some tips that will ensure that every image that you take comes out well:
Good Light source: The photo you take should have a great light source, and it should be behind you.
Natural light: Make use of natural light to take pictures. If you want even more amazing images, use a slight filter.
Ask questions: Ask yourself if the image is understandable or sharable?
No selfies: Don't share personal selfies or even multiple team selfies, only one with the whole team is enough. Instead, share behind the scene photos or photos from a recent event or photo-shoot and much more.
Misusing hashtags and not using relevant hashtags
Hashtags are an important marketing tool for Instagram. It helps people find your content, but only if you use relevant hashtags. But unfortunately marketers these days use end numbers of hashtags in their posts, and most of them have no relevance to the content.
It affects your brand negatively and irritates the consumer who won't give you a second chance. It is also like spamming yourself.
What to do then? Well, firstly use hashtags that are relevant to your content, and use only 5-10 hashtags and not more. Think of them as keywords and you will understand how to use them properly.
[Read more: What is Silent Marketing?]
Posting content that is not exactly visual
These days it has become a trend to share or upload images that uses a solid background with quotes on it. Known as textagrams they are certainly trendy, but as a brand it would help if you use them cautiously.
Instagram is a visual platform, so sharing images or short videos is the best way to engage audience. Use that quote or saying that you love in the caption if it suits the image, but not as the main post.Create Instagram Stories that are attention grabbing.
Not including your link or call to action button in the bio
The main agenda of using Instagram as your marketing tool is to drive traffic to your website. But if you don't provide a website link or call to action button in your Instagram bio, how will people come to your website?
Instagram gets 1.2 billion likes per day, if you want this number to reflect in your traffic, don't forget to add links to your site or landing page in the bio.
Sharing photos that are not relevant to your brand
Keep in mind that it is a business account and not your personal account. So, as the marketer of the brand, share images or videos related to the brand only. Don't post random images like the picture of your desk or mug. It breaks consistency and also confuses the consumer.
Not following followers
Follow your followers as it will help you get to know them better.
These are some tips that will certainly help you get more followers an engagement on Instagram. Just remember to be honest and be relevant in your posts.