Which is better? WordPress.com or WordPress.org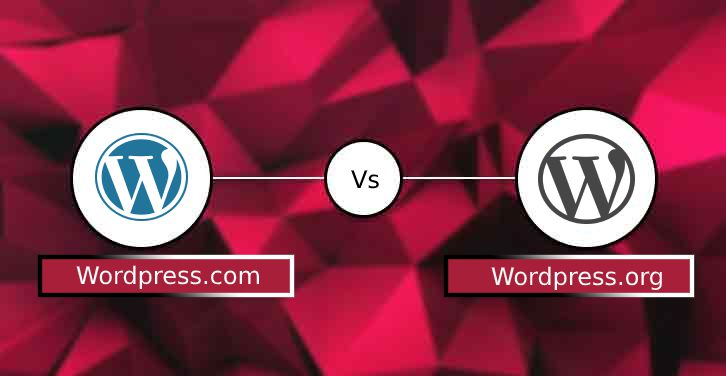 When it comes to building a website, the first thing that comes to your mind is choosing a perfect platform for web development. Among so many platforms available, WordPress is the commonly chosen CMS. WordPress is the most suitable content management system used for wonderful web application development. It enables people to make and edit websites via a central administrative dashboard. This dashboard includes a text editor to change content, menus, and various design elements. When you wish to hire an expert in WordPress, you can trust WP development professionals who can assist with efficient WordPress Development services. They have adequate knowledge of design and theme development using WordPress.
Thank you for reading this post, don't forget to subscribe!
WordPress is common in web development to know but it is worth knowing that there are 2 types of WordPress. It is important to understand the meaning and difference between the two so that the right one can be used for perfect development.
These two WordPress are WordPress.com or WordPress.org. There is a difference between the two. It is worth knowing which one to use and which is better. There may be several questions in mind while choosing the best to create your website.
Before learning the difference between the two let us understand what WordPress.com and WordPress.org are?
WordPress.com
WordPress.com is an all-in-one platform called "build-your-own-website." It is free to use and no external hosting or external domain name is required.  You just have to:
Go to WordPress.com
Sign up for an account,
And at the very next moment, you can build your site or blog.
WordPress.org
WordPress.org often termed as "the real WordPress" is an operating system and open-source software available for your website or blog. This software is free and does not cost you anything on its own but to use it you must have a hosting account (webserver) which mostly comes with a price tag.  This is because of its hosting account. It is particularly known as self-hosted WordPress.
Details of WordPress.com and WordPress.org:
Cost comparison of WordPress.com and WordPress.org:
WordPress.com
WordPress.com is created by the co-founder of WordPress, Matt Mullenweg. It provides both free as well as paid forms. WordPress.com gives you the following services:
For Free: Pretty limited. This is free up to a certain limit. After reaching 3GB, you have to switch to a paid plan.
For Personal: $48 per year. This is cheapest of all and you get a free domain name for a year.
For Premium: $96 per year and varies from $4 – $45 per month. This contains different features and perks.
For eCommerce: There is a special one for eCommerce portals which is $540 per year.
For VIP: The most advanced versions come with the starting at $5000 per month.
WordPress.org
WordPress.org is 100% free of cost unless you want your website to reach a large number of users. For that, you have to buy web hosting and a domain name that comes with a price tag.
WordPress.org will cost you $2.95 per month or $35.40 per year including entry-level hosting.
It is recommended to buy for 3 years as buying for a longer time will make it reasonable as compared to buying for a shorter duration. For hosting, Bluehost provider is mostly preferred.
Number of Themes provided:
WordPress provides you with themes based on your packages. You can install them whenever needed.
WordPress.com
WordPress.com also gives you a theme based on the plan you have taken:
For Free and Personal plans you get access to 150+ free themes.
For Premium, Business, and eCommerce plans, you get access to all free themes plus more than 200 premium themes.
WordPress.org
org brings in thousands of themes when it comes to free and premium themes versions.
From the official directory of WordPress.org, you can get more than 7,500 free themes. In addition to this, you can also install from the web, the free theme. you can find them in thousands and thousands.
The number of plugins provided:
WordPress.com
A plugin is a software package including several features that you can add to your WordPress website.
In WordPress.com, you can only install plugins on the eCommerce or Business plan.
For Business plan: Pay $25 per month to get access to 50,000+ plugins.
For e-commerce plans: Pay $45 per month to get access to 50,000+ plugins.
WordPress.org:
The number of plugins is the same in wordpress.org also. You can get access to more than 50,000 plugins. Also, you can install as many plugins you want from the web. The plugins may be free or for premium.
WordPress Development services may vary with the plugins you choose. It is thus important to choose the best plugin option for web page designing.
Common features of com and WordPress.org:
WordPress.com
WordPress.org
·  Enables building website quickly

·  Brings a 100% free plan

· Do not allow full control of the site

· It is easy to use even when you don't have much experience with websites

· Brings in only a limited number of themes (designs) and restrict your to create your own

· It has limited extension possibilities

·   Let you enjoy custom design options

·   May cost you some amount

·   Enables full control on your website

·   It is incredibly customizable

·   Do not limit the ways you monetize the site

·   It requires you to buy your own hosting and domain name

·   Allows you to chose from multiple themes.
5.Set up Process of WordPress.com and WordPress.org:
WordPress.com:
Starting with WordPress.com is quite easy. You just have to:
Go to WordPress.com
Tap on Start your Website button.
It just takes a couple of minutes and you are done. Moving further, you will come across a few steps which will help you set up your new website. You have to enter your name, email address, and complete a few formalities. While doing so, according to your plan you have to choose a design and theme as well.
WordPress.org:
The setup process for WordPress.org is not as simple as for WordPress.com. To start with wordpress.org, instead of going to WordPress.org go and select the web host of your choice and sign up.
While doing so, you will come across many methods of installing WordPress on the account you have hosted for. There you need to provide your name, email address, and many other forms, same as wordpress.com. Make sure you use a user-friendly host.
Support Provided:
WordPress.com:
In wordpress.com, one can get help starting from $4 per month on Personal plans. But there is no support provided on a free plan. People opting for Personal plans get support through options like email and live chat.
WordPress.org:
WordPress.org channel itself does not provide any help or support. But you can get support from your WordPress web hosting provider. Some of them offer support 24/7. That is why it is said to opt for a serviceable host.
Some of the known hosts that give support services are:
Security and Backups:
WordPress.com:
In WordPress.com, from the starting itself, you get security options and backup built beforehand. You rely on the internal protection of WordPress.com and all of the structures developed around its operation. WordPress.com also ensures that the software running under the hood is updated frequently.
WordPress.org:
Because of its software transparency, the source code is visible to everyone. Therefore it is built with proper care to stick with security options and requirements. No need to worry a lot as WordPress itself is made by keeping in mind the safety and security needs of the users and therefore hackers can't easily hack it. One can also install additional plugin security features to brush up their website security.
WordPress.org provides you with a notice of updating the software. Click on it to update the software.
Conclusion:
Considering all things, WordPress.org is cheaper than WordPress.com. But WordPress.com will be cheaper if you start with a basic personal website.
Thousands of themes are provided by WordPress.org.
In WordPress.org you can select thousands of plugins (free ones as well as premium ones)
It is easy to set up WordPress.com.
Both of them provide support but WordPress.com officially helps with email and live chat as options. WordPress.org's host provides support.
com is easier to maintain as you don't have to do anything to maintain it. It goes on its own. The same is with backups and security.
As said, every coin has two faces, ahead, and a tail. The same goes for WordPress.com and WordPress.org. It depends on your outlook. No one here is a looser. Both have their pros and cons which may or may not be ignored depending on the choice of designer, their budget, and many other aspects that are essential to consider. If you don't understand which is the best option for your website development, WP development professionals can help you with this.