Tricks and Hacks to Get Instagram Followers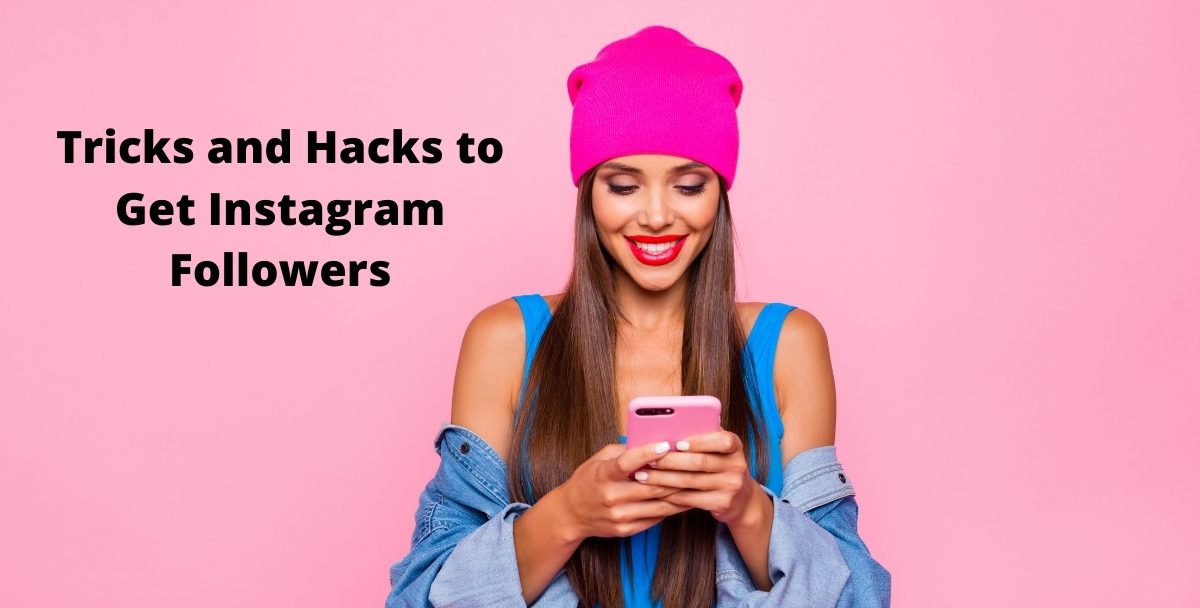 It is quite tempting to know that more than eighty percent of the accounts on Instagram are related to some kind of business. That is a significant number. Either working on a business or trying to develop some content, Instagram is presently one of the best ways out there. Not only these, so many influencers are also relying on Instagram to enhance their reach.
Thank you for reading this post, don't forget to subscribe!
Everything is related to the number of Instagram followers. The more are these numbers, the best is coming in our way. As these are too crucial to ignore, we are here to help you guys with some tricks and simple hacks to get Instagram followers and enhance your growth.
Tricks to Improve followers on Instagram:
You might see some accounts with numerous followers in just a few days. Sadly, all of them aren't real. Some firms generate fake followers to account for these fancy numbers and fool people. What we need to understand here is that these fake followers will never turn into real clients. So, there is no point in doing such things.
Instead of wasting our time and money on these fake followers, there are various tricks available to make real ones. The real ones are the people actually impressed with our brand and try getting to know more about the business. The following hacks will help get Instagram followers with genuine interests and potential customers.
Also know: buy instagram followers.
Know the Account's Purpose:
According to wise people's belief, it is best to understand the purpose of doing it before diving into something. Apply the same to your Instagram. Before worrying about how to get Instagram followers, figure out why do you need them. In short, understand the purpose of your account.
The purpose could be anything like promoting a business, creating intriguing content, etc. Develop your profile and bio accordingly. For example, a fitness page with catchy content based on health is good to go. Ensure that your profile and bio are complete before you begin with anything else.
Set Your Goals:
Once you decide why you want to use the Insta account, proceed with what you want to do. These goals should be precise and less in number. It would be wise to start with 2-3 goals and thinking of new ones after the older ones complete. Also, keep in mind that the goals shouldn't be too big to achieve.
It wouldn't be wise to set a goal of reaching ten thousand followers in a single day. Of course, that isn't impossible though. Keeping a goal of certain pre-orders, improving 15-20 percent of web traffic are good choices for business accounts. We don't have to be with the same goals all the time. But smaller steps leave a greater impact, right?
Create a Matching Image:
There is no doubt that pictures speak volumes. Words can probably never reach the impact a picture, or an image creates. Why not use this to get Instagram followers? That would be the best way to gain maximum reach. We need to keep some things in mind while posting pictures on our Insta handles. Some of them are as follows:
We need to have a visual strategy apart from a content strategy. Both of these should go hand-in-hand.
A cohesive look from the post leaves an excellent impression on the viewers. It also creates a professional image of our brands, pages, or services.
The best way to create a matching look is by sticking to consistency. Test your image with various filters and try sticking to the one that impressed you the most. Following the same rule for every post makes it easier to identify your content.
Try using the same fonts or colors to post your content. Similarities leave a significant impact on people. Your followers can simply figure out your brand or product, among various others.
Posting content with polished images, sticking to the same things for maximum posts, using the same font styles and colors, etc., are some hacks that register your brand's uniqueness in people's minds. Using these can help us to get Instagram followers easily.
Hashtag hacks:
We all know that we can also follow hashtags apart from accounts on Instagram. Hashtags are an excellent way to get Instagram followers. All we need to do is to figure out the most popular and widely used ones. Keep in mind that relevant hashtags only can help us. Randomly placing some tags may cause more harm than good.
How can we find out which tag works for our page? Here is what we need to do. Start by making an idea of the post you want to create. Search for the relevant information and make a note of the generally used hashtags for it. Being specific is far better than leaving it in general. So, grab the most significant and specific tags and include them with your posts.
Avoiding general tags is the key to get Instagram followers relevant to us. We are looking for specific targets and some general or random people. So, ensure you use the appropriate tags. Now coming to the number. How many tags should you use for a post? There are no rules to it but, somewhere between five and fifteen will do the job.
Another hack to improve the reach is to use the chosen hashtags in the comments instead of the posts. We are making our captions easy to read without disturbing the post's reach. Adding Instagram's geo-location along with hashtags is also an excellent way to improve followers' numbers.
Find and Reach your Followers:
It isn't necessary that followers must find you all the time. The vice-versa is also possible, and in fact, works wonders. Here's the real magic! How can you find out ideal followers? Check with your rival's handles. Find their followers and try reaching out to them. It is general for someone to check with similar things when trying to choose the best.
Follow these people, and most of them will follow you back. Or else, they'll look into your profile and try to know you. Going further, you can check with people's posts and the hashtags they use. If any of them are relevant to your page, use them. The people you are looking for will come looking for you.
These are some general yet significant ways most people use to get Instagram followers. There are various other ways like hiring an agency, collaborating with already famous pages and influencers, using story swipe-ups, etc. Choose the appropriate ones wisely.