4 Tips for Training a New Hire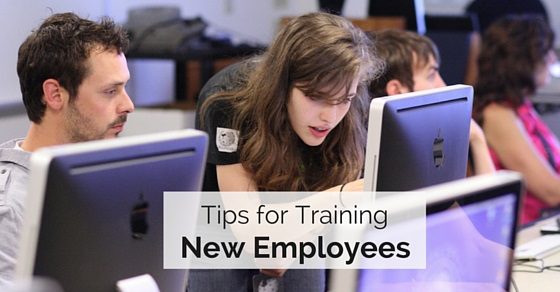 When running a small business, bringing a new hire on board and making sure that they are trained quickly and effectively is critical. This is because any time lost in accomplishing these tasks means that there will be a more extended period wherein a certain amount of work will remain undone.
To make sure that your business doesn't suffer from the wasted time during the onboarding process when you hire a new employee, here are four tips that can help you to make the training period much more efficient.
1. Use the Right Tools
Properly training new employees will require the right tools. There will naturally be several training materials that will pertain to your particular industry and the specific job that you have to hire your new employee to perform. Still,some tools can be helpful during the onboarding process regardless of the industry in which you work. The addition of virtual reality can prove advantageous and can even lead to reduce training costs with VR.
For instance, the right Employee Onboarding software can help make all of the completing and processing of all necessary onboarding paperwork incredibly simple and easy to manage. Moreover, by using such software,you will be able to keep all of your employees' records in one safe and secure location.
2. Make Sure Their Workspace Is Prepared
When you bring your new hire to the place in which they will be working, you want to make sure that it is all set up and ready to go. The last thing you want is for your employee's first day to be comprised of searching for necessary office supplies and hooking up all of their equipment. Their workspace should be completely ready to go and tidy before they ever walk through the door. Not only will this be the most efficient way to get the training process started, but it is also the best way to help your new hire feel welcome.
3. Make Necessary Meetings One on One When Possible
When someone is first hired at a company, it can be overwhelming and intimidating to meet all of their new colleagues. This can be especially true when making introductions is accompanied by essential and necessary information. This is why it is far better to make such meetings one on one when possible.
By giving your new hire the chance to talk with their coworkers in this manner, you take some of the pressure off of the situation. You also make it a bit easier for them to take in all of the information that they will be presented with. This means that there is a less likely chance that you will have to repeat things in the coming days.
4. Encourage Questions
Often, a new hire can feel anxious about asking questions. They will want to seem like they know as much as possible right off the bat to make a good impression. However, this mentality will only lead to complications and further questions after the fact. Make sure that they know it's ok to ask as many questions as may arise.