MCWG: Full Form | Motor Cycle With Gear | Latest Updates – 2021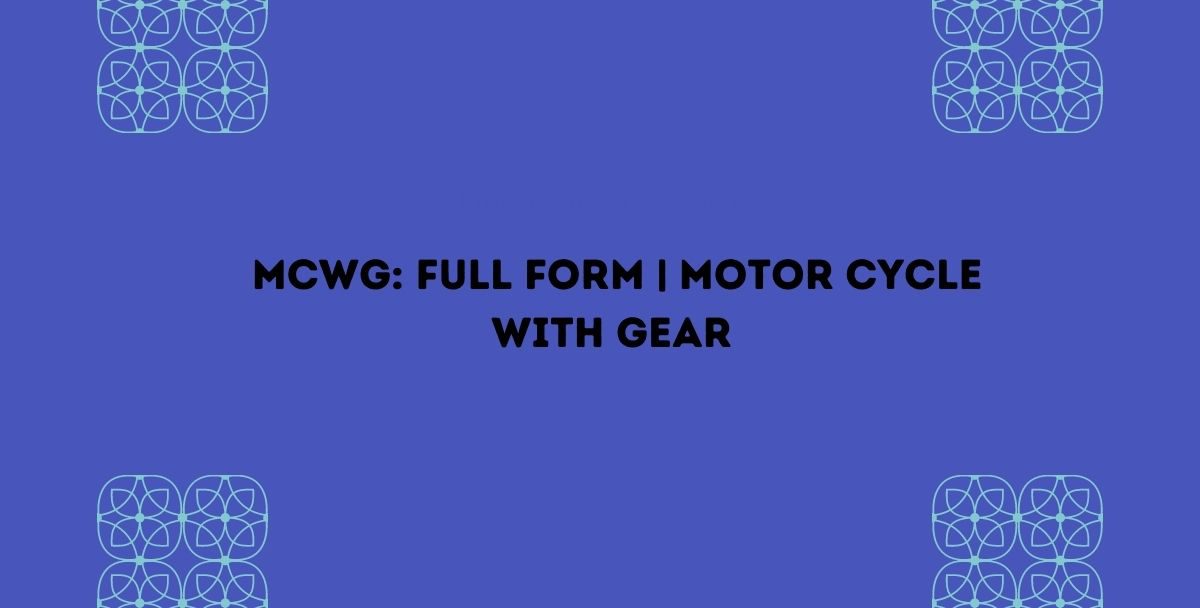 The full form of MCWG is Motor Cycle with Gear. This term is used in the case of issuance of licence in India. It is one of the different categories of licences used in India.
Usually, MCWG covers all motor cycle categories. This is one of the many motorized vehicle driving licencss issued by all the Indian states and also valid across the country.
MCWG licence is issued for all motorcycles of engine capacities ranging from 50 cc to unlimited cc. In issuing licences for mopeds, scooters and bikes with gear, the MCWG licence is issued in all parts of India.
The abbreviation MCWG is a common on in the area of road transportation of motorcycles. The Road Transport Authority (RTA) in all Indian states use this term to certify that a person is suitable to drive certain type of vehicles.
MCWG Used in the Technical Area Related to Gear of Motorcycles
MCWG is a technical term used by the RTA to denote a motorcycle with gear. This term is also used in the case of sports bikes. There are certain clauses that are associated with MCWG. One such clause is that MCWG motorcycle or scooter must have a manual gear based operation.
A gearless or automated transmission of a vehicle – motorcycle or scooter – does not come under MCWG licencing norm. The MCWG driving licence with the photograph of licence can also be used for different official and legal purposes as proof of identity.
MCWG Licences Issued Only After Tests
The applications for a provisional MCWG driving licence can be made from the age of 16 years and it will allow anyone to ride in any part of India. The MCWG licence is issued either by the Regional Transport Authority (RTA) or Regional Transport Office (RTO).
After passing a driving test, the provisional licence may be surrendered in exchange for a full Indian MCWG licence allowing one to ride mopeds, motorcycles, sports motorcycle and scooters.
The Conclusion
The MCWG licence certifies that the person bearing or carrying it is legally allowed to drive motorized two-wheelers in any part of India. Without this licence, one cannot ride a two-wheeler like a motorcycle or scooter.
Such MCWG licences can also be given for such purposes as having a sim card for a mobile phone, opening an opening a bank account and many similar official purposes.
FAQ (Frequently Asked Questions)
In which specific area is the abbreviation MCWG used in India?
Answer: This term or abbreviation is specifically used in the case of licencing for motorcycles by the Road Transport Authority in all Indian states.
Is the term MCWG also is applied in the case of sport bikes?
Answer: Yes, it is used in the case of licencing of sportbikes which is automated or running on the machine. It is related to the gear of the sport motorcycle or bike.
Does MCWG licence have any other use besides being a licence to drive a motorcycle or scooter?
Answer: Yes! It is a proof of your individual identity. The MCWG lincence can be used to get a sim card for a mobile phone connection or to open a bank account. It has many other purposes as an official record of your identity with the photograph of the licencee.
Is a MCWG licence holder allowed to drive a car?
Answer: No, one is not allowed to drive a car with the strength of a MCWG licence. The MCWG license holder is legally allowed by the RTA to ride only a motorcycle, moped, sport motorcycle and scooter.
Also check about: JSW fullform