Discover different realms with these godly slot games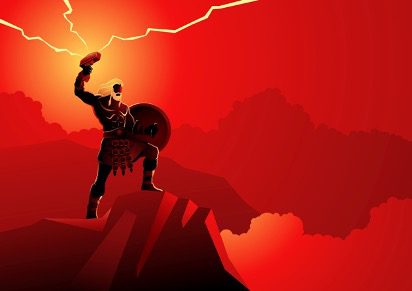 If you want to travel beyond myths and legends, and into the depths of time and space – then these Norse-mythology themed slot games might just take your fancy. With the gates of Asgard – home of gods and magic alike – open wide, and a free spins no deposit offer on Paddy Power Games, you can discover new worlds and explore gameplay like you've never played before!
Sons of Asgard
Stand with Norse gods Thor and Loki as you prepare for battle in this fast-paced, unique slot game. From as little as 0.25 credits, you can join these two opposing forces in Asgard by spinning the reels with the brothers by your side, and discover the endless possibilities that this game has to offer.
Matching three or more card, hunting horn, raven motif, wolf head motif, or golden trinket symbols, will give you the chance to unlock prizes topping 20x your initial bet. The golden trinket icon represents the wild and jackpot symbol, and with 1,024 ways to make winning combinations, this five-reel slot game not only offers all this – but comprises special features which can offer an amazing 32,768 ways to win.
What's more – at random points during gameplay, Thor and Loki might get restless and decide to use their powers to turn nothing into something. On top of this, they can act as the game's scatter symbols, with three or more of each triggering a free spins bonus – each with different perks just waiting to be discovered.
Odin: Infinity Reels
Featuring Megaways, Odin: Infinity Reels is a game full of mythical magic and godly realms. Get ready to become immersed in gameplay with the mighty King Odin backing you all the way. Discover Slots as you've never seen them before, as Megaways offers the first ever slot in gaming history to introduce infinite reels! That's right – there is no limit to how many reels can be added to the initial three, as long as the symbol on the last reel improves the combination. If your spin results in you getting over 12 new reels added to your game, you could win up to 888x your initial bet.
With gameplay starting at just 0.30 coins, and a maximum jackpot of 20,000x your bet, this Norse-themed game pushes the boundaries of the Slots we know and love – truly transporting us to new gaming realms. Odin himself is featured amongst other icons taken from Norse mythology as the games highest paying symbol, whilst the Gungnir symbol acts as the game's scatter. The wild symbol is represented by three intertwined triangles set against a red background, and has the power to substitute any symbol, anywhere on the reels, except the scatter symbol.
Not only can you play with mighty Kings and gods, but you can visit Asgard at any time, from anywhere – as this mythical realm is not only available on desktop, but on mobile and tablet devices as well!
Asguardian Stones
If you're not ready to leave Asgard just yet, why not help the Norse gods by uncovering the Asguardian stones in this breath-taking, animated game. With incredible design, graphics and sound, you are bound to forget you have your feet on the ground as you are immersed into this magical realm. Prepare to encounter five different Norse gods carved in stone, each with different coloured jewels, alongside the familiar Ace, King and Queen playing card symbols. The game also features a wild symbol – represented by the letter 'W', encased in ice, which has the ability to substitute all other symbols apart from the Bonus Wheel symbol. If the icy wild isn't enough – prepare for the Avalanche Feature to come rolling down the reels when a winning combination is formed. Winning symbols will be forced to disappear as they are replaced by symbols falling from above.
On top of this, Colossal Symbols can appear randomly on the reels, consisting of 2×2 or 3×3 symbols that are not the wild symbol. This then leads to yet another special feature – the Colossal Crush feature, where you'll be in for the chance of spinning even more winning combinations.
With a Bonus Wheel feature and 20 paylines across this 5×3 reel slot also in the mix, Asguardian Stones is set out to be an action-packed, unforgettable adventure, where the magic of myths, legends and godly power is delivered straight to your living room