Experts' Global- the leader in GMAT online prep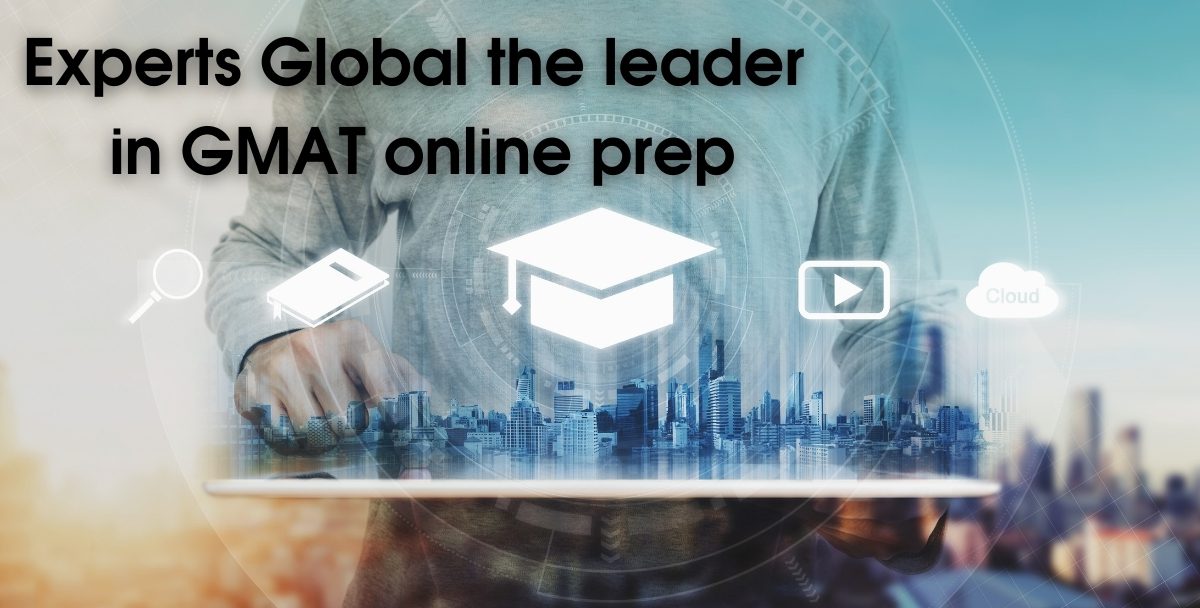 Getting a good GMAT score is the first step towards securing an admit, from the B School of your choice. As is the case with virtually every competitive examination, you can find a great number of resources that claim to be able to help you crack it. Of course, not every one of these resources is reliable and given the sheer amount of time and effort that GMAT preparation requires, you cannot afford any false starts.
Thank you for reading this post, don't forget to subscribe!
You need to do your due diligence and select one that can deliver on its promise. One like Experts' Global's online GMAT prep program. Experts' Global is an EdTech firm, founded by Mr. Mayank Srivastava, in 2008. Since then, the firm's name has become a firm fixture, in the world of GMAT prep. Here are some of the main features of this program:
Video Lectures
Video lectures are essentially the backbone of Experts' Global's GMAT instruction. The firm has broken the GMAT syllabus into 100 small pieces and produced a video to explain each one. Since each video only covers a single concept, each one is very easy to absorb. However, this does not mean that the videos are light on details. Every concept is explained very thoroughly and effectively.
Experts' Global is actually unique in just how extensively they make use of instructional videos. They have detailed explanation videos for every question on their practice exercises and mock tests. These videos are excellent, both for improving one's accuracy and speed, as the solutions they provide have been made to be as quick as possible.
GMAT Accuracy
Experts' Global's GMAT Prep can be recognized by the stunning level of accuracy it displays to the GMAT. All of Experts' Global's thousands of questions are perfectly in line with the GMAT's. The testing screen that Experts' Global employs, is also very accurate to the GMAT's. It has the same full-screen layout, employs the same controls and has very similar graphics.
This may seem like a very minor or superficial feature but it is actually quite useful. It provides a sense of psychological readiness to the students, by allowing them to get comfortable with the GMAT set up, ahead of time. The most important factor though is that Experts' Global's scoring is accurate to the GMAT. This has been attested to by more than 500 students, who have reported that their scores on the Experts' global mocks were almost perfectly congruent with their scores on the GMAT Prep mocks.
Number and Quality of Mock Tests
With 15, full-length GMAT mock tests, Experts'Global's mock test series is the most extensive. This is because Experts' Global's approach to GMAT mock tests is that they should be taken regularly, throughout the prep process. This helps refine test taking strategies and build up mental stamina.
Performance Analysis
Experts' Global's performance analysis system shows the student a screen, after every mock, that displays their scores in each section and overall. It also makes note of their speed, across various types of questions. By taking into account the student's performance across their last several mock tests, this system can also help the student understand their broader weak areas. This system is a great addition to the program, as it provides performance analysis that is far more in-depth and produced with much greater speed, than any manual one.
Additional Features
There are also a number of smaller, very interesting, features that Experts' Global has included in their program. For example, there are the "sticky notes", small colored pop-up screens that can be used to take notes, as you study or take tests and then saved on the "wall". It improves the prep process significantly, if one can easily find all of one's notes in one place. Another very useful feature is the "flag button". With this button, you can mark certain questions, so that the system can easily pull them up for you, later.
This can be used to make it easier to go back to important questions and revisit them in greater depth. This saves a lot of time, as you do not have to go through the exercises and tests again, trying to find just one question. The amount of time and effort that these features save may seem negligible but over time it adds up to a lot and can make a big difference in your prep.
Experts' Global's online GMAT prep program is one that is highly effective, having fantastic material, in great abundanceand a very methodical approach. If followed closely and diligently, this program is guaranteed to improve your GMAT performance.